The rope for Shreyas Iyer in India's T20I keeps getting shorter now following his 4-ball duck in the first T20I against the West Indies on Friday at the Brian Lara Stadium in Trinidad. Further, his struggles against pacers and their plans have India in worry. Despite doing well in the recently-concluded ODI series – where …
---
The rope for Shreyas Iyer in India's T20I keeps getting shorter now following his 4-ball duck in the first T20I against the West Indies on Friday at the Brian Lara Stadium in Trinidad.
Further, his struggles against pacers and their plans have India in worry. Despite doing well in the recently-concluded ODI series – where he made scores of 54, 63 and 44 – Iyer is yet to convince the fans about his prowess against fast bowlers, especially when the ball is aimed into his body.
Shreyas Iyer wasted another good opportunity
Left-hand pacer Obed McCoy used this exposure of Iyer to bring the batter's downfall on Friday. After Iyer had dotted down a couple of deliveries of left-arm orthodox spinner Akeal Hosein, he was seemingly itching to get off the mark, and McCoy sensed it.
McCoy used his left-arm angle to send one short-of-length delivery across Iyer, the batsman failing to connect his cut shot. Iyer was growing in desperation to get off the mark and attempted a big wristy flick on the next ball as McCoy, after pushing Iyer back, now went full on the stumps.
With the grip available on the surface, Iyer mistimed his shot and got a thick outside edge that flew well wide right of the wicket-keeper.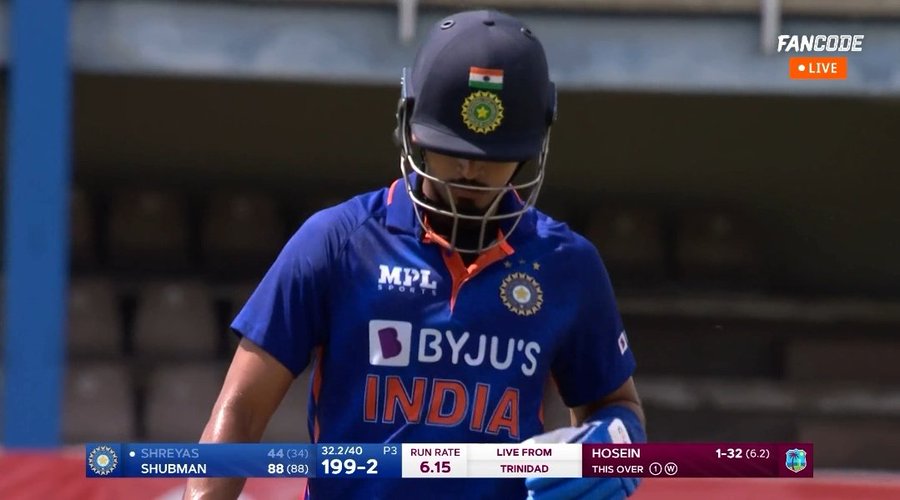 But, for some reason, Akeal Hosein had been placed much finer at the short thirdman position than usual; it was almost like a slip but at the periphery of the 30-yard circle. Hosein flew to his left and clung to the ball to complete a great catch, resulting in Iyer's wicket.
India had been given a strong start by Suryakumar Yadav and Rohit Sharma with an opening partnership of 44 runs 4.4 overs. And Iyer was expected to solidify the score on that.
But, this remains a big wasted opportunity for Iyer to make a statement in the shortest format, the one out of the three in which he is the farthest away from India's best eleven. Now, with Deepak Hooda and Sanju Samson on the bench, the walls are closing in on Iyer's place.
Fans on Twitter trolled Shreyas Iyer heavily for his 4-ball duck.
Here are some of the reactions:
Kris Srikkanth on Shreyas Iyer – He is great batsman against ordinary bowling, ordinary batsman against great bowling.

— Krishna Kumar (@KrishnaKRM) July 29, 2022
Academy man Shreyas Iyer arre$ted Shreyas Iyer for playing dot balls and then for a splendid duck #WIvIND pic.twitter.com/GtNcpUv3wt

— TukTuk Academy (@TukTuk_Academy) July 29, 2022
So much for playing an "in form" Shreyas Iyer. India didn't play Hooda for THIS? https://t.co/ea4uJnMwIu

— महादादा (@mahadada) July 29, 2022
I have no idea how anyone can be playing ahead of Hooda in the T20I XI, not least Shreyas Iyer. #WIvIND

— महादादा (@mahadada) July 29, 2022
Sacrificing Hooda for Shreyas has to stop.
High time.

— Jose Puliampatta (@JosePuliampatta) July 29, 2022
switched on the match only to see shreyas iyer come out switched it back off

— m. (@idyyllliic) July 29, 2022
Shreyas iyer when he is asked to bat against pacepic.twitter.com/2JBcixJu6R

— Mandeep (@VK__Goat18_) July 29, 2022
Unreal hate for our dombivli prince shreyas iyer here

— arfan (@Im__Arfan) July 29, 2022
How is Shreyas Iyer ahead of Deepak Hooda in the pecking order for the T20IS right now, especially when next world cup is in Australia?

Everyone knows his struggles against Short Ball and Hooda has already done well in the limited opportunities he has gotten so far.#WIvIND

— Akash Kumar Jha (@Akashkumarjha14) July 29, 2022
Shreyas Iyer in Deepak chahar's wedding
:
Deepak called him and said come dance with us.

Shreyas replied :

Who dances in tinpot weddings like yours, I dance on the pitch against shot balls in front of thousands of people

— Mufaddal Vohra (@mofaddal_vohra) July 27, 2022
Four ball duck for Shreyas Iyer.

— Johns. (@CricCrazyJohns) July 29, 2022
Playing dot balls in t20 is a crime
~ iyer https://t.co/qmLviFN2tf

— Mysterious (@Mysterious_3175) July 29, 2022
3 balls too many https://t.co/WsGsEK0EaC

— Sub Zero (@RyujinJakka24) July 29, 2022
#INDvsWI Hooda,KL,Kohli,Samson in the wings and dis guy does this https://t.co/X9uvIdnfMH

— Malik03 (@hilmy_midhlaj) July 29, 2022
https://t.co/c8VFKbrZ0J pic.twitter.com/GZsb1Yw8dl

— Aman Rai (@AmxnRai) July 29, 2022