The Indian cricket team was in a difficult situation during the chase of 312 runs against West Indies at Queen's Park Oval on Sunday, however, a 99-run stand between Shreyas Iyer (63) and Sanju Samson (54) brought much-needed momentum to the innings. Shreyas Iyer Played A Stunning Knock Though, after the duo's fall, team India …
---
The Indian cricket team was in a difficult situation during the chase of 312 runs against West Indies at Queen's Park Oval on Sunday, however, a 99-run stand between Shreyas Iyer (63) and Sanju Samson (54) brought much-needed momentum to the innings.
Shreyas Iyer Played A Stunning Knock
Though, after the duo's fall, team India looked in danger, however, Axar Patel walked in and took the game by storm. He played an unbeaten knock of 64 runs that helped the Indian side take an unassailable 2-0 lead in the ongoing 3-match ODI series.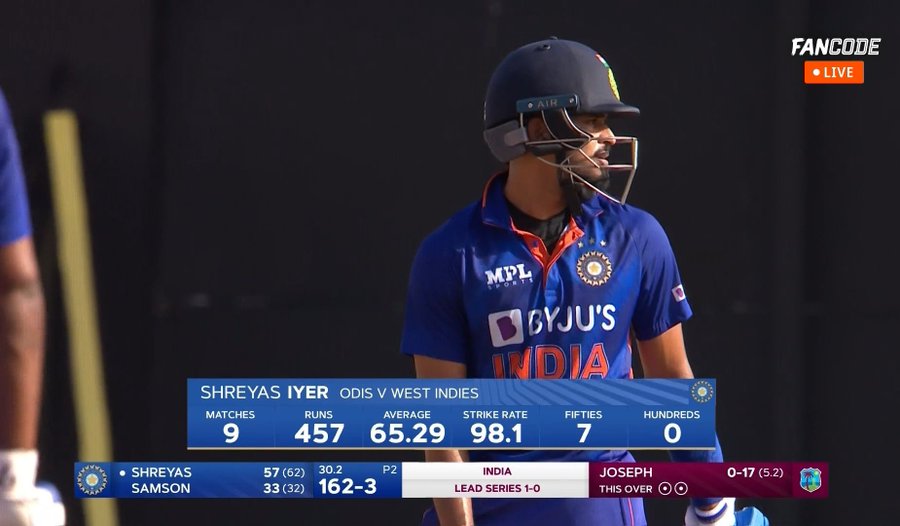 Meanwhile, with Virat Kohli's absence from the team and looking at his lean patch, the Indian cricket team will have to fill the hole at one down. And Shreyas Iyer has made the most of his opportunities of batting at number 3 in the ongoing series, by scoring back-to-back fifties. He also made a big statement on the 'no.3' spot in Virat's absence.
Shreyas Made A Big Statement On The 'No.3' Spot
After the game, during the press conference, Shreyas Iyer insisted that batting in the top order is fun. He said: "It's (number three) one of the best positions in ODIs as you go in at a tough situation if the openers have fallen. Then you have to see off the new ball and build an innings. If the openers have a really good partnership, you get to carry forward that momentum and see to it that run rate is maintained. It's a fun position to bat at and I really enjoy it,"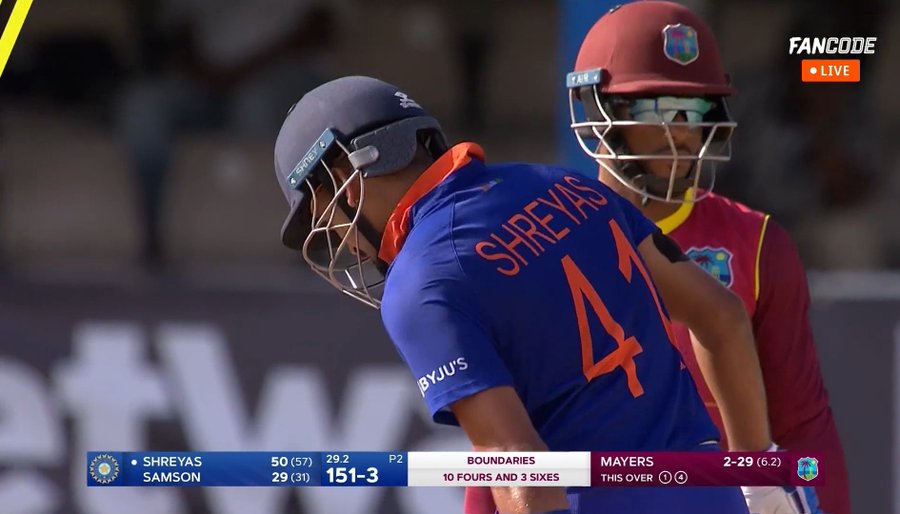 Shreyas also talked about his partnership with Sanju Samson. He said: "We lost two back-to-back wickets. We were 60 for 3 (79/3), and from there, we had to rebuild. Sanju came in and he obviously showed a lot of intent. I was already batting. I had faced around 20 balls and was batting on 15.
"I knew what I was going to do, and Sanju at the same time, he faced a few balls, and then he went after the spinners. He hit them for two sixes, and suddenly, the momentum shifted towards us. From there onwards, we built on the partnership and carried forward the momentum towards us."