---
During his lean patch between 2020 and mid-2022, many believed that once Virat Kohli regains his best, he will kick-on as he used to in his heydays.
Now that Kohli is back to his pristine best, the former Indian skipper is looking to make the most out of his re-found mojo as he cracked back-to-back centuries in consecutive ODIs.
In the last ODI of 2022, Kohli had scored 113 off 91 balls against Bangladesh, but his knock was overshadowed by the sizzling double century from Ishan Kishan.
Today, in Guwahati, against Sri Lanka, Virat Kohli outshined everyone else, even though skipper Rohit Sharma, returning after an injury layoff, and young Shubman Gill, proving his selection over Kishan, made attractive 83 and 70 respectively.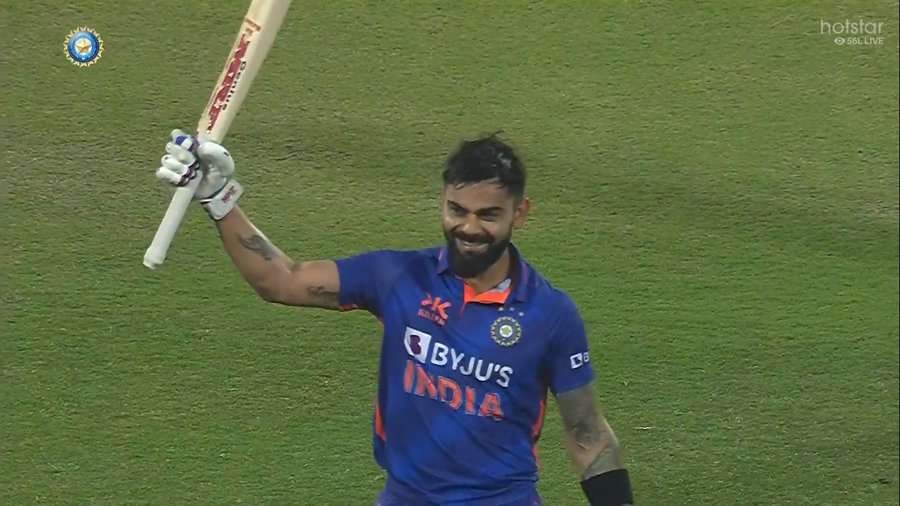 With 45 ODI centuries, Kohi is only 4 short of the great Sachin Tendulkar's tally of 49 ODI tons.
Kohli worked around his batting partners, most of whom are still not settled parts of the ODI XI, and took upon the responsibility to be the aggressor on this flatbed at the Barsapara Cricket Stadium.
After the 143-run opening stand between Sharma and Gill, Kohli formed partnership of 30 (21) with Sharma, 40 (36) with Iyer, 90 (70) with KL Rahul, 27 (21) with Pandya, and 32 (21) with Patel.
Eventually, after knocking over his 46th ODI century, Kohli got out for 113 runs off 87 balls, scored with the help of 12 fours and a six. To maintain a strike rate of 129 over 87 deliveries was a terrific effort from Kohli.
En route to this brilliant century, Virat Kohli also equaled two big records of Sachin Tendulkar:
Most ODI 100s in a country:
20 Virat Kohli in India (99 inngs) *
20 Sachin Tendulkar in India (160)
14 Hashim Amla in South Africa (69)
14 Ricky Ponting in Australia (151)
Most ODI 100s vs a team
9 Virat Kohli vs WI
9 Virat Kohli vs SL *
9 Sachin Tendulkar vs Aus
8 Rohit Sharma vs Aus
8 Virat Kohli vs Aus
8 Sachin Tendulkar vs SL