---
On the cricket field, where former Team India captain Virat Kohli showers runs with his bat, he is also ahead in terms of earnings. Virat Kohli is celebrating his 34th birthday on Saturday. Along with cricket, he is the brand ambassador of many companies. He has investments in many companies and also earns a lot through social media. Let's know how much property Virat Kohli owns (Virat Kohli Net Worth) $127 million worth.
Virat Kohli, the former captain, and batsman of Team India, is counted among the richest cricketers in the world. According to mpl.live, Kohli's total net worth is around $127 million, or about Rs 1046 crore. Virat's annual average earning is around Rs 15 crore. Whereas in a month they earn about Rs 1,25,00,000. Kohli earns Rs 28,84,615 in a week and around Rs 5,76,923 in a day.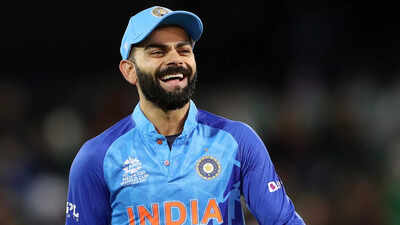 Millions get from BCCI
Virat Kohli is counted among the most brilliant batsmen in the world and despite being the captain of the Indian cricket team, he has made many records in his name and has made a worldwide recognition. One, Virat Kohli is included in the Grade A contract of the Indian cricket team. Due to this they earn crores, while every year they also earn big through IPL.He gets Rs 7 crore annually through BCCI's A+ contract. However, if we talk about match fees, then they are given match fees according to the format of the game.
Big money is earned from here too
The former Indian cricket captain earns a lot for his pictures on social media and also as a brand ambassador of famous companies. Not only this, this veteran Indian cricketer has also invested in many companies, from where he keeps getting great returns. Also, a large part of his earnings also comes from endorsements.
Virat Kohli is seen in the ads of famous brands
Advertising, Investing and Restaurants - Virat earns big money from advertisements of brands like Manyavar, MPL, Pepsi, Philips, Fastrack, Boost, Audi, MRF, Hero, Volvoline, Puma. On the investment front, Kohli has invested in Blue Tribe, Chisel Fitness, Nueva, Galactus Funware Technology Pvt. Ltd., Sport Convo and Digit.Former India captain Virat Kohli recently rented the bungalow of late singer Kishore Kumar. In which he has opened a wonderful restaurant. The name of this restaurant of Kohli is 'One8 Commune'.
Former India captain is also a hit on Instagram
Virat included in Insta Rich List - Talking about the earnings of Virat Kohli from social media, with 220 million followers, he is included in the list of most famous celebrity on Instagram. According to media reports, Virat comes at number three after Lionel Messi and Cristiano Ronaldo in Insta's list of most followed sports celebrities.Looking at the Hooper HQ 2022 Instagram Rich List, Virat Kohli is the only Asian after Indian actress Priyanka Chopra in the top-20. According to this, Kohli charges around Rs 8.9 crore for one of his Instagram posts.
From Audi to these expensive cars included in the collection
One to one luxury car owner - Apart from cricket, Virat Kohli is also fond of cars. One of the luxurious and luxury cars is present in Kohli's car collection. According to reports, Virat Kohli has about 6 luxury cars. Talking about the collection, Kohli has Audi Q7 (Rs 70 to 80 lakh), Audi RS5 (approx Rs 1.1 crore), Audi R8 LMX (approx Rs 2.97 crore), Audi A8L W12 Quattro (approx Rs 1.98 crore), Land Rover Vogue (about Rs 2.26 crore).
It has also been claimed in some media reports that he also owns a Bentley Flying Spur (approximately Rs 1.70- 3.41 crore) and Bentley Continental GT (approximately Rs 3.29-4.04 crore). However, these cars are registered in his brother's name.