---
Indian batting maestro Virat Kohli has opened up about his lean patch in international cricket and his expectations during the difficult phase. Virat Kohli stole the show with his batting heroics as he turned out to be the star performer of team India. Kohli's knock helped the Indian cricket team post a huge total of 373 runs. Kohli along with speed sensation Umran Malik outpowered a fighting century by skipper Dasun Shanaka as team India registered a win against Sri Lanka by 67 runs in the first ODI match of the ongoing 3-match series at Guwahati.
It was on September 8 of 2022, when Virat put an end to his over 1000 days of waiting for an international century, having last scored on November 23 of 2019 with a match-winning 136 against Bangladesh in the Pink Ball Test. Kohli ended the year with a stunning century against Bangladesh in an ODI match and he has now resumed where he left last year as he played a stunning knock of 113 runs off 87 balls.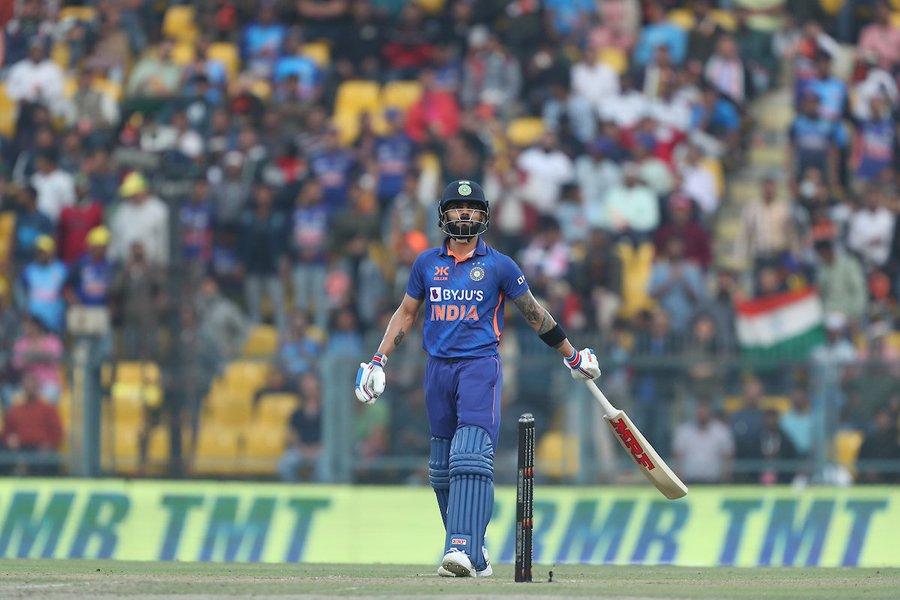 After the match, in an interaction with Suryakumar Yadav, Virat opened up about the difficult period of his career. He said that during that phase he had to be true to himself even if he was vulnerable. He admitted that the frustration had set in while he was experiencing a slump. He said:
"But when it dips a little, in my case, frustration started creeping in. Because I wanted to play in the same fashion and people have this expectation, so I play like this, I should play like this, I will have to play like this. But cricket didn't allow me to play in that fashion. It was a different time for me. And because of that, where my game was, it was very far away. Because my desires and attachments had totally taken over,"
Further, Kohli went on to add that it was during his tough time that he understood he couldn't avoid being himself and that he had to stop living in denial. He said:
"That's when I realized I can't be away from who I am. I have to be true to myself. Even when I am vulnerable and not playing well, I'm the worst player around, I have to accept it. I can't be in denial. Because in denial, in my case, a lot of frustration was creeping in and I was getting very cranky, and very snappy in my space, which wasn't good at all. I did not feel it was fair on anyone around me. Anushka, my close ones. It is not fair to the people that support you and are with you all the time to keep seeing you in that space. I had to take responsibility and put things in perspective,"
Kohli Hailed SKY
Kohli also hailed Suryakumar Yadav for his amazing performances. He expressed immense faith in the T20I sensation of team India and said: "Well, I said this in the post-match presentation as well. Sometimes what happens is people look at you differently. Now, when Surya goes out to play, people think Surya will do it. Keeping up with that is a very intense process. And sometimes what happens is, when you're playing cricket well, your form is good, all those things flow well."
As per Kohli, his ambitions and attachments had taken over during the difficult time and his game was extremely far away. He said: "After that, when I came back relaxed for the Asia Cup, I started enjoying practice. I started enjoying training again. Which is how I have always played my cricket. What I will say is that if you feel a little bit of desperation, always take two steps back, rather than pushing more and more. Because then things will start to go away from you,"
Of mutual admiration 🤝, dealing with expectations & starting the year with a glorious 💯

A conversation that will brighten up your Wednesday morning as @surya_14kumar chats with centurion @imVkohli 😃- By @ameyatilak

Full interview 🔽 #TeamIndia #INDvSLhttps://t.co/VVfjt19zRM pic.twitter.com/StExnar1V1

— BCCI (@BCCI) January 11, 2023

Well, Kohli's century drought and his lean patch now seem a distant memory. He is back and how. For the first time in three years, Virat has scored back-to-back centuries in the ODI format.