India began their tour of England with a four-day warm-up game on Thursday, against Leicestershire at Grace Road, Leicester. This was the first time Rohit Sharma led India in red-ball cricket outside India. However, the visitors clearly had a tough time in the first session as they were five down for 90 runs by Lunch. Sharma …
---
India began their tour of England with a four-day warm-up game on Thursday, against Leicestershire at Grace Road, Leicester. This was the first time Rohit Sharma led India in red-ball cricket outside India. However, the visitors clearly had a tough time in the first session as they were five down for 90 runs by Lunch.
Sharma won the toss and elected to bat first. To note is that four big names from the India squad – Cheteshwar Pujara, Rishabh Pant, Jasprit Bumrah and Prasidh Krishna – were named in the opposing Leicestershire team because this had been an arrangement made by the BCCI and the ECB to provide all members of the touring party with match-practice.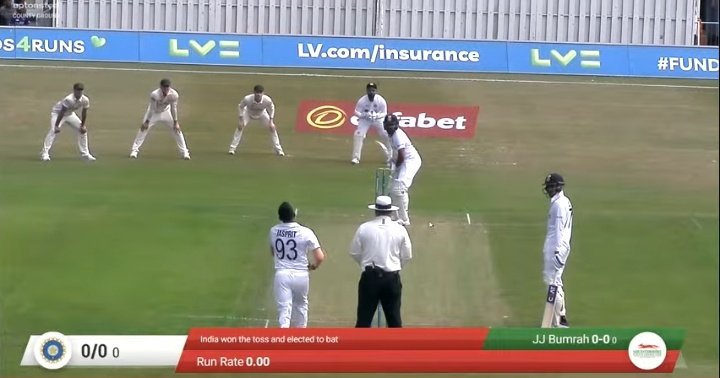 Rohit Sharma Got Hit By Jasprit Bumrah
Although Bumrah didn't take any wicket in the first session, he troubled the Indian openers, Sharma and Gill with the decent amount of swing available. In fact, one of those moving balls even went on to hit Sharma's bal*s!
A length delivery from Bumrah swing in a little but seamed into Sharma very much and sharply which caught the batter too late on his shot and beat the inside edge and crashed into Rohit's crotch area.
Sharma immediately went down on his haunches. As Bumrah returned back to his bowling crease, Sharma moved aside from the pitch and was still down on his haunches, visibly in a lot of pain after being hit on the fleshy part. Non-striker Shubman Gill and wicket-keeper Rishabh Pant came to consult Sharma. An injury break later, the Indian skipper was back to face the bowling.
You can watch the video here:
— Mandeep (@VK__Goat18_) June 23, 2022
Sharma gets out for a pull shot, failed to convert his start once again
While Rohit and his opening partner, Shubman Gill, both got out in their 20s, India lost 5 wickets in the first session with the moving ball – in the air and off the seam – causing trouble to the Indian batters
While Sharma started off steadily, Gill raced with a flurry of boundaries scoring 21 runs off 28 balls before nicking off pacer Will Davis to wicket-keeper Pant after advancing down the track but only fending off a back-of-length delivery. Six overs later, Sharma followed Gill. Having stroked three fours in his sedate knock of 25 runs off 47 balls.
But it was the manner of Rohit's dismissal that has irked the fans: to a short ball from seamer Roman Walker, Rohit went after it with his trademarks pull shot however, he was late on it and sliced it up in the air for Abidine Sakande who ran behind from square leg to take a comfortable catch. Sharma was dismissed twice on short ball on the England tour last year as well and this is something that the hosts will like to exploit once again in Birmingham.