When MS Dhoni Served Drinks To Team India: Former India skipper MS Dhoni's humility is as revered as his cricketing greatness. The Ranchi-born is known to have his feet firmly on the ground despite his astronomical success as a cricketer. One example of his humility, humbleness and absolute team-first character was seen during the second …
---
When MS Dhoni Served Drinks To Team India: Former India skipper MS Dhoni's humility is as revered as his cricketing greatness. The Ranchi-born is known to have his feet firmly on the ground despite his astronomical success as a cricketer.
One example of his humility, humbleness and absolute team-first character was seen during the second T20I on India's previous tour of Ireland, in 2018.
Dhoni had by then stepped down as India's white-ball captain and had handed over the reins to Virat Kohli. The CSK skipper played in the first T20I vs Ireland and was rested for the second as the Men In Blue opted to try out players with Dinesh Karthik donning the wicket-keeper's gloves.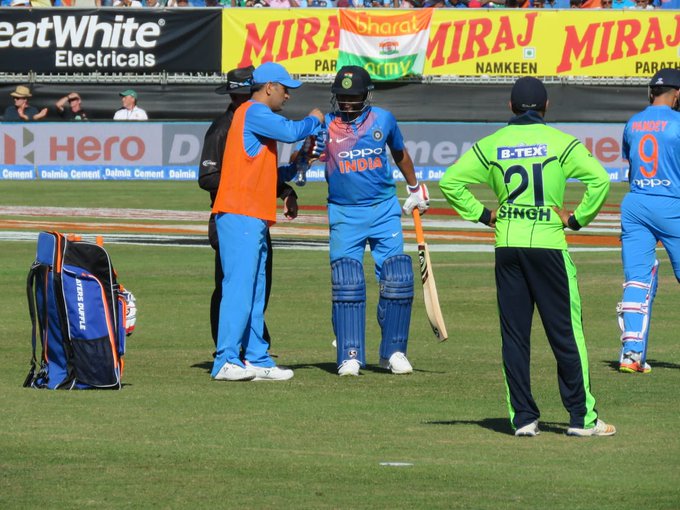 When MS Dhoni carried drinks on the field
Though Dhoni wasn't a part of the playing eleven in the second T20I then, he did manage to make an appearance on the field carrying the drinks to the huge cheer of the joyous crowd in Malahide, Dublin.
Subjected to the bench, the veteran Indian cricket, MS Dhoni, turned waterboy for the Indian players sweating in the middle and handed refreshments to his teammates.
As soon as Dhoni came, the crowd erupted with joy and the incident immediately became a talking point on social media with the fans swooning over his character.
"Look who is carrying drinks for @ImRaina . @msdhoni will and forever remain a role model for any youngsters . #Respect #INDvIRE," tweeted one Twitter user. "The man with no ego," was a reply to this post by another user.
The man with no ego.

— NNG (@nirajgosalia) June 30, 2018
Meanwhile, there are some players from that 2018 Ireland tour who are part of the Indian side for the current Ireland tour. Hardik Pandya has turned the captain now and will lead India for the first time in his career, with Bhuvneshwar Kumar as his deputy.
Yuzvendra Chahal, who was Man of the Series then, is now the senior-most spinner in the side while Dinesh Karthik is the man nailing down the finisher's role now taking over from Dhoni. The likes of Shikhar Dhawan and Manish Pandey have fallen out of the T20I team.