Trending
When Virender Sehwag Got Slapped By John Wright For Not Scoring A Century
Former Indian cricketer Virender Sehwag is one of the most talented batsmen to have ever played for team India. He will go down in the history as one of the hard-hitters of team India. During his illustrious career, he has played many memorable knocks and had scored many centuries. But do you know that the cricketer was once slapped by coach John Wright for not scoring a century?
For the unversed, former New Zealand skipper John Wright coached team India between 2000 and 2005. During that phase, team India achieved a lot of success with Wright's working camaraderie with Sourav Ganguly. However, an ugly incident took place during that phase between Virender Sehwag and John Wright, which is hard to forget.
As bizarre as it may sound, but Virender Sehwag once got slapped by coach John Wright because of his bad performance. Yes, you read that right. John Wright wanted Sehwag to score a century, however, the cricketer got out cheaply and the same angered the head coach, who slapped Sehwag.
Virender Sehwag was very upset after getting reprimanded by the Team India coach. Once, in an interview, Indian cricketer turned politician Rajeev Shukla revealed how Sachin had to interfere to save Sehwag and Wright from further embarrassment.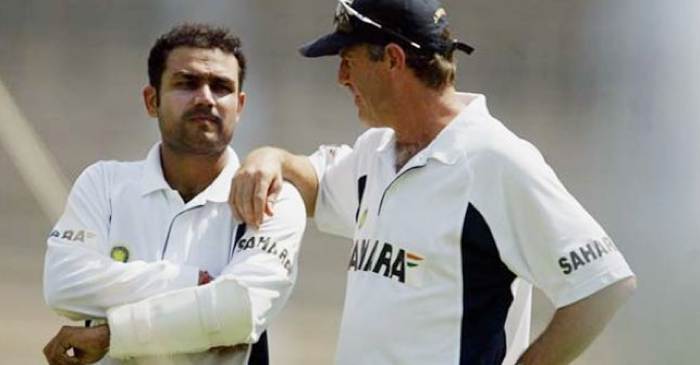 Well, Rajeev Shukla revealed that the whole incident had upset the then Indian skipper Sourav Ganguly, who wanted Wright to apologize from Sehwag. Sachin helped to solve the ugly situation in the dressing room. Shukla revealed:
"I saw Sehwag in a bad mood. When I asked him he said that John had slapped him. It became an issue and Ganguly insisted that they will not leave (dressing room) unless Wright apologizes to Sehwag. "Then I found Wright and asked him if he did it. John said that he wanted Sehwag to score a century but 'Sehwag repeated his mistake of lifting the ball and got out, so I was angry. And he is like a disciple to me so I just pushed him out of anger',"
Now as the tension built up inside the dressing room, Tendulkar requested Shukla to ensure that Wright's dignity as a coach is kept intact. He revealed:
"Sachin came to me and said that 'you must ensure that John does not apologise, otherwise the coach will lose his respect'. I got back to Sehwag and explained that it was just like a father chides his son, John did it. He understood and let it go,"