---
On Wednesday, in Hyderabad, Shubman Gill clattered his third ODI century, and his maiden ODI double ton against New Zealand.
Gill, who was picked over another double centurion Ishan Kishan, broke Kishan's record to become the youngest to hit an ODI double ton, aged 23 years and 112 days. Apart from his characteristically classy shots, Gill also showed his power game, smoking 9 sixes in his record-breaking knock, including three consecutive sixes to fast bowler Lockie Ferguson to bring up his 200.
"I was waiting very eagerly to, you know, go out there and do what I want to do," Gill said. "And with the wickets falling, you know, there were times when I wanted to unleash. But I got my moment when we had the last three or four overs left and I wanted to get some sixes under my belt and I'm happy that it paid off today."
"This is what dreams are made of."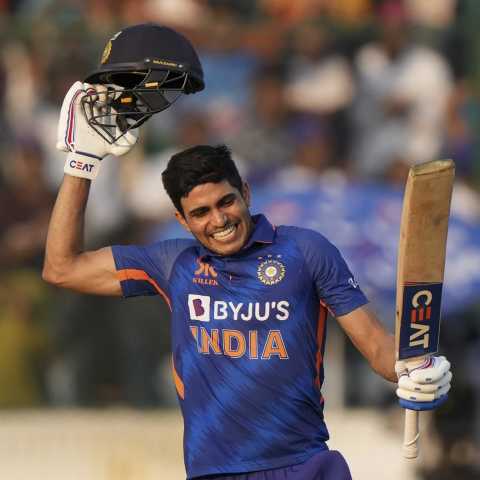 Sonam Bajwa teases Shubman Gill with the "Sara" pun
Shubman Gill has been rumored to have dated the two renowned Sara's of the country - Sara Tendulkar, the daughter of Sachin Tendulkar, and Sara Ali Khan, the Bollywood actress and the daughter of actor Saif Ali Khan.
Gill is also a good friend of the Punjabi actress and model Sonam Bajwa. The pair had last year also done a chat show together for an entertainment house.
Teasing Gill with the "Sara" puns, Sonam Bajwa tweeted "Ye sara ka sara jhoot hai" when one Twitter user credited Sonam for Gill's success after she took an interview with the cricketer. This has further given air to the rumors of Gill dating, ummm.., Sara Ali Khan, because both have been seen together having meals, going to restaurants,s and taking the same flight in recent months.
Here is Sonam Bajwa's tweet on Shubman Gill and the "Sara" connection:
Speaking of his double century - only the 10th such instance in ODIs - Shubman Gill said: "I was waiting eagerly to go out and do what I want to do. With wickets falling, at times I wanted to unleash and I'm glad I could do it at the end. Sometimes when the bowler is on top, you need to make them feel pressure. Need to avoid dot balls, show some intent and hit hard into the gaps. Which is what I was doing. Wasn't really thinking of 200, but once I hit sixes in the 47th over, I did feel that I could. Before that, I was playing what was coming to me."