In a heart-pounding 26th match of the ICC Cricket World Cup 2023, cricket enthusiasts worldwide witnessed a fiery showdown between two exceptional players. The Pakistan National Cricket Team's star wicketkeeper-batter, Mohammad Rizwan, and the young South Africa National Cricket Team all-rounder, Marco Jansen, engaged in a heated verbal exchange that left fans on the edge of their seats. In this high-stakes encounter, the Temba Bavuma-led South Africa National Cricket Team faced off against the formidable Babar Azam-led Pakistan National Cricket Team at the iconic MA Chidambaram Stadium, Chepauk, Chennai on Friday, October 27.
As the match unfolded, the Pakistan National Cricket Team found themselves in a precarious situation, losing quick wickets. Amongst the anticipation and tension in the air, Rizwan was thrust into the fray earlier than expected. It was a pivotal moment for both teams as they vied for dominance in the tournament.
On the very first ball that Rizwan faced, fate seemed to favour the Pakistani batter. Marco Jansen, the left-arm pacer representing South Africa, delivered a deceptive slower ball that left Rizwan struggling. As Rizwan played the ball back towards Jansen, an opportunity for a wicket presented itself, but Jansen couldn't secure the catch. The stadium buzzed with excitement as the match continued, with fans from both sides fully invested in the unfolding drama.
However, the incident didn't end with the dropped catch. On the fourth ball of the 7th over, tensions escalated between Rizwan and Jansen. It was a high-pressure moment, and both players were keen to gain an upper hand for their respective teams. What followed was a series of heated exchanges, with sharp words being traded. The on-field rivalry intensified, and the audience was left captivated by this duel of wills.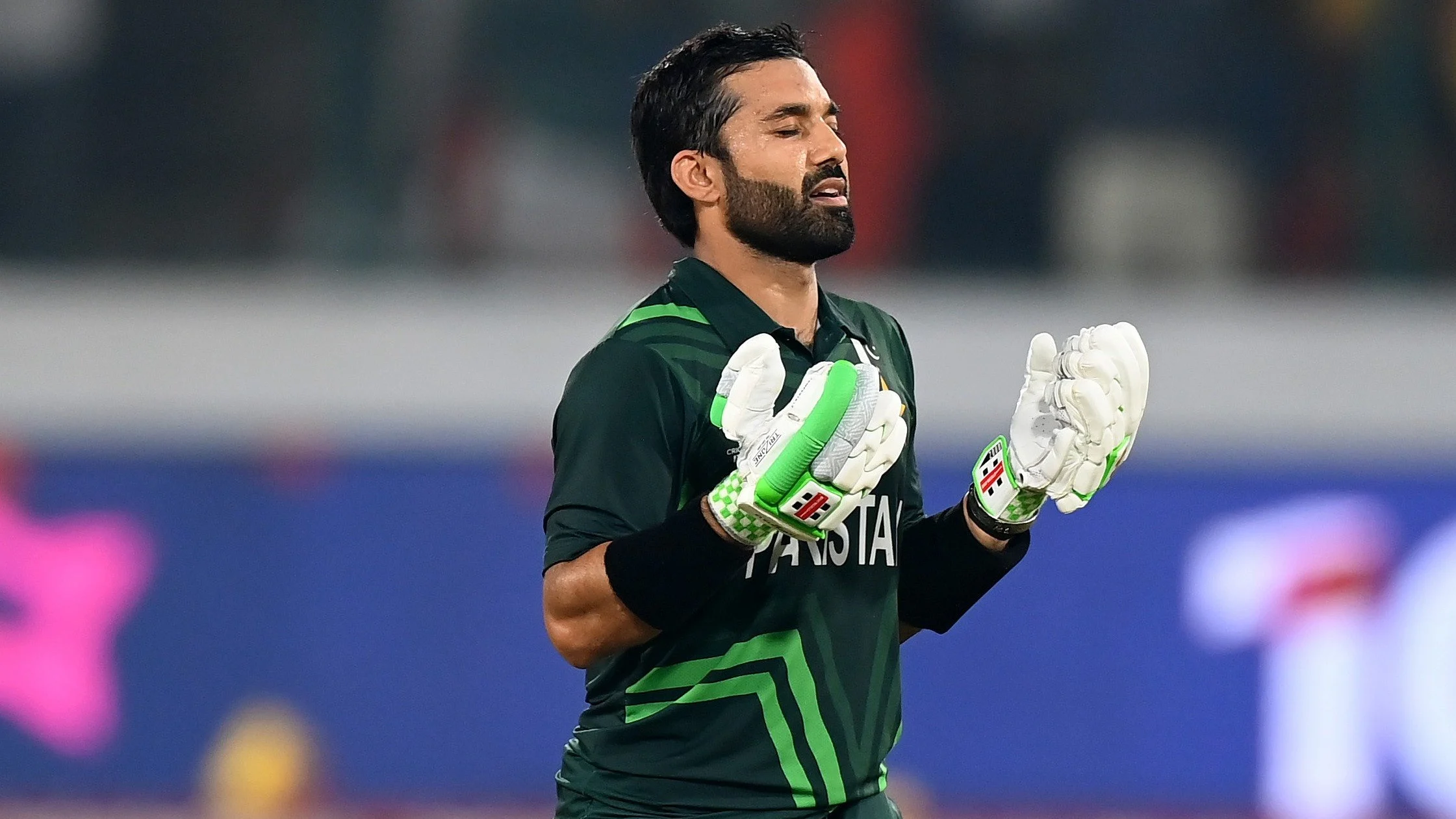 Amid the heated exchanges, Rizwan managed to hit Jansen for a crucial boundary on the next ball. It was a moment of redemption for Rizwan, who had narrowly escaped a dismissal earlier. As the ball raced to the boundary, the all-rounder, Jansen, appeared visibly upset. He voiced his frustration, further fueling the verbal sparring between the two.
The exchange between Rizwan and Jansen continued to escalate, with neither player willing to back down. The intensity of the confrontation reached its peak when Gerald Coetzee, a South African teammate, intervened to defuse the situation.
[VIDEO] Muhammad Rizwan Engages With Marco Jansen In A Verbal Spat
— Cricket Khelo (@cricketkhelo11) October 27, 2023
— Cricket Khelo (@cricketkhelo11) October 27, 2023

In the very next ball, Marco Jansen came up with a few angry words for Muhammad Rizwan. In return Mohammad Rizwan shows him some love and offers him a hug
Marco Jansen with a few angry words for Mohammad Rizwan.

In return Mohammad Rizwan shows him some love and offers him a hug#PAKvSA #CWC23 #VerifiedPakistan pic.twitter.com/bPcDcN45pl

— Verifíed Pakistan 🇵🇰 (@Veri5edPakistan) October 27, 2023