The name Suryakumar Yadav has come to represent incredible feats and game-changing hits in the cricket world. This daring 33-year-old Indian cricket player recently took the crowd by surprise by setting out on a singular journey across the busy streets of Mumbai's famous Marine Drive. The fact that Suryakumar was completely disguised and acting covertly among cricket fans added to the intrigue of this adventure. Fans were amazed and entertained when the Board of Control for Cricket in India (BCCI) posted this incredible event on social media.
Suryakumar successfully concealed his identity as he left the house by donning a mask, sunglasses, and a funny costume. At first, not even his colleague Ravindra Jadeja recognised him in this new guise. With a camera in hand, Suryakumar conducted interviews with Indian cricket fans who were completely unaware that they were having an open discussion with one of their idols.
The video, named 'SURYA CAM,' included the open and honest thoughts of a number of cricket fans on what they anticipate from the Indian cricket team during the current ODI World Cup. They had no idea that Suryakumar Yadav himself was the person with whom they were conversing. The modest interviewees shared their expectations for the players and their thoughts on the team's performance.
Suryakumar picked the ideal time to disclose his genuine identity after speaking with a number of followers, shocking the assembled. As soon as supporters realised who was hiding behind the mask, the excitement reached a fever pitch. After that, Suryakumar kindly posed for pictures with his newfound pals while enjoying their response to his spontaneous performance.
In the shorter version of the game, Suryakumar is a fearsome force because of his unmatched talent in T20 cricket and his ability to change the course of a match in a matter of balls. His performance in One Day Internationals (ODIs), nevertheless, has generated debate. There were concerns when Suryakumar was included in India's 15-man team for the ODI World Cup, especially considering that Sanju Samson, who has an average of over 50 in ODIs, is a more seasoned player.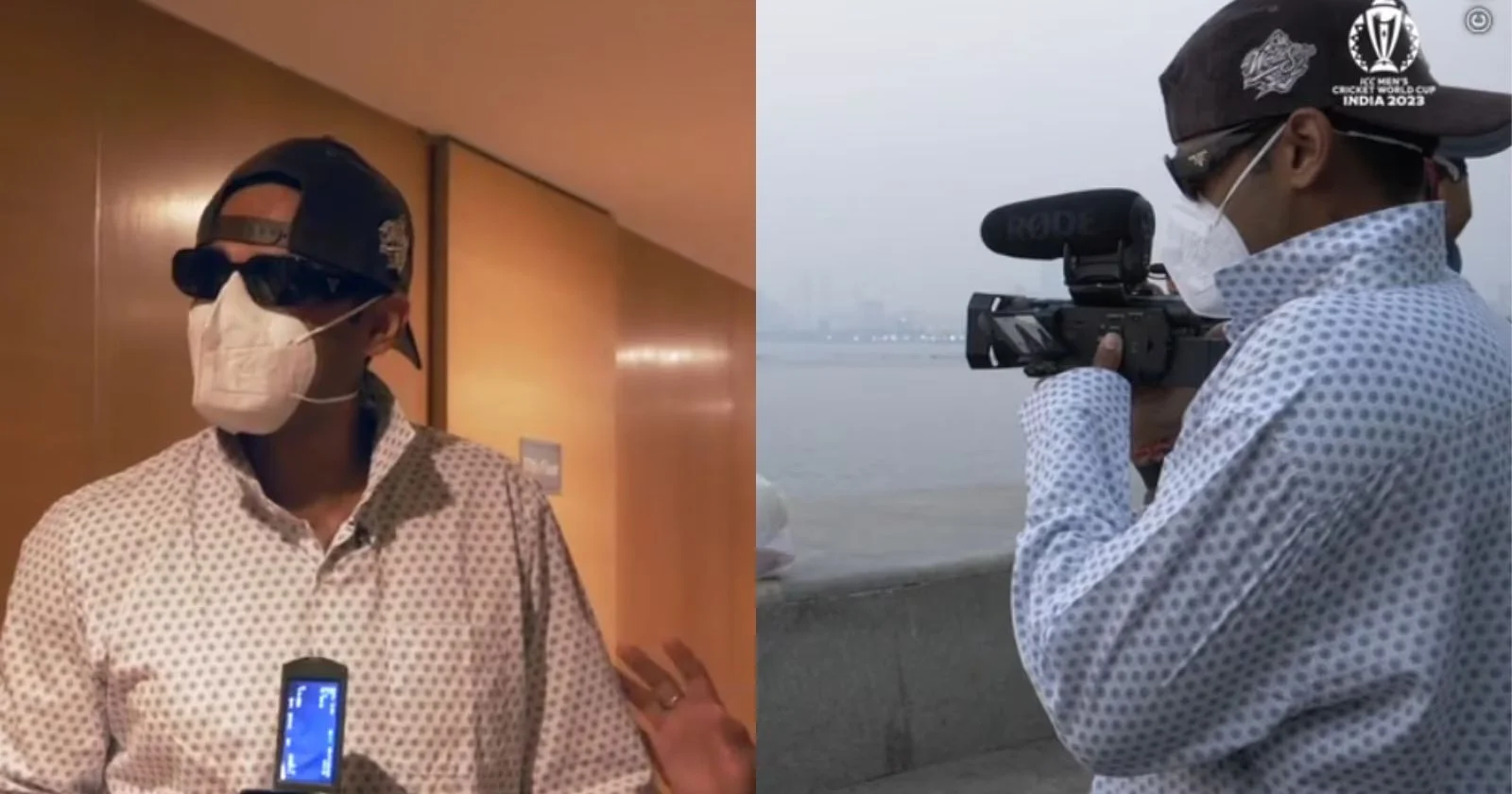 Because of Suryakumar's ability to win matches, the team management was first sceptical of his selection, but they eventually came around to him. Suryakumar took advantage of the situation when Hardik Pandya was forced to skip the match against New Zealand due to an ankle injury. Unfortunately, he was forced to watch from the pavilion when his maiden stint ended in a run-out due to a miscommunication with Virat Kohli.
But Suryakumar returned with a bang, demonstrating his might on the cricket pitch. He was essential in an important encounter on a difficult Lucknow surface against England. In addition to anchoring the innings, Suryakumar's 49 runs off 47 deliveries helped India beyond a competitive 200 runs in the first innings. In the end, this presented the bowlers with a difficult score to defend.
[VIDEO] Suryakumar Yadav Interviews Indian Cricket Fans In Disguise
Presenting Suryakumar Yadav in a never seen before avatar 😲🤯

What's our Mr. 360 doing on the streets of Marine Drive 🌊

Shoutout 👋🏻 if you were on SURYA CAM last evening 🤭
Post credit 👇@BCCI #HappyHalloween #BCCI #TeamIndia #SuryaKumarYadav pic.twitter.com/watOIvRVFX

— Dipak kushwaha (@imdipak_k) November 1, 2023