Indian batting maestro Virat Kohli is one of the richest cricketers in the world. With over 252 million followers on Instagram, Kohli is one of the most followed stars on social media. Overall, he is the third most-followed sportsperson on Instagram.
Kohli has enjoyed great success on and off the field, because of which he has also made huge monetary gains. He is the only Indian athlete to have been featured on Forbes' list of the world's highest-paid athletes.
Virat Kohli Has A Net Worth Of INR 1050 Crore
Recently, Stock Gro has dug out some interesting numbers and revealed that the Indian icon has a net worth of INR 1050 crore, which makes him one of the richest cricketers in the world.
Virat Kohli has a fixed salary of INR 7 crore from the BCCI and INR 15 crore from Royal Challengers Bangalore. Besides his annual fees and match fees, he is also cashing on his huge popularity on social media. Kohli, who falls in the "A+" Team India contract, earns a match fee for each Test is Rs 15 lakh, ODI is Rs 6 lakh, and Rs 3 lakh per T20 match.
Besides this, he charges nearly Rs. 9 crores (8.9 crores) for every Instagram post. He charges Rs. 2.50 crore for a single Tweet.
The former Indian skipper is also an entrepreneur as he owns several businesses and has invested in seven start-ups which include Blue Tribe, Universal Sportsbiz, MPL, and Sports Convo, among others. The former Indian captain also endorses over 18 brands and charges a fee of Rs 7.50 to 10 crores annually for shooting per advertisement, which is the most by an individual in the Bollywood and sports industry. He earns around Rs 175 crore from such brand endorsements.
He has two houses – one in Mumbai (Rs 34 crore) and one in Gurugram (Rs 80 crore). He also owns luxury cars worth Rs 31 crore.
Apart from these, Kohli also owns the FC Goa Football Club, which competes in the Indian Super League, a tennis team, and a pro-wrestling team.
Check out the cover pic of Stock Gro: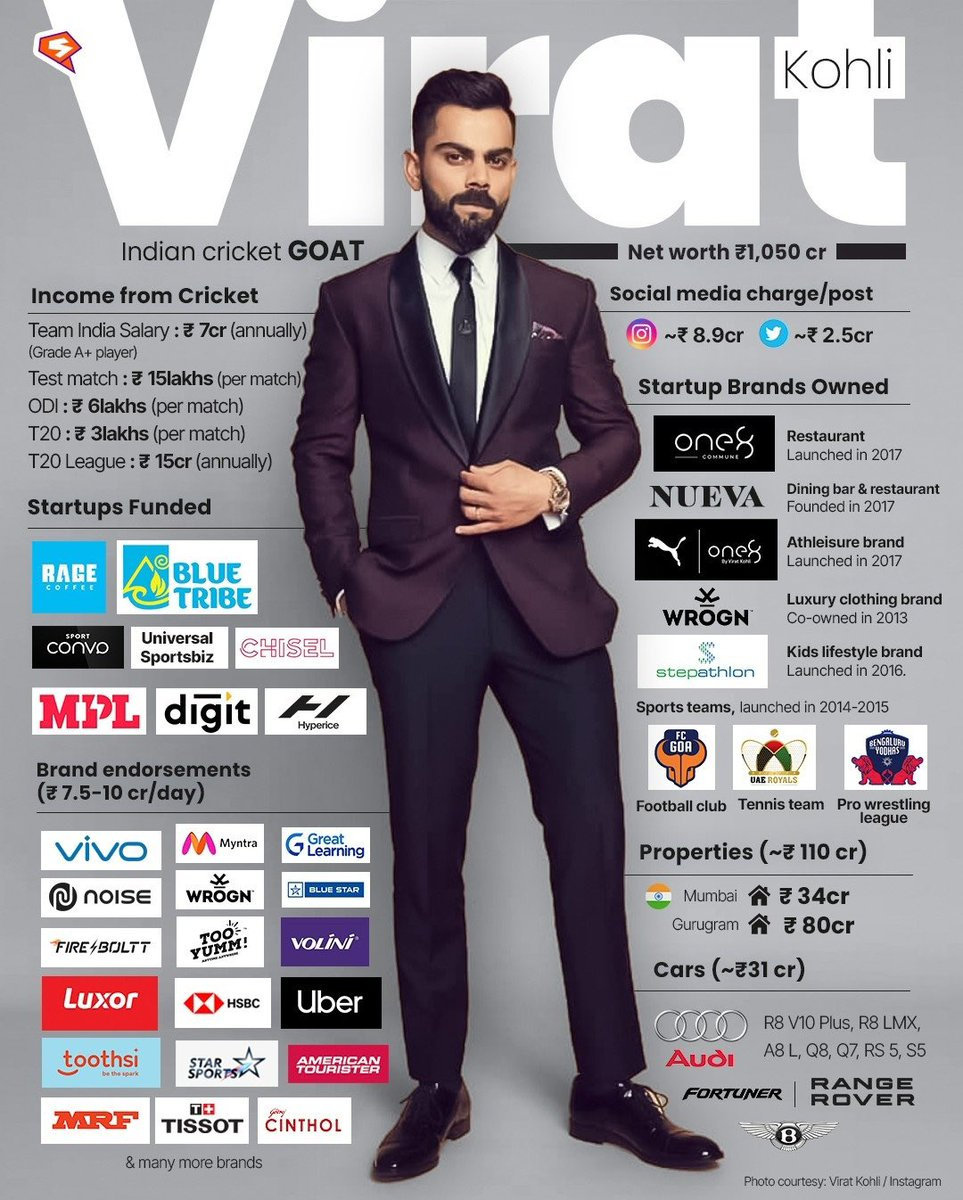 Meanwhile, Virat Kohli is expected to return to cricketing action during India's upcoming tour of the West Indies.