The International Cricket Council (ICC) announced three new additions to the ICC Hall of Fame on Monday, with legendary opener Virender Sehwag, India trailblazer Diana Edulji and Sri Lankan superstar Aravinda de Silva the latest inductees.
Virender Sehwag Has Been Inducted Into The ICC Hall Of Fame
Former Indian cricketer Virender Sehwag was a nightmare for bowlers during his playing days because of his aggressive batting style. Sehwag played an instrumental role in providing flying starts to India, be it in ODIs or in Test Cricket.
"I would like to thank the ICC and the jury for inducting me with this honour," Sehwag said as quoted by ICC.
"I feel extremely grateful for having spent a great part of my life doing what I loved most, 'hitting the cricket ball'.
"I would also like to thank my family, friends, people I played with, and countless people who prayed for me selflessly."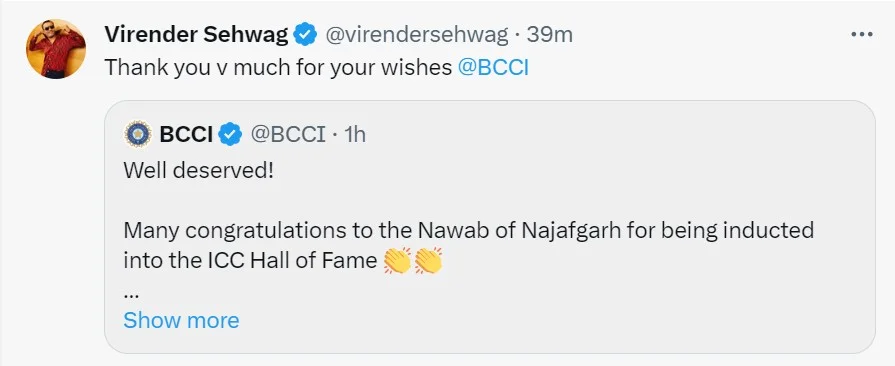 Virender Sehwag Stats:
104 Tests – 8,586 runs at an average of 49.34, 40 wickets
251 ODIs – 8,273 runs at an average of 35.05, 96 wickets
19 T20Is – 394 runs at an average of 21.88
Sehwag is hailed as one of the most destructive batters of the modern era. He joined the ICC Cricket Hall of Fame with a record that is unable to be matched by many.
Virender Sehwag scored a total of 23 Test centuries during his glorious cricketing career, which is the fifth most by an Indian men. Apart from his red-ball heroics, Sehwag was just as effective against the white-ball with an equally impressive record. He amassed a total of 8,273 runs for India in 50-over cricket.
Sehwag also played a crucial role in helping the Indian cricket team claim their second ICC Men's Cricket World Cup title in 2011. He scored 380 runs for India in the tournament.
A momentous day for Indian cricket as the swashbuckling maestro @virendersehwag and the trailblazing @DEdulji script history by being inducted into the @ICC Hall of Fame. Sehwag's fearless and explosive batting enthralled fans worldwide, while Edulji's pioneering contributions as… pic.twitter.com/nXFHgfdGMz

— Jay Shah (@JayShah) November 13, 2023
Meanwhile, social media has been buzzing with reactions and tributes from the fans on Sehwag's new achievement. Check out the reactions of the fans: