SKY Gave An Epic Reply To Rahul Dravid's Compliment For Him
---
India's sensational batter Suryakumar Yadav had a memorable 2022 as he created history by becoming only the 2nd batter in the T20I history to score more than 1000 runs in a calendar year. He scored 1164 runs in 31 matches. Now, in 2023 he has picked up where he left off. SKY played a sensational knock of 112 runs off 51 deliveries to make sure India outclass Sri Lanka in the T20I series decider at the Saurashtra Cricket Association Stadium.
The 32-year-old right-handed batter, who is ranked first in the T20I rankings, registered his 3rd T20I century in the series decider to help India secure a 91-run victory in the winner-take-all contest. Suryakumar Yadav smashed the Sri Lankan bowlers to all the corners of the ground. His stunning knock of 112* runs was laced with seven fours and nine sixes.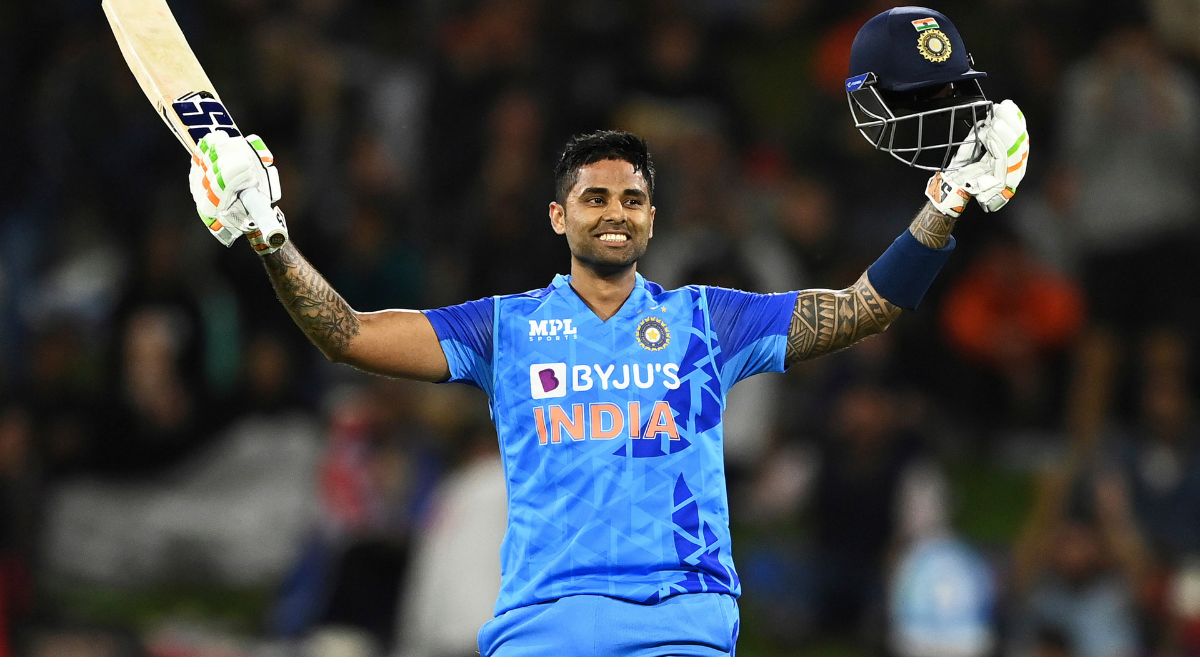 Indian head coach Rahul Dravid, who has seen Surya since his U-19 days, was left in awe of the 32-year-old and reserved ultimate praise for the cricketer. He said that every time he thinks he has not seen a better T20I inning, SKY comes up with one even better. Rahul Dravid interviewed Surya after the end of the third T20I and lauded him for his superb performance. He said:
"It's lovely to have someone here with me who I am sure as a young kid, growing up, didn't watch me bat," Dravid said at the start, to which Surya replied: "I did".
"And I hope you didn't; I am sure you didn't," Dravid added. "But Surya, I think it's exceptional. Just the form that you have been in. Every time I think I have not seen a better T20I innings, you show us something even better,"
Further, Dravid asked Surya to pick one or two of his best innings out of all the ones he has played so far in his career. However, the star Indian batter didn't pick one and instead said: "I enjoyed batting in all the difficult situations where I went in to bat, and I can't actually pick one inning. It's actually difficult for me to pick one, as I enjoyed everything I did in the last year and am doing the same thing again. I just try to go and enjoy whenever I go to bat. Express as much as possible, and in those situations where other teams try to pull the game off, I try to pull the game on. If it works well for me and the team, I am happy."
𝐃𝐞𝐜𝐨𝐝𝐢𝐧𝐠 𝐒𝐊𝐘'𝐬 𝐦𝐚𝐬𝐭𝐞𝐫𝐜𝐥𝐚𝐬𝐬 𝐓𝟐𝟎𝐈 𝐜𝐞𝐧𝐭𝐮𝐫𝐲 𝐢𝐧 𝐑𝐚𝐣𝐤𝐨𝐭 🎇

Head Coach Rahul Dravid interviews @surya_14kumar post #TeamIndia's victory in the #INDvSL T20I series decider 👌🏻👌🏻 - By @ameyatilak

Full Interview 🎥🔽https://t.co/nCtp5wi46L pic.twitter.com/F0EfkFPVfb

— BCCI (@BCCI) January 8, 2023