Internet sensation Elvish Yadav has become a household name because of his stint in the ongoing season of Bigg Boss OTT. Yadav, who is a popular YouTuber with a massive fan following, entered the reality show as a wild card entrant, however, he became a fan favorite instantly.
The finale of the 'Bigg Boss OTT 2' is just around the corner and fans are already rooting for their favorite contestants by initiating trends on social media. Yadav is one of the top 5 contestants in the 'Bigg Boss OTT 2' house, the other four include Abhishek Malhan, Manisha Rani, Pooja Bhatt, and Bebika Dhurve.
Abhishek Malhan and Elvish Yadav appear to be the two candidates with the best chances of winning the show among the final finalists.
While the fans are going gaga over these two for their amazing performance and personality that has come out in the reality show, they have also been receiving vote appeals from politicians, actors, cricketers, and many prominent celebrities as well.
Yuzvendra Chahal Made A Special Vote Appeal For Elvish Yadav
Among many, India's sensational limited-over bowler Yuzvendra Chahal, who is very active on social media, took to his social media and made a vote appeal for his favorite contestant. Chahal also seems to be a fan of this 'systummm' boy Elvish Yadav.
In his Instagram story, Chahal shared the video of Elvish making a vote appeal to his fans. Sharing the video, Chahal wrote:
"@ELVISH_YADAV
#SYSTEMMMMM"
Check out the story: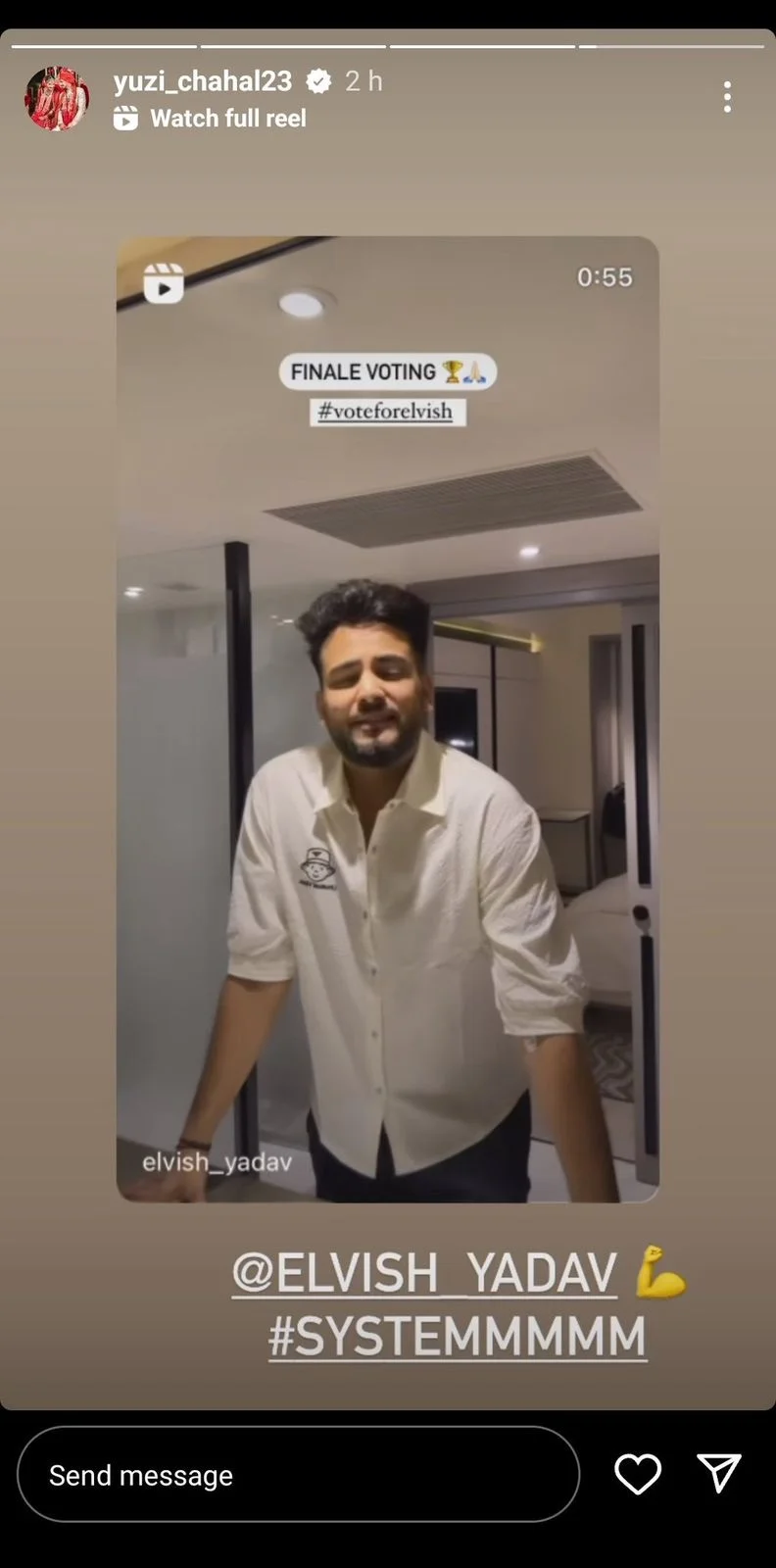 Yuzvendra Chahal is currently with the Indian cricket team, playing in the T20I series against the West Indies. Team India landed in the USA earlier today (August 10) for the final two T20Is against the West Indies. The Indian players were given rest after they picked up a win in the third T20I in Guyana after losing the first two games.