11 years ago, one of the most destructive batters — Virat Kohli got his first taste of the purest format of the game in a game against West Indies in Kingston, Jamaica. In fact, June 20 will go down as a golden date in the history of Indian cricket as not just for King Kohli but also because Rahul Dravid, and Sourav Ganguly also made their debuts on this very date.
Virat Kohli Made His Test Debut 11 Years Ago On June 20th
Talking about Kohli in particular, on this day 11 years ago, Kohli made his debut for the Indian cricket team in the longest format of the game in a game against West Indies. However, it wasn't a record-breaking debut as he could only muster up 19 runs in the entire match. Kohli had come out to bat at number 5 in his debut match, but he was dismissed by Fidel Edwards after scoring just four runs. In the second innings, Edwards again dismissed Kohli but this time Kohli managed to score 15 runs.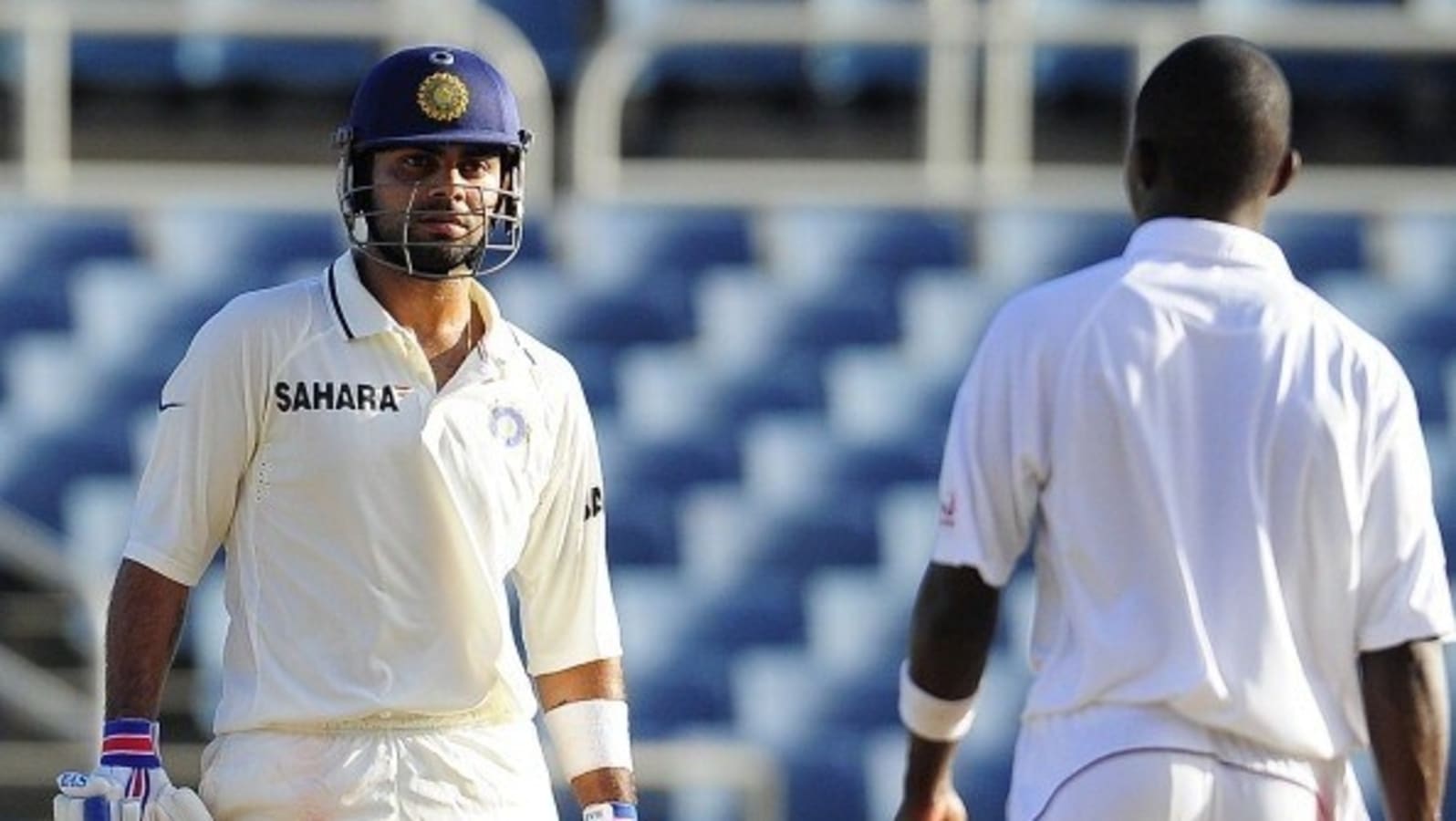 The rest, as they say, is history. After 11 years, Virat Kohli has gone on to become one of India's legendary batters in Test cricket, having scored 8043 runs from 101 matches with 27 centuries and 28 half-centuries to show for his efforts.
In fact, with his brilliant captaincy skills in Test format, Virat Kohli made the Indian cricket team a mighty force. With 40 wins in 68 games, Kohli led India in most numbers of Test matches and won the highest number of Test matches among all Indian captains. He also has the best win-loss record
Fans Are Celebrating The Iconic Day
Meanwhile, social media has been buzzing with amazing reactions from the fans as they celebrate the iconic day when Virat made his Test debut 11 years ago. In fact, the hashtag '#11YearsOfViratKohli' has been on top of the trending lists since morning.
Check out the best Tweets on #11YearsOfViratKohli :
"Each batsman is recognized with one shot & Cover Drive belongs to Virat Kohli" said Sachin Tendulkar

11 Magnificent Years of King Kohli in Whites! What a Player he's

What a player he's! Our King Our Man #11YearsofViratKohli #ViratKohli #CricketTwitter #KingKohli pic.twitter.com/CEmYyhq8BW

— RCBIANS OFFICIAL (@RcbianOfficial) June 20, 2022
People throw the stones ,you turn them into milestones #11YearsofViratKohli pic.twitter.com/X8PABZIPvM

— Sai (@NaniThopella) June 20, 2022
This day 11 years ago a King made debut in the purest form of cricket and then went on to become one of the best Test batter of this generation and most successful Test Skipper of India #11YearsofViratKohli pic.twitter.com/pTvRJlAGjH

— Fab4forever (@Fab4forever27) June 20, 2022
#11YearsofViratKohli

How it started : How it's Going : pic.twitter.com/Gu4je1J8zU

— Irushi Karunarathne (71st )_ (@im_IrushiK) June 20, 2022
Test Cricket was boring, and then this man came!!!@imVkohli | #ViratKohli𓃵 #11YearsofViratKohli pic.twitter.com/kcWBvAbrQb

— 𝐀𝐚𝐥𝐢𝐲𝐚𝐡 | 𝒗𝒌 𝒇𝒂𝒏 𝒈𝒊𝒓𝒍 (@Aaliya_Zain5) June 20, 2022
How Many Rts for One of the Bestest Caption of Test history…?#11YearsofViratKohli @imVkohli pic.twitter.com/ubxwm2rJzm

— Shaurya (@Kohli_Devotee) June 20, 2022
"He made everyone love test cricket all over again."
So true! #11YearsofViratKohli pic.twitter.com/F4p3nR4wGL

— ♡aakriti♡ (@aakritiiispamz) June 20, 2022
Congratulations to @imVkohli on completing 11 years of playing Test cricket.#11YearsOfViratKohli | #ViratKohli @ImRo45 pic.twitter.com/faPeASBemI

— VIJAY ROHIT FANS CLUB (@VijayRohitFC) June 20, 2022
Virat kohli at the age of 22. See the confidence & class unmatchable #ViratKohli𓃵 #11YearsofViratKohli @imVkohli pic.twitter.com/k1tBkrAsvK

— Ayush (@vkkings007) June 20, 2022
Just 10 more days to witness this battle!@imVkohli | #INDvsENG#11YearsofViratKohli pic.twitter.com/YZGeHlzItq

— 𝐀𝐚𝐥𝐢𝐲𝐚𝐡 | 𝒗𝒌 𝒇𝒂𝒏 𝒈𝒊𝒓𝒍 (@Aaliya_Zain5) June 20, 2022
Congratulations to @imVkohli on completing 11 years of playing Test cricket.

One of the finest batter ever in the history of red ball cricket#11YearsOfViratKohli | #Vk pic.twitter.com/A8dB6W6zsu

— MOHIT SHUKLA (@MohitShukla1030) June 20, 2022
I fell in love with Test cricket because of this man. Thank you for being the powerhouse of entertainment #11YearsofViratKohli pic.twitter.com/rCfO5JxK2c

— Unnati Madan (@unnati_madan) June 20, 2022
Virat Kohli Takes Trip Down The Memory Lane
Virat also took to his social media and shared a 16-second clip, which was a compilation of some of his best moments in red-ball cricket. Sharing the video, Kohli wrote: "Time flies"
Check out the Tweet:
Time flies #20June #TestDebut pic.twitter.com/eIktcGLg6i

— Virat Kohli (@imVkohli) June 20, 2022