The Indian Test skipper, Virat Kohli, and other Indian players expressed their displeasure about the South Africa broadcaster, SuperSport, following the controversial DRS taken by Dean Elgar. On Day 3 of the ongoing third and final Test match between India and South Africa, while Elgar was given LBW out by the on-field umpire, the DRS review earned him a lifeline as it showed that the ball was going over the stumps.
The incident took place in the 21st over of the innings which was bowled by Ashwin. The drama began when Ravi Ashwin trapped Dean Elgar in front of the stumps. The umpire, Marais Erasmus also had no hesitation and ruled Elgar out. However, the Proteas skipper went upstairs for the review. Though initially, it looked like he has been caught dead in front of the stumps, but the replays confirmed that the ball was missing the stumps and overturned the decision of the on-field umpire. This took everyone by surprise including the umpire.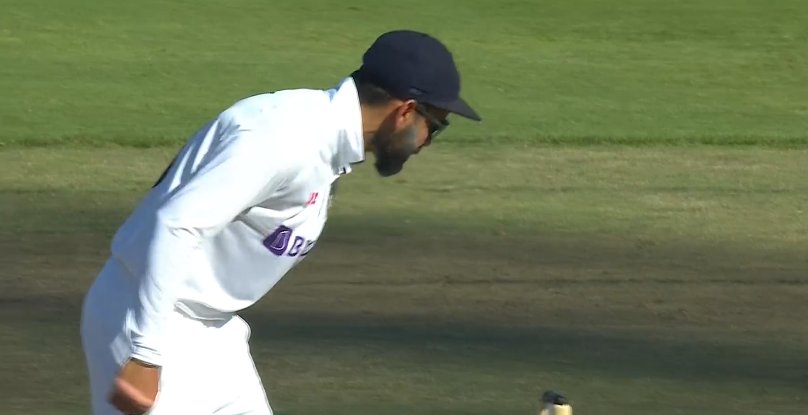 The DRS replay earned Elgar a lifeline in the game, on the other hand, Virat and other cricketers were seen hitting out at the broadcaster (SuperSuport) for 'hacking' the ball tracking system in order to favor the home team.
Virat Kohli, Ravichandran Ashwin, KL Rahul or even Mayank Agarwal, the Indian players were seen making some comments near the stump mic and slamming the broadcaster 'SuperSport' for allegedly tweaking the results. The controversial DRS has led to a huge debate on Thursday.
First, the mic caught Ashwin as saying: "You should find better ways to win Supersport (South Africa broadcaster)."
Then Virat Kohli walked towards the stump mic and said: "Focus on your team as well and not just the opposition, trying to catch people all the time." At last, KL Rahul said: "Whole country playing against XI guys."
Here, watch the video:
— Addicric (@addicric) January 13, 2022
Social media has been buzzing with reactions from the fans to it. While the controversy has led to a heated debate, but there were many who came up with hilarious reactions and memes while reacting to the incident.
Here, check out the reactions of Twitterati on this:
??? pic.twitter.com/YxKacBk4Uw

— Kartik godara (@Kartik_GOD_ERA) January 14, 2022
ICC statement on Kohli stump mic rant: "After reviewing the audio and video we have decided to award three demerit points to Rabada for being in the ground when the incident occured."

— Pavilion Opinions (@pavilionopinion) January 13, 2022
"Fcuking camera team"
"Supersport is a joke"
"focus on your team as well as they shine the ball eh not just the opposition. trying to catch people all the time"
Kohli is angry as hell pic.twitter.com/KYFyM8BUPP

— S ? (@kollyscharm) January 13, 2022
Virat Kohli
Pic 1: Aww Daddy match officials ? Pic 2 :BC Mc match officials ? pic.twitter.com/wdR1u8DpWf

— Jyran (@Jyran45) January 13, 2022
Virat Kohli in Stump mic to Third Umpire ??#Kohli #Ashwin #Elgar pic.twitter.com/sOs56MvuOA

— Arun (@This_isAruN) January 14, 2022
Well Supersport weren't promoting MRF ZLX Advertisement on their channel, here's Virat Kohli promoting himself through Stump mic ??#ViratKohli #bcci #IndianCricketTeam #mrf #INDvsSA #SAvsIND pic.twitter.com/qEYZ43ntqL

— Amit Khetan (@amitkhetan2804) January 14, 2022
Whatt is going on

Virat Kohli speaking right into the stump mic indicating that the DRS is definitely rigged to favour South Africa.

KL Rahul: whole country against 11 people pic.twitter.com/6DUbTTpnks

— Fahmidah Yousfi (@fahmidahyousfi) January 13, 2022
Virat Kohli: Mr Stump Mic help me score a 100 again please?!

Mr Stump Mic: I hear you Virat, but I'm a Stump Mic, not the Genie of the fookin Lamp lad#SAvIND #INDvsSA #Kohli #viratkholi #DRS pic.twitter.com/JSSEvMXjQN

— JamesFinlayson (@LeftEyeSenna) January 13, 2022
Virat Kohli to Rahul dravid after stump mic incident #INDvsSA pic.twitter.com/zYj7yOuK27

— ऋतिका (@Vritika385) January 13, 2022
Virat Kohli to the stump mic… pic.twitter.com/5S1bgX3Ixv

— Dean Oelschig (@DeanOelsch) January 13, 2022