The Rohit Paudel-led Nepal team sealed their place in the T20 World Cup 2024, to be staged in the West Indies and the USA next year, by defeating the UAE in the semi-final of the ongoing ICC Mens T20I World Cup Asia Finals 2023 in Kathmandu.
This qualifying tournament, known as the ICC Mens T20I World Cup Asia Finals 2023, saw 8 Asian teams compete for two spots in the T20 World Cup 2024. These spots were secured on Friday by Nep, who defeated the UAE, and Oman, who defeated Bahrain. Oman defeated Bahrain by 10 wickets.
Nep defeated the UAE by 8 wickets in front of their home crowd to seal their spot in a T20 World Cup after 10 years; they appeared in the 2014 T20 World Cup in the qualifying round.
The passionate crowd had assembled not just in the Mulpani Cricket Ground in Kathmandu, but all around their country to cheer for their team. A video has gone viral on social media in which more than a 1000 people can be seen screaming and celebrating together the moment Nepal won the match.
Watch: Nepal crowd erupts as team qualifies for T20 World Cup 2024
The winning moment for Nepal. T20 World Cup bound pic.twitter.com/iZOMBp88vK

— Paul Radley (@PaulRadley) November 3, 2023
Talking about the match, UAE had opted to bat first at the Mulpani Cricket Ground, which was packed with Nepal supporters. UAE captain Muhammad Waseem scored 26 runs but the real strength to their batting was given by young keeper Vriitya Aravind, who scored 64 runs to help UAE post a total of 134/9.
For Nepal, spinners Kushal Malla and Sandeep Lamichhane shared 5 wickets between them to restrict UAE to 134.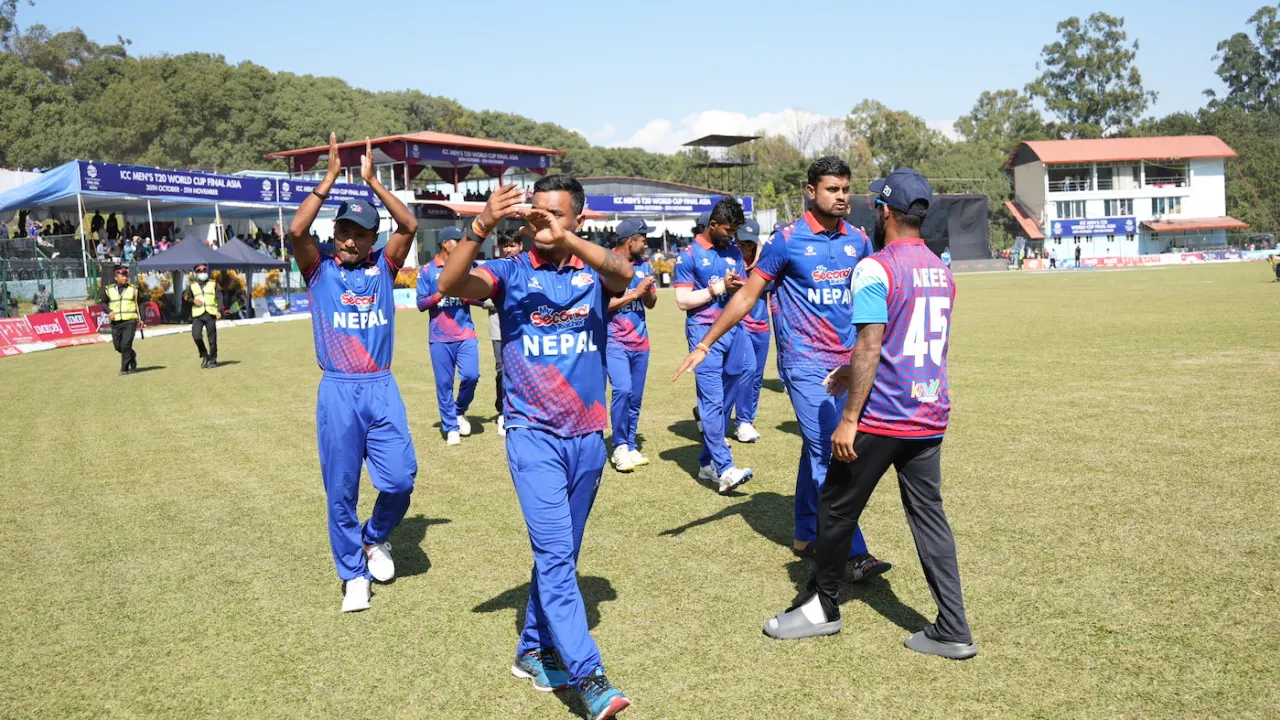 In reply, Nepal were steady even when losing opener Kushal Bhurtel in the third over. The other opener, Aasif Sheikh, played a brilliant hand of 64 runs in 51 balls while Gulsan Jha scored 22 runs in 24 balls.
It was the Nepal captain, Rohit Paudel, who put the game in Nepal's pocket by smashing 2 sixes and 2 fours in his cracking knock of 34 runs in 20 balls.
This will be Nepal's second time in the T20 World Cup. They featured in the 2014 T20 World Cup in Bangladesh.