MS Dhoni is, arguably, the greatest captain in the world. The man has led with an example, and his on-field acumen has earned him plaudits from all over the world. With the veteran's career slowly coming to an end, fans have started to look back on his best of moments.
MS Dhoni is one of the wittiest players in the game, and his chatter has earned quite a few laughs after being caught by the stump-mic. In this article, we will take a look at three of the wittiest remarks that Dhoni made which were caught by the stump-mic.
#3. When he admonished Sreesanth for moving away from his position
This was said by MSD to the pacer when he had moved away from his fielding position. Dhoni has always tried to keep the mood light in the field. So when he saw Sreesanth slacking and moving away, he saw an opportunity to lighten the mood. He promptly reminded Sreesanth to get back to his position by saying "Oye Sree udhar girlfriend nahi hai, idhar aa jathoda."
This was caught by the stump-mic and has since been replayed multiple times for laughs.
#2. The funny Ian Bell pun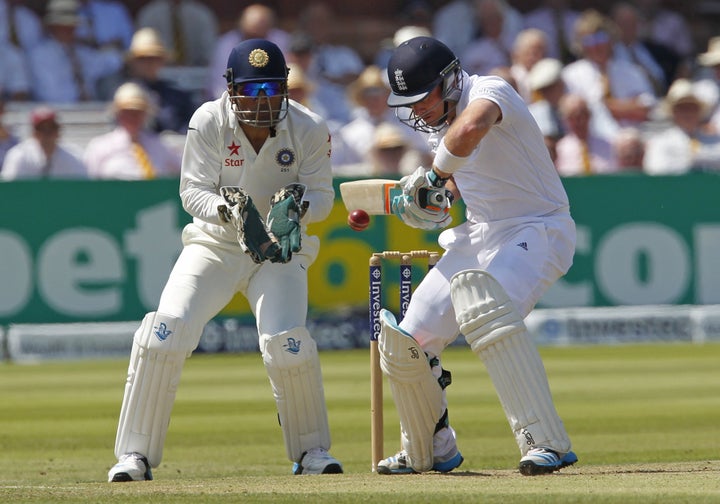 India had met England in a Test match, and the dangerous Ian Bell was at the crease. Everyone knew how important it was to get Ian Bell's wicket, especially in a Test match.
While he was constantly barking instructions at his cohorts, this funny pun was the one which stood out particularly. "Ghanti baja de iski."(Ring his bell), remarked Dhoni. It was a great line which was aimed to ease the mood a bit. Who knew that MS Dhoni could make dad jokes so well?
#1. Calling Jadeja Tarak Mehta

MS Dhoni and Ravindra Jadeja share excellent chemistry on the field as well as off it. India was playing Australia in a Test match when Jadeja came to bowl.
The stump mic caught Dhoni say "Tarak Mehta dalta reh". While most dismissed it as a weird nickname, it was Sunil Gavaskar who explained its real meaning while commentating. He explained, "Well there is an interesting comment by Mahendra Singh Dhoni — Tarak Mehta. I think there is a serial in Hindi 'Tarak Mehta Ka Ooltah Chashmah'.
He's probably suggesting that he should bowl the 'ooltah'. This explanation brought Dhoni's wit to the fore. He had suggested a tactic to the bowler without giving any trace of a hint to the batsman about what was coming next.