Retirement is a very personal matter for every individual. However, in terms of sports, especially in team sports, a player's retirement is not always in his hands. Sometimes, a string of bad performances could end an individual's career because he won't be so useful for the team. In the same way, sometimes the rise of a new player or injury issues lead to the end of a sportsman's career.
When it comes to cricket, the Indian cricket team has a huge fan base and BCCI always tries to listen to its fans. Sometimes, when a special player underperforms, he receives multiple opportunities to gain his form. However, the case is not the same for all players. Here's a look at the 4 Indian cricket stars who won the Man of the Match award in a format and still did not receive a place in the team for the next game.
Irfan Pathan
Baroda-based all-rounder Irfan Pathan starred for the team in the ICC T20 World Cup 2007. Pathan was an important member of the limited-overs team even after the upcoming pacers took over the spots in the Test team. Unfortunately, Irfan never received a chance to play an ODI after 2012. In his last one-day appearance for India, the left-handed batsman played an unbeaten knock of 29 runs besides taking five wickets in the match. He won the player of the match award for his all-round brilliance. However, he never played an ODI for India.
Subramaniam Badrinath
Very few players impress on their international debut and still fade away. Subramaniam Badrinath, the former Chennai Super Kings star, belongs to the same category. Badrinath made his T20I debut against West Indies in 2011. His 37-ball 43 helped India win the game. Still, the selectors never gave him in a chance in this format. He holds the distinction of winning the Man of the Match award in the only T20I he played.
Amit Mishra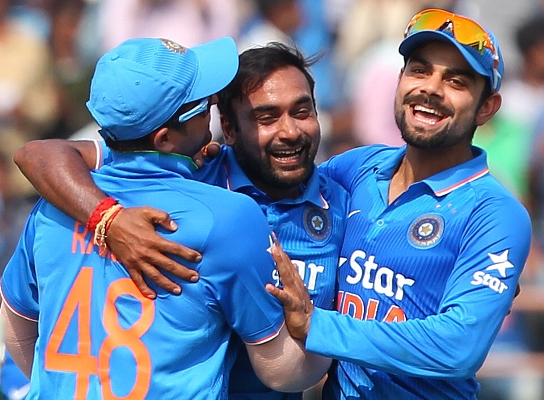 In the famous ODI series between India and New Zealand, where team India wore the names of their mothers on their backs, Amit Mishra won the Man of the Series award for his heroics with the ball. Also, he won the Man of the Match award in the 5th ODI. But, luck did not favor him as Kuldeep Yadav and Yuzvendra Chahal's rise did not allow him to represent India in ODIs again.
Pragyan Ojha
Sachin Tendulkar played his last Test against West Indies at the Wankhede Stadium. That match also proved to be the last outing for Pragyan Ojha. The left-arm spinner won the Man of the Match award in that game for his marvelous spell. Unfortunately, Ravindra Jadeja's rise and the team combination issues led to Ojha's exit from the team.