Royal Challengers Bangalore has been one of the three most popular franchises in the history of the IPL with an incredibly loyal fan base. It has been home to legends like Rahul Dravid, Anil Kumble, Yuvraj Singh, Daniel Vettori, Jacques Kallis, AB De Villiers, Virat Kohli, and many more.RCB may not have won any IPL trophies yet, but one has to agree that no other franchise has put up a better batting display than the Royal Challengers in the history of IPL.
The South-Indian franchise holds many records in which the highest team total in IPL (263) and the highest individual score for any franchise (175*) by Chris Gayle for RCB are among many others. RCB's batting has toyed with the world's best bowling line-ups over the years. Today we will look back at those golden times by recalling the five best batting displays by RCB in IPL.
#1 263/5 – The Gayle Storm:
It was the day when one man destroyed the entire bowling line up of Pune Warriors India. 'The Universe Boss' Chris Gayle brought 'Gayle storms' at the M. Chinnaswamy Stadium on 23 April 2013 as unleashed utter carnage by smashing the highest individual total ever in a T20 game. He scored an unbeaten 175 off just 66 deliveries, and no PWI bowler could get him out. Gayle completed his half-century in just 17 balls and his century in just 30 balls which is the fastest in the IPL yet.
Royal Challengers Bangalore went from 62/0 in the mandatory powerplay to 263/5, scoring 201 runs off their last 84 deliveries. Apart from Gayle, Tillakaratne Dilshan contributed 33 off 36 balls, and AB De Villiers also contributed a quick 31 off eight deliveries. RCB hit 21 sixes and 21 fours in this match, with Gayle alone contributing 17 sixes and 13 fours out of them. RCB won this match by 130 runs.
#2 211/3 – Fewer Overs, No problem:
As you might have guessed from the sub-heading, this match was a rain-affected match between Royal Challengers Bangalore and Kings XI Punjab scheduled on 18 May 2016. This match got reduced to 15 overs per side due to rain at M.Chinnaswamy. But RCB batted with a no problem attitude, setting a massive target of 212 in just 15 overs. It was a Kohli-Gayle show at Bengaluru as the latter scored 73 off just 32 deliveries and the RCB skipper went on to hit his fourth century in the 2016 edition of IPL. Kohli scored 113 off just 50 deliveries with 12 fours and eight sixes at a strike rate of 226.
Apart from Kohli and Gayle, KL Rahul played a cameo of an unbeaten 16 off six deliveries to get RCB to 211. In their allotted 15 overs, the RCB batsmen hit 16 sixes, which is a massive number even for a T20 match. KXIP in reply could only bat for 14 overs before rain interrupted the match again. RCB won this match by 82 runs by the D/L method.
#3 248/3 – (Kohli-ABD) Brothers of Destruction:
It was the Kohli-ABD show at the M. Chinnaswamy stadium against Gujarat Lions in 2016. Batting first, RCB lost Gayle's wicket early at a score of 19, and then the Gujarat Lions bowler became just the spectators to a batting masterclass from Virat Kohli and AB de Villiers. Virat and AB put up the highest ever partnership in IPL, beating their previous record by 14 runs. Kohli and AB added 229 runs for the second wicket in just 96 deliveries. They both scored centuries and guided RCB to their second-highest IPL total of 248/3.
AB scored an unbeaten 129 off just 52 deliveries, and Virat scored 109 off 59 deliveries in this destructive show of batting. With this humongous partnership of 229, Kohli and De Villiers became the only pair in the history of IPL to register two 200+ stands. RCB won this match by a massive 144 runs by bowling out Gujarat Lions for 104. This win was also RCB's biggest win in the IPL in terms of runs.
#4 235/1 – We can do this all day: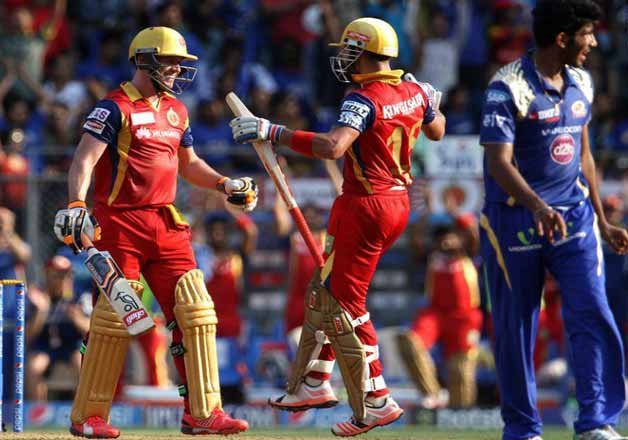 Another Kohli-De Villiers show but this time it was in front of the Mumbai crowd. Kohli and De Villiers registered their first 200+ stand in this match against Mumbai Indians on 10 May 2015. This match had a somewhat similar story as the previous one. Batting first, RCB lost Gayle on the score of 20, and then there was no stopping the brothers of destruction.
Kohli and De Villiers put up an unbeaten stand of 215 runs to guide RCB to 235/1. It seemed like if given more overs, they could have gone smashing the ball around all day. AB de Villiers scored his IPL best of 133* in this match in only 59 balls. RCB won this match by 39 runs as MI gave a tough fight to the visitors.
#5 227/4 – Everyone joins the party:
RCB began their IPL 2016 campaign with a dominating batting performance over Sunrisers Hyderabad on 12 April 2016. In a match where almost everyone contributed to RCB's batting dominance over SRH, Kohli and De Villiers put another humongous stand of 157 runs. Except for Gayle, who got out for just one, every RCB batter went after the SRH bowlers. Virat scored 75 off 51, AB scored 82 off 42, Watson scored 19 off 8, Sarfaraz scored an unbeaten 35 off 10, and Kedar Jadhav contributed with a crucial cameo of 8* from 6. RCB won this match by 45 runs.