The Indian cricket team has been home to some of the best opening batsmen of all time. The T20 format is the newest one to be played at the international level, and India has dominated this form of the game. The fact that Rohit Sharma and Virat Kohli are contending to become the highest run-scorer in T20 international cricket signifies the claim mentioned above.
However, not every batsman has been able to cement his place in the Indian T20I team like Rohit or Virat. Here's a look at those five batsmen who once received an opportunity to open the innings for India, but they could not stay in the team for a longer time.
Naman Ojha
Former Rajasthan Royals star Naman Ojha had gained a place in the Indian team after his impressive performances in the IPL. Ojha opened two T20I innings for India in 2010, along with Murali Vijay. Unfortunately, the pair could not succeed much as they only scored 39 runs in 2 innings against Zimbabwe's weak bowling attack. Subsequently, Ojha lost his place.
Robin Uthappa
Robin Uthappa played a pivotal role in India's success at the 2007 T20 World Cup. He was a middle-order batsman who often saved the team from collapses. However, on one rare occasion in 2012, Uthappa received an opportunity to open the innings along with his Kolkata Knight Riders teammate Gautam Gambhir. The duo put on an unbeaten stand of 71 runs for the first wicket. The game did not produce a result, and after that match, Uthappa never opened the innings.
Mandeep Singh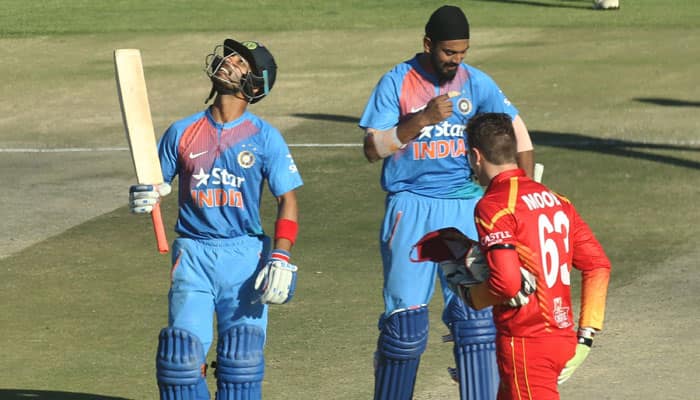 Mandeep Singh earned a place in the Indian team after his exploits in the IPL. He won the Emerging Player of the Year award for his consistent performances. In 2016, he was a part of the Indian team that toured Zimbabwe. The right-handed batsman opened the innings in all matches along with KL Rahul. Singh scored a half-ton, but it was his opening partner who cemented his place in the Indian team.
Dinesh Karthik
Like Robin Uthappa, Dinesh Karthik has majorly played as a middle-order batsman for the Indian T20I team. He opened the innings once with Murali Vijay and once with Gautam Gambhir in the 2010 T20 World Cup. Unfortunately, the current Kolkata Knight Riders skipper could not achieve much success as an opener.
Irfan Pathan
The Indian cricket fans feel that Irfan Pathan never received enough opportunities to showcase his talent as a batsman. Still, the truth is the Indian team management tried him as an opener in T20I cricket. Yes, Pathan opened the innings twice for India in 2012, both times with Gautam Gambhir. The plans did not work out well as Pathan soon lost his place.