IPL has become the most talked-about cricket league in the world because of its uniqueness. Thanks to the BCCI, IPL is the only league on the planet where the Indian cricketers unite forces with the foreign cricketers. Some dream playing combinations are formed in the IPL.
Over the years, dream pairs like Sachin Tendulkar-Ricky Ponting have been formed in the IPL. The combination of one foreigner and one Indian has worked wonders for a few teams. In this article, we will look at the five most successful partnerships in IPL, which comprise one foreigner and one Indian.
Virat Kohli and AB de Villiers: The most loved 'jodi' of IPL
Undoubtedly, this is the greatest partnership in IPL history featuring a foreigner and an Indian player. AB de Villiers and Virat Kohli have been involved in some of the greatest partnerships in IPL. The Indo-South African duo has two partnerships of 200+ runs in the Indian Premier League, which shows their dominance.
Virat Kohli and Chris Gayle: The most destructive 'jodi' of IPL
Virat Kohli makes his presence felt once again on this list thanks to his stellar partnerships with the Universe Boss Chris Gayle. The left-handed opening batsman from Jamaica focused on boundaries, while Kohli ensured that there was enough strike rotation. As the years progressed, even Kohli became more aggressive.
Micheal Hussey and Murali Vijay: A very underrated 'jodi' of IPL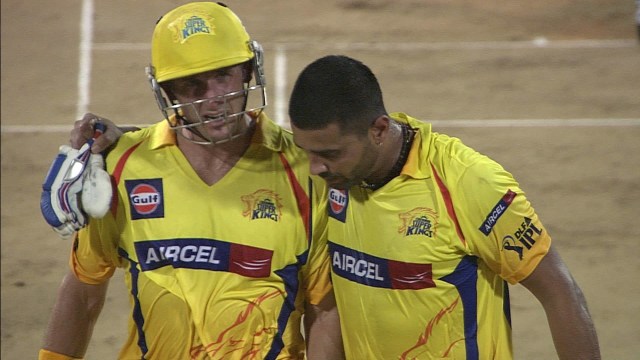 Chennai Super Kings had one of the best opening pairs in the early 2010s as the combo of Micheal Hussey and Murali Vijay scored consistently at the top. Hussey and Vijay had a 159-runs partnership against Bangalore in the 2011 final.
David Warner and Virender Sehwag: We miss this partnership
After Gautam Gambhir's departure, David Warner became the new opening partner of Virender Sehwag at Delhi. The two batsmen had some memorable partnerships, including a 146-runs stand against KXIP in 2011.
David Warner and Shikhar Dhawan: Two dashing lefties
David Warner has achieved much success in the Indian Premier League and he formed a brilliant partnership with Shikhar Dhawan at Sunrisers Hyderabad. Their partnership played a key role in SRH's 2016 win.
WATCH: Rohit Sharma Smashed A Six That Hit A Moving Bus Outside The Stadium