Sledging has unfortunately become a very common part of sports. Players engage in verbal sparring to disrupt the opposition's mindset to get the upper hand. While it works sometimes, it can also backfire in a big way. Players like Virat Kohli have thrived after getting sledged by the opposition, by letting their performances do the talking. There have been numerous accounts of cricketers trying to troll their opposition and getting it handed back to them in the form of a boundary or a wicket.
In this piece we will take a look at 5 such instances when sledging a player backfired in a big way.
1. Yuvraj Singh vs Andrew Flintoff

This exchange is one of the most famous parts of Indian cricket. Andrew Flintoff had some choice words for Yuvraj Singh in a T20I World Cup match between England and India. The rest, they say, is history. A young Stuart Broad bowled the very next over to Yuvraj Singh, who hit 6 sixes in 6 balls, becoming the only player to achieve this feat in T20Is.
Flintoff was made to eat his words as Yuvi blasted Broad for 36 runs in the over, hitting a 12-ball half century and propelling India to a mammoth total of 218. India won the match by a margin of 18 runs, with Yuvi's scintillating fireworks making all the difference in the high scoring match.
2. Sachin Tendulkar vs Abdul Qadir
http://www.youtube.com/watch?v=kHtoVnHogME
This exchange between a young Sachin Tendulkar and the legendary Abdul Qadir cemented Tendulkar as a bonafide legend in the making after he decimated Qadir's lethal spin after getting sledged by the Pakistani spinner in India's tour of Pakistan in 1989-1990. While chasing a total of 158, Sachin hit a young Mushtaq Ahmed for two sixes in an over. Abdul Qadir approached the young batsman and said "Bachchon ko kyon mar rahe ho? Hamein bhi maar ke dikhao (Why are you hitting kids? Try and hit me)."
Tendulkar gave Qadir exactly what he wanted, as he left the world's most feared spinner at that time for three sixes and a four in a single over. Abdul Qadir had never been handled so ruthlessly, much less by an Indian youngster. The entire world realized the potential of Tendulkar that day.

3. Brian Lara vs Danish Kaneria

Brian Lara is one of the greatest batsmen of all time. So it's really logical that you shouldn't go ahead to sledge him and fire him up any more. That's a lesson that Pakistani spinner Danish Kaneria learnt it the hard way. Lara was in great form, and hit Kaneria for a boundary. The next ball, he played a defensive shot. Kaneria sarcastically clapped and said, "Well played."
Lara simply smiled. The next four balls on the scoreboard read 6,6,6 and 4. Kaneria was hit for 26 runs in a single over. Lara let his bat do the talking, and shut Kaneria up for good. The world learned to never mess with Lara ever again.
4. Sreeshanth vs Andre Nel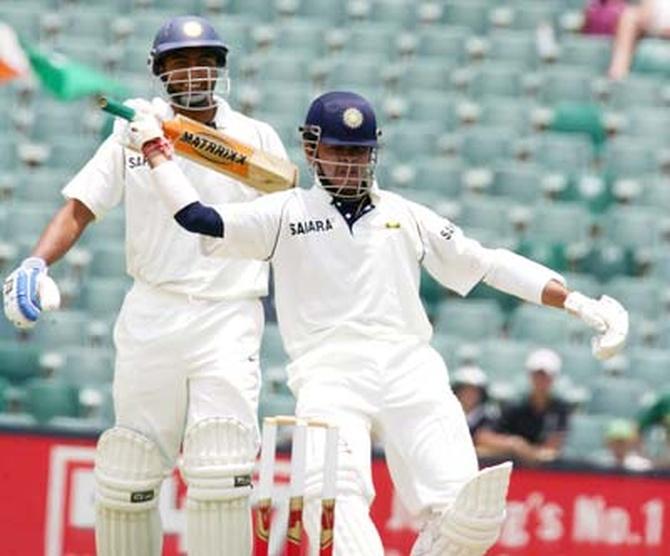 Sreesanth already had a reputation for being a hot-tempered individual on the field. So when he came face to face with Andre Nel, another mercurial fast bowler, sparks were meant to fly.When Sreesanth came to bat, Nel told him, 'I can smell blood. You do not have the guts.' He pointed at his emblem and said, 'I am playing for this. You are a scared fellow, rabbit. I will get you next ball.'
Sreesanth walked to his end and got ready to face the ball. When Nel bowled his next delivery, Sreesanth stepped out and hit Nel for a huge six. He felt that this wasn't enough, and whirled his bat at Nel, amusing the spectators. Nel could do nothing but accept his defeat in that contest and get back to bowling his next delivery. India won the match.

5. Venkatesh Prasad vs Aamer Sohail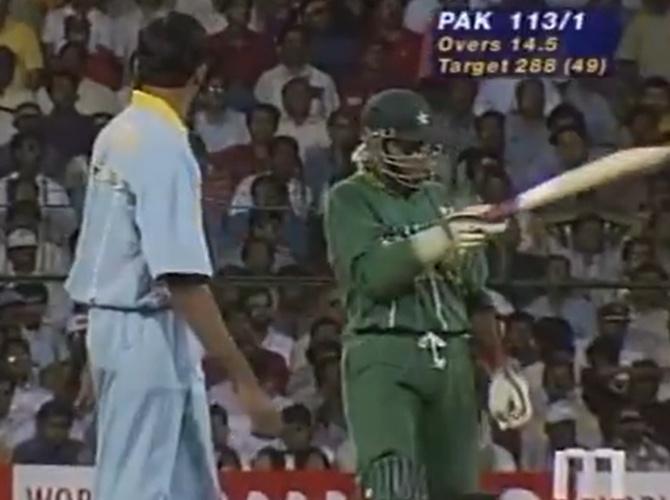 India vs Pakistan is always an exciting clash among the arch-rivals, and if the match happens to be a World Cup Quarterfinal, the stakes become even more important. The nerves felt by the players can also lead to some charged exchanges between the players. India had posted a total of 287, which seemed to be a easy get for Pakistan as their openers plundered 84 runs in the first 10 overs. Venkatesh Prasad was called back into the attack to plug the flow of runs. Sohail, probably too confident for his own good, struck Prasad for a boundary and gestured at him in a taunting manner.
Prasad didn't offer any retort, but let his ball do the talking. Sohail got clean bowled by Prasad on the very next ball, and had to leave with his tail stuck between his legs as Prasad gestured Sohail to go back to the Pavilion. This moment is one the most memorable ones in World Cup history.