​You may not like him as a cricketer, you may not like him as a captain, you may not like him as a bloke but the name Virat Kohli has always been a welcome bout of fresh air to the Indian fans.
Despite a recent slump in form, Kohli is an experienced campaigner and has impacted several victories for the Indian cricket team in a fashion that can only be anticipated in the wildest dreams.
A man who was once touted to be the likeliest contender to rattle Sachin's records in cricket is also an​​ embodiment of excessive passion. This intensity in Virat has also led people to see a side of him which at times is being seen in a negative light by fans and folks. However, I personally believe, after Sourav left the mantle, we have missed the likes of a vanguard who would look the opponent in the eye and make him feel the weight of the entire nation in that stare.
Though Kohli is not exactly the totem of belligerence that Ganguly carried with himself, yet his brand of aggression is one unrivalled in modern-day cricket. The leading batsman of the world wears his heart on his sleeve, and we love him for that. In the wake of Kohli's on-field altercation with Ben Stokes and the umpire, we will look at five instances where Kohli lost his cool on the field.
1. Kohli silencing Mitchell Johnson
It is very difficult to see the Australian cricket team in its currently mellowed-down colours. However, there was a time when the Australians were equally aggressive in the verbal wars alongside their showdown on the pitch. That is what made them a lot more ferocious and menacing. Mitchell Johnson belonged to that era when they would get under the skin of the batters and would resort to any means to get a batsman removed.
In one such incident in 2014, in Melbourne, Virat was batting to usher India to a formidable score. Haplessly, things got a bit heated when Johnson ended up clipping Kohli's right foot needlessly. This infuriated Kohli, and he walked up straight to the bowler and started bandying words with him. In fact, Johnson almost established his intention after Kohli survived double scares in the overs to follow. They say that a man's character is found out in the way he responds to high waters. Kohli calmed himself in a matter of a very short span of time and then rose up to the occasion. He started playing out classic strokes of domination and by the time he was done hurting Australia, he had 169 runs next to his name.
2. Kohli was shocked when the Mumbai crowd called him a cheat
It is a catastrophe to witness the loss of mind from the cricket fans who have no idea whatsoever of what exactly must be said to the man who has been toting India's baton of excellence single-handedly in the department of batting. Over a game of IPL at the Wankhede Stadium, the Mumbai fans called him a cheat. Kohli was absolutely livid with the situation. After the match, he quoted in the post-conference, "As far as the crowd is concerned, it has happened to a few players in the past as well. I don't know why they get so worked up during IPL. IPL is not the end of the world. And they forget that the players they are booing for also play for their country."
3. When Kohli went full-Hulk on Gautam Gambhir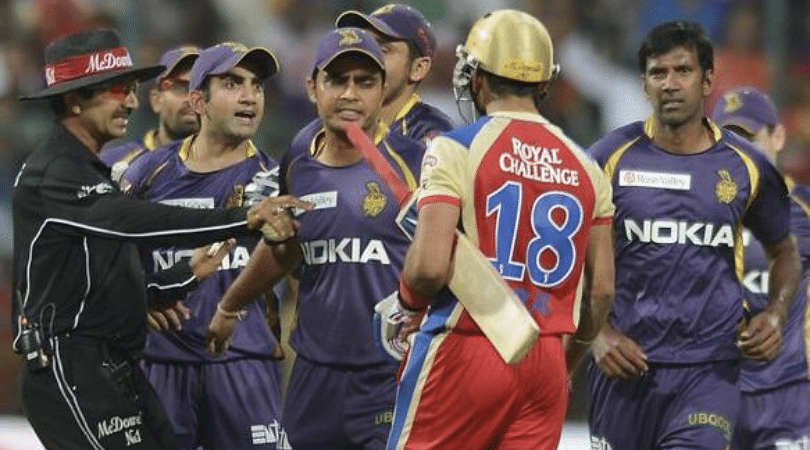 In what seemed to be a story of unknown words, after Virat Kohli got out, Gambhir threw a few words at the Challengers captain. This was more than enough to caught him off-guard, and he responded without wasting a single second.
Had it not been for the intervention of the players, it would have definitely evolved into a fisticuff among two of the best Indian cricketers in India's glittering antiquity.
4. Kohli used his bat like a sword
When Australia was running roughshod over the Indian skipper in a game of fluttering nerves, trying to catch the Indian skipper off his guard, things got heated between Warner and Virat Kohli. Especially after Kohli survived a scare with the Australians missing a run-out when he was batting on 99, things seemed to boil up even more. With every passing delivery, Kohli raised his bat at the Australians, saying some inaudible swears.
All of it was drawn to a close when the Delhi batsman kissed his century and the way in which he celebrated his flourish by wildly swinging his bat in the air was absolutely nothing short of a marvel for the eyes.
5. Kohli pulled off an Eric Cantona against the Sydney crowd
During the India versus Australia Test match at Sydney in 2012, the crowds went haywire and started drawing virat Kohli in their jeers. There were swears and slangs that rained upon the young Indian batsman.
Despite his best attempts at concealing his rage, Kohli eventually gave in and showed a middle-finger to the crowd that led him to a fifty per cent fine of his match fee. He went onto defend himself with the words, "I agree cricketers don't have to retaliate. What when the crowd says the worst things about your mother and sister. The worst I've heard."
Honestly, in an effort to maintain their clean image, cricketers have to adhere to a chivalrous stance and the fans use this opportunity to deride their family. This behaviour is totally unacceptable as no matter how professional one gets, it is extremely difficult for a human being to take a mockery of his family.