5 Times When Indian Cricketers Helped Opponents On The Field: Spirit of Cricket is quite a revered act on a cricket field or off it, at times. The graciousness and civility shown by cricketers toward their opponents have often been hailed by fans as they consider the players as role models not just for their cricketing careers but for their deeds away from the playing arena as well.
Indian cricketers have always been at the forefront of the good side of the Spirit of Cricket talks, with many of them carrying that Gentleman's game persona aptly in their actions while playing and while also their behaviours toward the opponents.
There have been occasions when Indian cricketers have gone beyond expectations and helped out their opponents in one way or another.
Here are 5 instances when Indian cricketers came to the rescue of the opposition:
Rahul Dravid agreeing to play for Scotland
During the off-season after the 2003 World Cup, the Scotland cricket board had asked India for a player-exchange program to send a player to their country to educate their players as the nation was new to international cricket.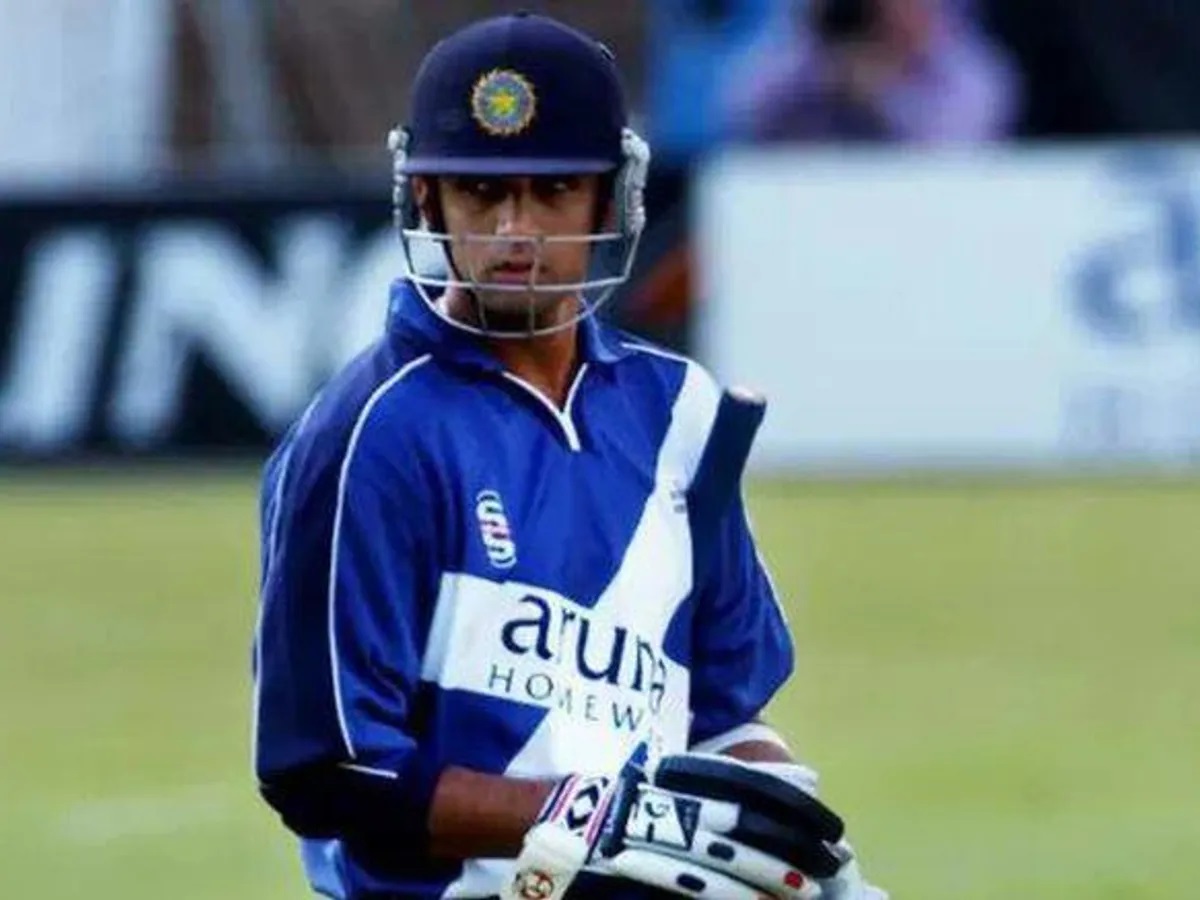 While Scotland may have expected a young or less established Indian cricketer to be sent, it was Rahul Dravid who came out as a helping hand for Scotland at the suggestion of the then coach John Wright.
A throwback to when world class batter and current India Men's head coach Rahul Dravid donned the Saltire in 2003 🏴󠁧󠁢󠁳󠁣󠁴󠁿 pic.twitter.com/2yAkYBEhk7

— Cricket Scotland (@CricketScotland) November 18, 2021
Dravid readily agreed to the deal and represented Scotland in the English domestic one-day league in 11 matches scoring over 600 runs with the help of 2 centuries and 2 fifties.
Sachin Tendulkar played for Pakistan!
In this day and age, if an Indian player even talks in a good mood, fans jump to attack them. Imagine if a player from either side of the border helped out their rivals by fielding for them!
Well, it was none other than Sachin Tendulkar who took the field for the Pakistani team! Yes, it was during an exhibition match between India and Pakistan at the Brabourne Stadium in 1987, when a 14-year-old Tendulkar was part of the Indian contingent.
Two Pakistan players, Javed Miandad and Abdul Qadir, had gone off the field, and since it was only an exhibition game, not many Pakistani players were available, and so Tendulkar was asked in as a substitute fielder. The teenager readily obliged the request at the chance of taking the field in an India-Pakistan encounter.
Mandeep Singh substituting as a South African fielder
It created plenty of funny reactions and memes on social media when Indian cricketer Mandeep Singh came out donning the South African jersey. It was a practice match between India A and South Africa A in 2015 ahead of the India-South Africa ODI series.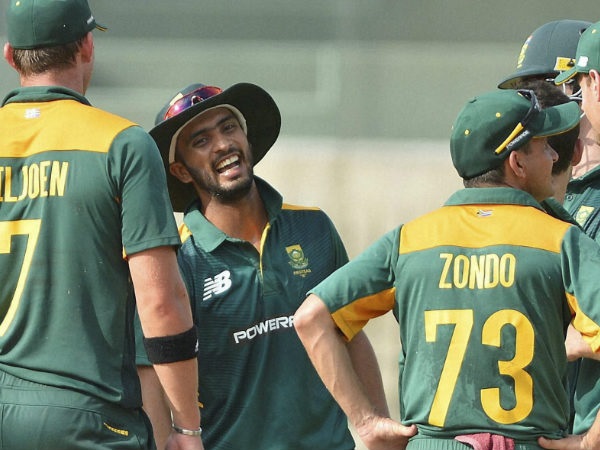 During India A's innings, a number of South African fielders had to leave the field because they suffered from food poisoning. While for one, the visitors' video analyst came out and for the other, it was Mandeep Singh, who was on India's bench, who came out in the Protea colours sporting the name of Eddie Lee. This got commentator Sunil Gavaskar chuckling.
MS Dhoni asking Bangladesh to correct their field
This was quite a hilarious incident when former India captain MS Dhoni was batting against Bangladesh in the warm-up game ahead of the 2019 World Cup.
Off-spinner Sabbir Rahman was bowling the 40th over of India's innings with Dhoni on strike. However, as Rahman was about to deliver the ball, Dhoni stopped him and indicated to the fielder on the legside inside the circle.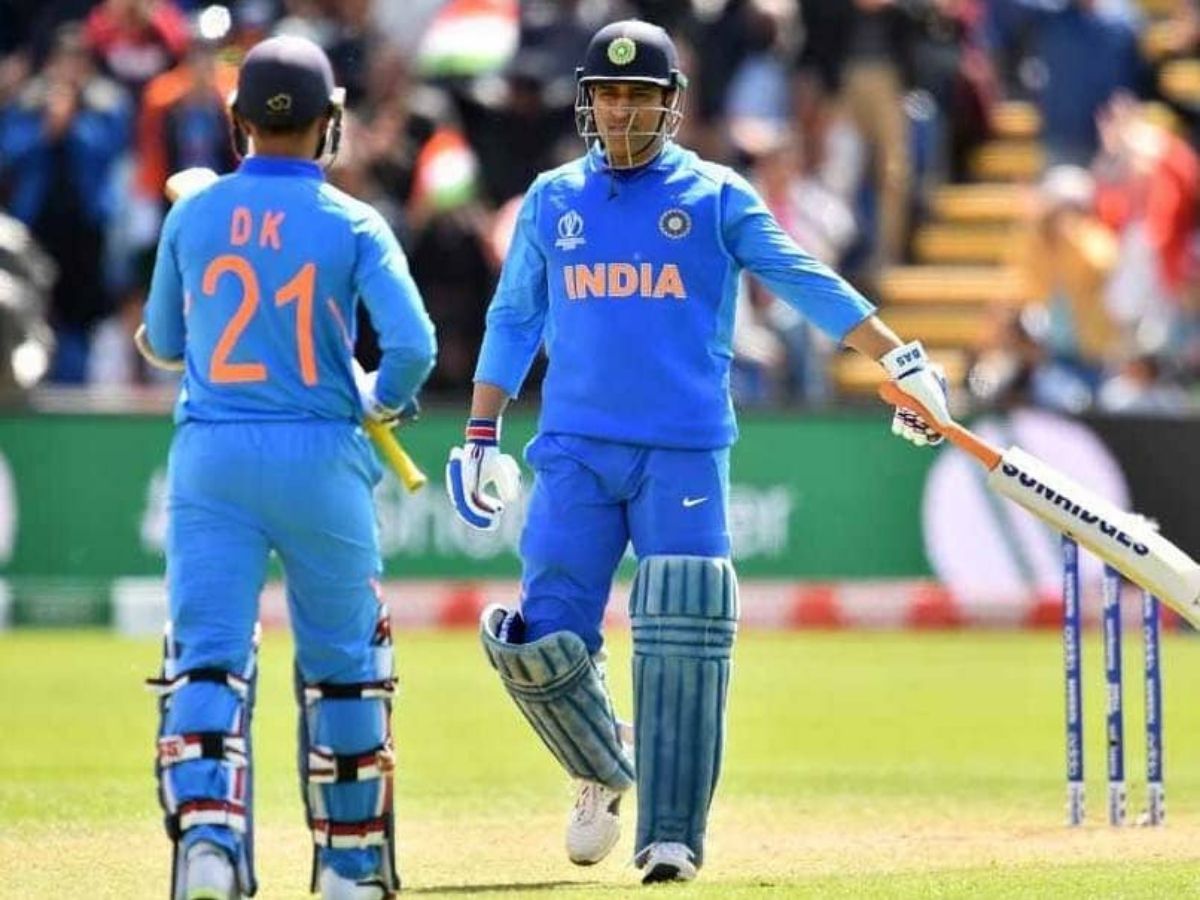 Dhoni suggested that the fielder was in a wrong position, neither at mid-wicket nor at fine leg and was moving in no-man's land. Rahman then himself rebuked the fielder to stand in the correct fielding position!
#dhoni thug life moment in warm up match against Bangladesh, stopping the bowler (Shabbir) in run up in 40th over, asking if he is sure of the field and then the bowler making a field change #WorldCup2019 @msdhoni @BCCI 😎😂

— Dheeraj Pershad (@djpershad) May 28, 2019
Dhoni even sets field for the opposition team😂😂😂 #INDvBAN

— A (@aa060297) May 28, 2019
MS Dhoni now mentoring Bangladesh set their field 😂#INDvBAN

— Chandra Sekhar Das (@chsekhar1997) May 28, 2019
Dhoni helping Faf du Plessis with cramps
MS Dhoni once again finds his name on this list – because of his courteous act of helping out his friend, his CSK teammate but opposition skipper Faf du Plessis with his cramps during an India-South Africa ODI played in the extreme heat.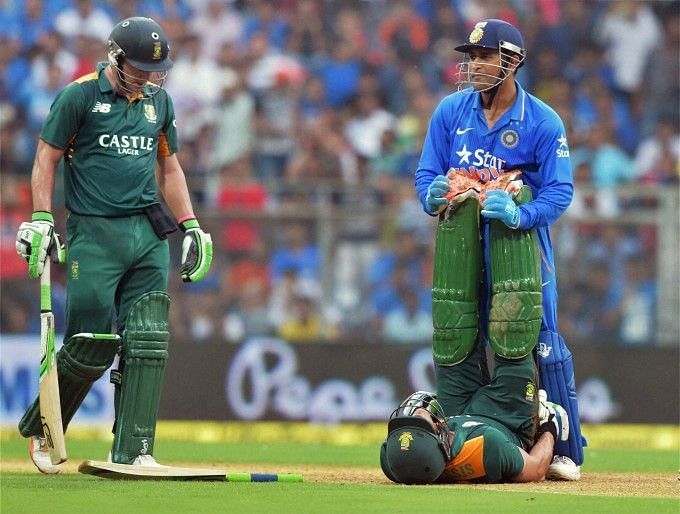 In that game, Faf du Plessishon had spent considerable time batting in the heat – he scored a century. He was struggling to cope with the heat after his hundred, and at one moment went down on the field. Dhoni held du Plessis' legs and flexed his feet before the South African team medical staff arrived. This feature from the then Indian skipper garnered applause from the crowd present and from fans on social media.