The entire India received a major shock earlier in the day when popular Bollywood actor Sushant Singh Rajput ended his life by hanging himself in a room. The 34-year-old actor had gained a major fan following with his phenomenal performances on the big screen. Unfortunately, depression hit him hard as the reports have indicated that he was suffering from depression for the last six months, and finally, he decided to commit suicide earlier today.
Sushant Singh Rajput was a part of two cricket-related movies namely Kai Po Che and MS Dhoni: The Untold Story. His performance in the MS Dhoni biopic was hailed by many as one of the best ones, and so in this article, we will have a look at the five best scenes from the movie.
Meeting his future girlfriend in an aeroplane
Disha Patani played the role of his first girlfriend in the movie, and she did not even recognize MS Dhoni although she was sitting beside him in the plane. She requested him to get her an autograph of Sachin Tendulkar. Dhoni then formally introduced himself. Disha later wished him luck for his next match and Dhoni went on to register a big score. The two entered into a relationship soon.
Meeting his future wife at the reception counter
Kiara Advani played Sakshi Dhoni's role in the movie, and just like Disha Patani, she did not recognize MS Dhoni and asked him for an identity proof before handing him his room's keys. This quality impressed Dhoni as the two became good friends later before getting married.
2011 World Cup final
Sushant Singh Rajput nailed MS Dhoni's role, and the final part of the movie was from the 2011 World Cup final. Dhoni had played an epic inning in that game against Sri Lanka to help India win the 2011 World Cup. The final six-hitting scene is etched in the hearts of every Indian cricket fan.
CB Series video conference with selectors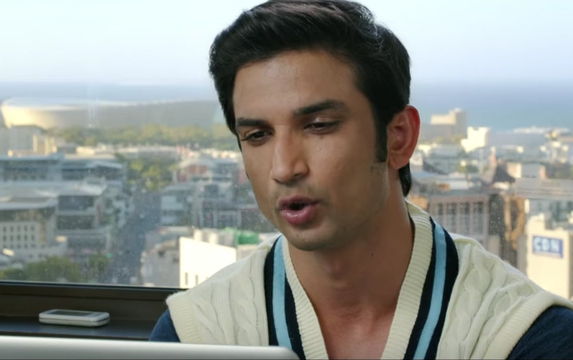 MS Dhoni believed that all the players in the team were national servants and if because of their lower fitness levels, the team was lagging behind, those players did not deserve a place in the squad. Dhoni showed no relent to the legendary names and asked the selectors to drop them from the team.
Chasing the train at the station
This scene has a separate fan base as it motivates every individual to go after their dreams and not be satisfied with their current situations. Unfortunately, Sushant Singh Rajput, who himself set an example for others to follow, surrendered to depression.