The debate over who should be India's wicket-keeper batsman in white-ball cricket between Rishabh Pant and Sanju Samson continues to rage on. This has been more pronounced owing to Pant's recent poor form.
The 25-year-old left-hander who is well-established in Test cricket is going through a lean patch in white-ball cricket in India colors and hasn't been able to put up impactful performances in the last month and more.
In fact, looking at Pant's last 8 white-ball knocks, it looks terrible on both the player and the team management.
On coming to Australia, Pant registered scores of 9 and 9 against Western Australia in two practice matches in Perth. That can be ignored because of Perth's difficult batting conditions compared to India where Pant had been playing for months in the lead-up to the T20 WC. He then got two chances in the T20 WC but failed there too – 3 vs Zimbabwe and 6 vs England.
Now, with a fresh start on the tour of New Zealand, Pant failed to deliver here too with scores of 6 and 11 in T20Is followed by 15 and 10 in ODIs.
So, now that fans, and even renowned political Shashi Tharoor, are championing for Sanju Samson to get a long run in the Indian team instead of Pant,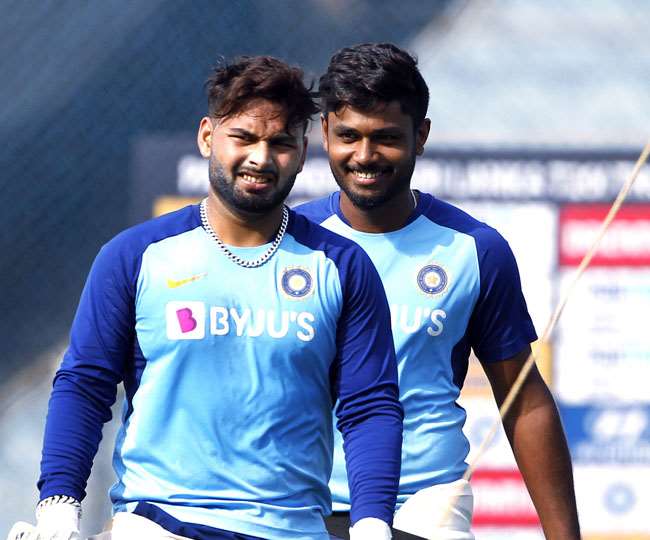 We will show you the statistical comparison of the two players in white-ball cricket:
Because both Samson and Pant made their India debut at early ages, we look at numbers only in recent years, wherein Pant has got consistent game-time and Samson too has done well.
Pant has proven himself in ODIs; Samson yet to do it overseas in ODIs
Since August 2019, which is after the 2019 World Cup, Pant has been largely the first-choice keeper apart from being dropped in Australia. In ODIs since Aug 2019, Pant averages 38 at a strike rate of 107 in 18 innings, out of which he's notched up 5 fifties and a century – in England in a series decider. Pant's place in the ODI team shouldn't be in question at the moment, because only two ODI innings ago, he hit that century in Old Trafford and has been putting up good performances regularly in this format.
However, Sanju Samson also has grabbed his opportunities in ODIs. In 2022, Samson averages 76 at a strike rate of 105 in 9 ODIs knock with two half-centuries. Samson hasn't got many chances in ODIs outside India, and whatever he has – in Zimbabwe and West Indies – it hasn't been really a tough opponent.
In T20Is, Samson seems to have an edge over Pant
The bone of contention in recent months was in T20Is between the two, where indeed even Pant wasn't a first-choice as Dinesh Karthik made his comeback.
Pant's numbers in T20Is are shockingly disappointing. Since August 2019, in 42 innings – which is a large sample size – Pant averages 23 at a mediocre strike rate of 128 with two half-centuries. This year, the team management has also tried him as an opener, but the left-hander failed to deliver on the promise.
Samson, too, earlier had poor returns. He averaged 11 in 9 T20I innings in 2020 and 2021. However, the Kerala batter, under Rohit Sharma and Rahul Dravid, flourished brightly: in 2022, Samson averages 44 at a strike rate of 158 in 5 T20I innings. Though this sample size is too small for passing judgments, and he's played vs Sri Lanka, Ireland, and West Indies, to no fault of his own.
Personally, I have felt Samson's confidence this year much better than Pant's whose place in T20I line-up now is under threat and it seems that he and the team management aren't yet sure whether he should open and bat in the middle-order in T20.