The decision of Rohit Sharma to bat first in the ongoing Mohali Test against Sri Lanka was justified by the Indian batters as they posted a huge total on the scoreboard and took the steering wheel in their hands.
While all the eyes were on Virat Kohli, who is playing his 100th Test match, and on Rohit Sharma, who is playing his 1st Test match as the captain, but it was India's star all-rounder Ravindra Jadeja, who turned out to be the star of the game.
Jadeja, who walked out to bat at number 7 position, brought up his century just prior to Lunch on Day 2. This was Jadeja's second Test century in the longest format of the game. Post Lunch, the star all-rounder continued with his batting onslaught as he smashed the Sri Lankan bowlers all around the ground. In no time, he reached the 150 mark. He formed a crucial partnership with Ravichandran Ashwin, who scored 61 runs before being dismissed.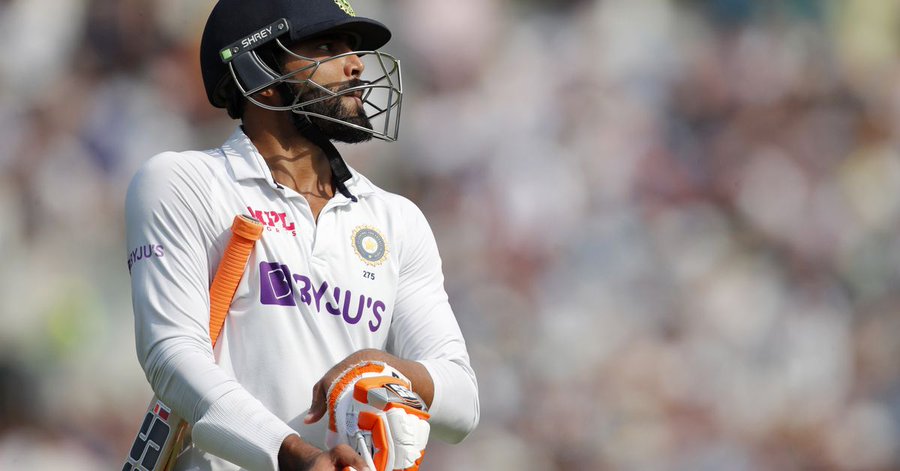 Though the Indian cricket team was already 8 wickets down, but Jadeja didn't let the pressure get to his head. Jadeja continued to smash the Sri Lankan bowlers to the boundary ropes, however, the Indian captain Rohit Sharma decided to declare the innings with Jadeja stranded on 175 runs.
Meanwhile, the incident made everyone remember the infamous declaration by Rahul Dravid in 2004 that eventually denied Sachin Tendulkar a double century. Rahul Dravid, who was the stand-in captain of Team India against Pakistan in Multan had declared the innings when Sachin was batting on 194 runs and Dravid's decision had brought a lot of criticism on his way.
Here, check out the reactions of Twitterati to this:
Declaring the innings when #Jadeja is near 200…

Rohit Sharma to Dravid : pic.twitter.com/qg5Jm3iUKz

— UmderTamker (@jhampakjhum) March 5, 2022
https://twitter.com/KohliisGoat/status/1500042826406510593?s=20&t=cyihp5vQf0Qkye-UO_hyhg
Rahul Dravid after seeing Rohit Sharma declaring the innings before someone's 200#INDvSL #Jadeja pic.twitter.com/uGOJ2Jicoc

— Pushkar ? (@musafir_hu_yar) March 5, 2022
After Rahul Dravid's controversial declaration when Sachin was at 194* in Multan(2004)
this is the most controversial declaration when jadeja innings is at 175* in Mohali(2022)
Rohit should've given 3-4 ovrs to Jadeja to complete his rare Double Century..#Dravid #Jadeja #Rohit pic.twitter.com/NmBNenBX3p

— Hemant Shardul (@HeyShardul) March 5, 2022
Before dravid
Now Rohit ?#BCCI#RohithSharma#100thTestForKingKohli #CricketTwitter pic.twitter.com/WjcxjiMwq1

— Vignesh Vicky (@Imvicky228) March 5, 2022
India declare the innings. Jadeja is on 175, he probably needs another 2-3 overs to reach his 200. Aah I've seen this before…..#INDvSL #Jadeja #Rohit #Dravid #CricketTwitter pic.twitter.com/8LT80sDEWC

— flick_18 (@133notout) March 5, 2022
https://twitter.com/KohliisGoat/status/1500025137730490368?s=20&t=cyihp5vQf0Qkye-UO_hyhg
#Jaddu #INDvSL #RavindraJadeja

No way Rahul Dravid & Rohit Sharma have done this with Ravindra Jadeja: pic.twitter.com/7UhkX9YpbS

— Hemant (@Sportscasmm) March 5, 2022
Should have given him 30 mins to complete his double ton ..no wonder again Rahul Dravid is involved, in past he did it when Sachin was reaching double hundred ?

— ً (@SarcasticCowboy) March 5, 2022
Batsman about to score 200
Dravid be like:- pic.twitter.com/0MGtTX8tin

— Cricket Gyani (@randomspoilbrat) March 5, 2022
dravid declaring when a batsman is nearing his 200
we have seen this before

— BERLIN? ਬਰਲਿਨ ? (@Preet37163236) March 5, 2022
Why Jadeja wasn't allowed to get 25 more runs? He deserved that double ton.

— Prantik (@Pran__07) March 5, 2022
Record Broken: Though, Jadeja missed out on his double century, he surpassed Kapil Dev's record to become the highest scorer for India while batting at No 7.