Former Indian bowler Zaheer Khan has extended his support to the Indian cricket team to break the jinx in South Africa by clinching a maiden Test series. The stage is all set for the Indian cricket team to lock its horns with South Africa in a 3-match Test series, starting from today, i.e, December 26 with the Boxing Day clash in Centurion.
All eyes will be on Virat Kohli and his captaincy as the Indian side will step on the field amidst all the off-field controversies going around at the moment.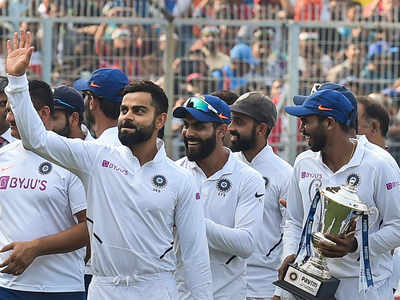 The Indian cricket team led by Virat Kohli has enjoyed recent success in Australia and England, however, South Africa still remains to be a mighty challenge for the Indian side. Virat has this perfect opportunity to shut down his critics for good if team India manages to win their first-ever Test series against the Proteas in South Africa.
Several cricketers and pundits have extended their support to the Indian side to get the glory in the upcoming Test series and former Indian pacer Zaheer Khan also voiced his opinion in that direction. As quoted by the Times of India, Zaheer Khan reckoned that the current Indian side has shown impeccable consistency in recent assignments. Talking about him, he said:
"For this Indian team, there is a big opportunity right now to win a series in South Africa. The kind of consistency this Test team has shown, there is no reason to think otherwise. Team India has got a great chance of winning a series in South Africa. I am sure they will put up a great show,"
Furthermore, Zaheer Khan also said that the Indian side needs to focus on the basics and they don't require to go out of the box. He also said that India's pace attack is set to leave a mark in South African conditions. He said:
"It all boils down to the planning and the consistent cricket this team has been playing. They have to just keep things simple. They need to continue what they have been doing. They have been successful in various conditions and the best part is that the bowling unit has been consistently doing well. India will definitely relish the South African conditions and the bowlers will enjoy bowling in those conditions,"
He added:
"As a batting unit you need to put up a lot of runs on the board which is a basic requirement, but to win a Test match you need to take 20 wickets. The way Indian bowlers have been bowling, they will be able to do that. I am sure this Indian team will win their maiden series in South Africa,"
Also Read: Rahul Dravid Breaks Silence On The Curious Case Of Ajinkya Rahane