In cricket, tremendous drama and controversy often mix with the thrilling action on the pitch. Rashid Latif, the former wicketkeeper for Pakistan, made shocking allegations recently that Zaka Ashraf, the head of the Pakistan Cricket Board (PCB) management committee, had been ignoring Babar Azam's attempts to reach out to him. This put Pakistan cricket in the centre of a storm. The cricket world was rocked by this extraordinary accusation, which split commentators and fans sharply.
Accusations made by Rashid Latif: In a statement that stunned the cricket community, Rashid Latif said that Zaka Ashraf had neglected Pakistan's captain, Babar Azam. Latif said that Babar had been attempting in vain to contact Ashraf via phone calls and texts, but all he received was silence. Such claims need to be taken very seriously as they have the capacity to damage the standing of a whole cricket board.
Ashraf's Reaction: Zaka Ashraf decided to provide his version of events on a regional news station in reaction to Latif's allegations. In a televised appearance, Ashraf vehemently denied any direct communication from Babar Azam. He clarified that Babar should speak with the Chief Operating Officer or the Director of International Cricket in his capacity as the team's captain.
In an unexpected turn of events, Zaka Ashraf shared a WhatsApp exchange with Babar Azam in an attempt to bolster his position. Salman Naseer, the Chief Operating Officer of PCB, and Babar had this chat.
Cricket World Cup 2023: Babar Azam's Private Messages Leaked And Shown On Live TV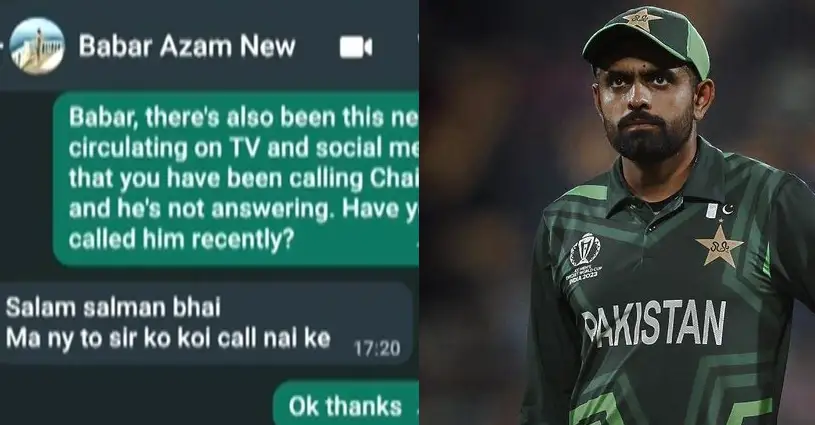 Salman Naseer allegedly wrote to Babar, as disclosed in the chat, saying, "Babar, there's also been news circulating on TV and social media that you have been calling the Chairman, and he's not answering. Have you lately given him a call?" The brief reply from Babar was, "Salam Salman bhai, I have not made any call to sir."
A lot of people had questions and concerns after this disclosure, particularly about the morality of sharing private communications on a public forum. It sparked lengthy conversations on consent and privacy, which only served to complicate an already difficult issue.
During the same programme, Azhar Ali, a former cricket player for Pakistan, also added to the conversation. He asked a valid question, wondering whether the programme or the PCB chairman had asked Babar's permission before airing his private communication live. This worry has only fueled the continuous discussion about the problem.
The cricket world is on the verge of chaos as a result of the Babar Azam-Zaka Ashraf incident. The mystery surrounding this story has further grown as a result of Ashraf's strong denial and the subsequent revelation of WhatsApp chats, even though Rashid Latif's charges brought attention to purported negligence. The ethical aspect of these issues has been highlighted by the engagement of a well-respected individual such as Azhar Ali in the consent controversy.
It is unknown how this dispute would affect Pakistani cricket in the long run. It serves as a sobering reminder that disagreements and accusations may have far-reaching effects off the cricket pitch as well. As fans, all we can do is hope for a speedy settlement and a restoration of the beloved essence of the game.
they just showed babar azam's priv whatsapp convo with someone on live tv without his consent. this is pakistan's captain. how can you stoop so low @Shoaib_Jatt and how can you approve to show this on your show @WaseemBadami, expected better from you. ABSOLUTELY PATHETIC. LANAT. pic.twitter.com/N1uuqMeLZh

— عثمان (@usmssss) October 29, 2023