South Africa has become a powerful force to be reckoned with in the world of cricket, where intense rivalry and thrilling matches characterise the scene. Their recent victory against New Zealand is evidence of their unwavering ability and outstanding play in the current competition.
New Zealand chose to bowl first to start the match, a move that would eventually benefit South Africa. South Africa's aggressive batting lineup was clearly a force to be reckoned with from the beginning of the competition. The top-order batters welcomed the challenge with open arms, their confidence skyrocketing.
One of South Africa's best batters, Quinton de Kock, put on an amazing display as he scored his fourth century of the competition. South Africa's remarkable run has been fueled by his unwavering brilliance at the crease. De Kock has emerged as a notable performer in the competition because of his ability to locate gaps, play flawless strokes, and remain composed under intense pressure.
Rassie van der Dussen, another standout in the South African team, demonstrated his talent and tenacity by hitting his second century of the match. The squad has benefited greatly from his ability to rotate strikes and anchor the innings. The big partnership between van der Dussen and de Kock was a key component of South Africa's impressive total.
With his quick fifty as the innings went on, David Miller put the icing on the cake and strengthened South Africa's position even more. His ability to pile on runs in the latter parts of the innings has given South Africa the much-needed impetus on many occasions. His input has often made the difference between a respectable total and an impressive one.
The South African batters as a whole demonstrated their ability and tenacity, leading the team to an incredible 357/4. Their domination and ability to take advantage of New Zealand's choice to bowl first was evident in their massive total.
Leading the pace foursome for the Proteas, Jansen put early pressure on the New Zealand batters. They made their opponents' lives difficult by combining mobility, speed, and precision in a lethal way. Conway's early wicket for Jansen set the tone for the rest of the innings.
Keshav Maharaj was vital with his spin bowling as the speed four dominated the opposing hitters by applying tremendous pressure and taking vital wickets. He took advantage of the pressure that the pacers generated and used it to his advantage, taking some crucial wickets. He was an extremely powerful weapon in South Africa's inventory because of his ability to extract turn and maintain perfect line and length.
As they had shown against the majority of their opponents earlier in the competition, South Africa proved to be unbeatable when facing a formidable squad such as New Zealand. Even with a late burst of entertainment from Phillips, the Proteas easily defeated their opponents, demonstrating their extraordinary skill in the game.
[Cricket World Cup 2023] Memes Galore As South Africa Crush New Zealand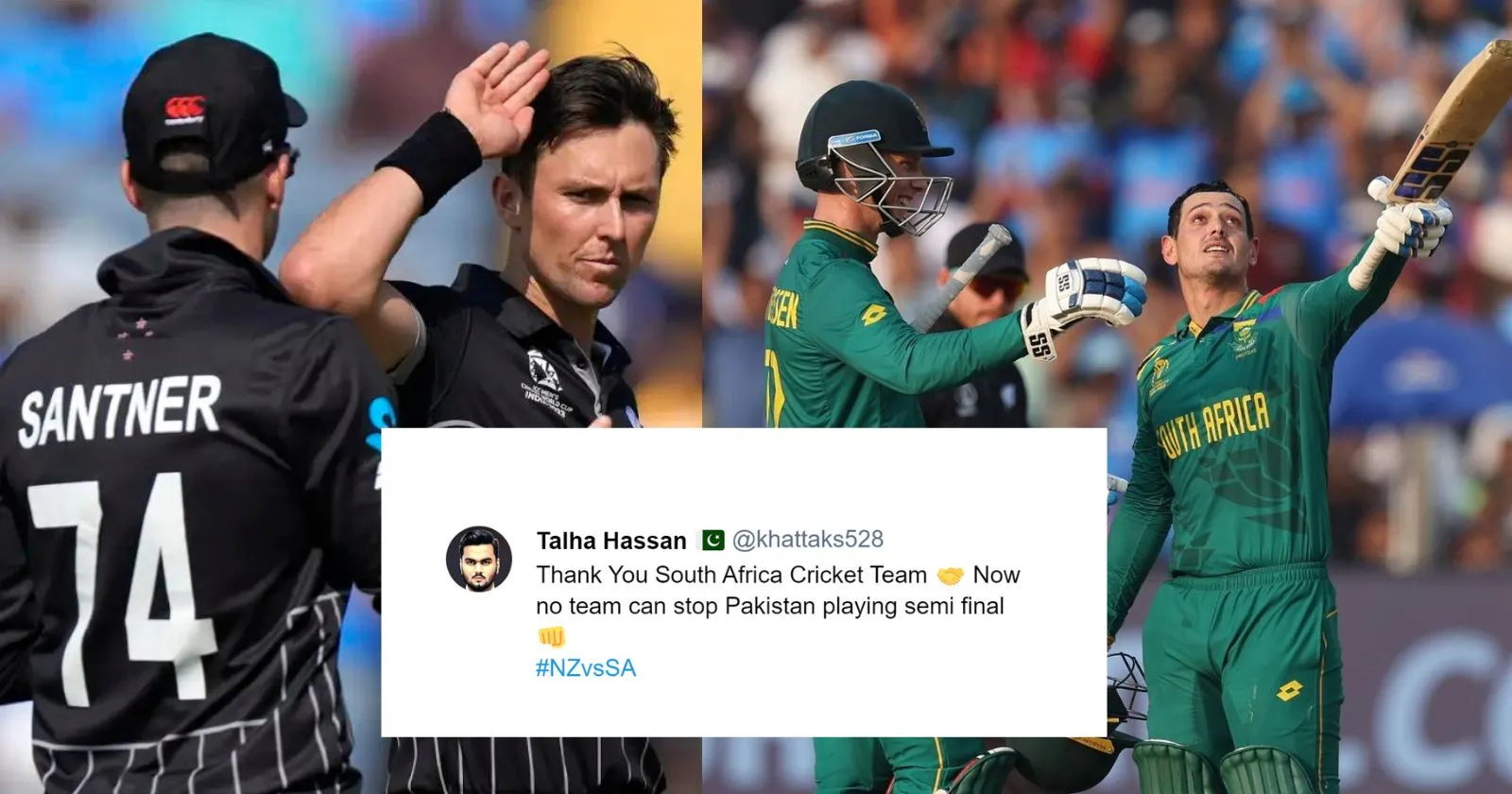 The system "Qudrat Ka Nizaam" has been activated for Pakistan cricket team as South Africa defeated New Zealand by a big margin. Interesting matches ahead for Pakistan to qualify for the semi-final of the ICC ODI World Cup.

— Wajahat Kazmi (@KazmiWajahat) November 1, 2023
Pakistanis to the South Africa cricket team. pic.twitter.com/4jExifseFq

— Saith Abdullah (@SaithAbdullah99) November 1, 2023
SOUTH AFRICA DEFEAT NEW ZEALAND IN CRICKET WORLD CUP…!!!.. 🇿🇦🇿🇦

Another firepower performance by the Proteas.
It puts Proteas chance to get into semifinal at 99.9%
Splendid effort from a splendid team for the best country in the world 🇿🇦
LETS GO PROTEAS!#ProteaFire #NZLvRSA pic.twitter.com/A1bxhtyHiL

— Goolam (@goolammv) November 1, 2023
If Keshav Maharaj had been in India, he would have rarely played in the Indian cricket team, the caste system here would never have allowed him to play, India should adopt the diversity policy of South Africa.

Brahmin Cricket Control Board of India is Casteist. pic.twitter.com/xUfPtq5dZQ

— The Dalit Voice (@ambedkariteIND) November 1, 2023
Pakistan after defeats from india Australia Afghanistan South Africa can dream of playing semi final in World Cup 2023 (same goes with NZ as they have defeated only weak teams till now ) 😭🤣 Except india and South Africa every team in World Cup has been filth #NZvSA

— Cricket on my mind (@bhuvifan2003) November 1, 2023
"English cricket team would you wanna play South Africa in this Cricket world cup"

The English: pic.twitter.com/rnWPAdzjgn

— Dr Ghost ®️ (@JamesChego9) November 1, 2023
#PakistanCricket team and fans to South Africa team & Quinton de Kock
😀😀😀#NZvsSA #CricketWorldCup2023
Semis God of Cricket Rassie van der Dussen Marco Jansen #INDvsSL #HappyBirthdaySRK
New Zealand By 190 Wankhede India vs South Africa pic.twitter.com/6pwJxzsOut

— JustForFun (@Rizzit_fab) November 1, 2023
Thank You South Africa Cricket Team 🤝 Now no team can stop Pakistan playing semi final 👊#NZvsSA pic.twitter.com/dezyeMgI2N

— Talha Hassan 🇵🇰 (@khattaks528) November 1, 2023