Danielle Wyatt Shared A Heart-Breaking Post: The inaugural Women's Premier League (WPL) Auction saw 87 players being sold, out of the maximum limit of 90, and out of those 84, all overseas slots of 30 players were filled, with each team buying 6 overseas players.
However, one marquee, world-class batter who went unsold in the WPL auction was England's Danielle Wyatt, nicknamed Danni Wyatt.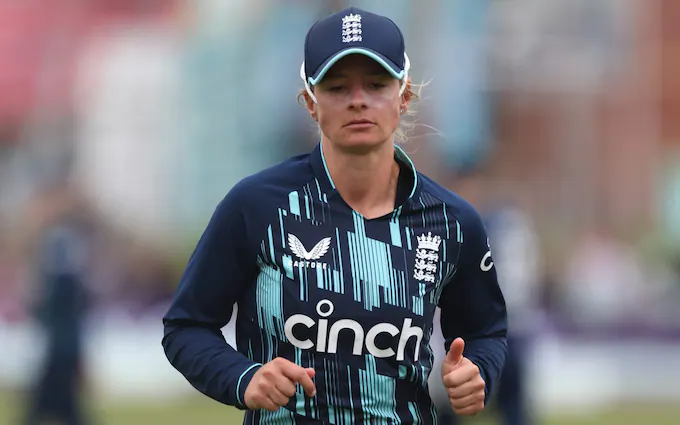 Danielle Wyatt, who is currently in South Africa with the England side taking part in the ongoing T20 World Cup, saw 7 of her teammates being picked up in the WPL auction. But the 31-year-old herself didn't find any takers in the WPL auction room.
Danielle Wyatt's Tweet Has Gone Viral
A right-handed batter and a part-time off-spinner with a massive experience of 140 T20Is and 102 ODIs amassing over 4000 international runs for England, Danni Wyatt, on Tuesday, took to Twitter to express her sadness of not being picked up to feature in the WPL 2023.
"Dreamt of playing in the WPL. Heartbroken (heartbreak emoji )Congrats to all who got picked up. India is a wonderful place to play cricket," Wyatt tweeted.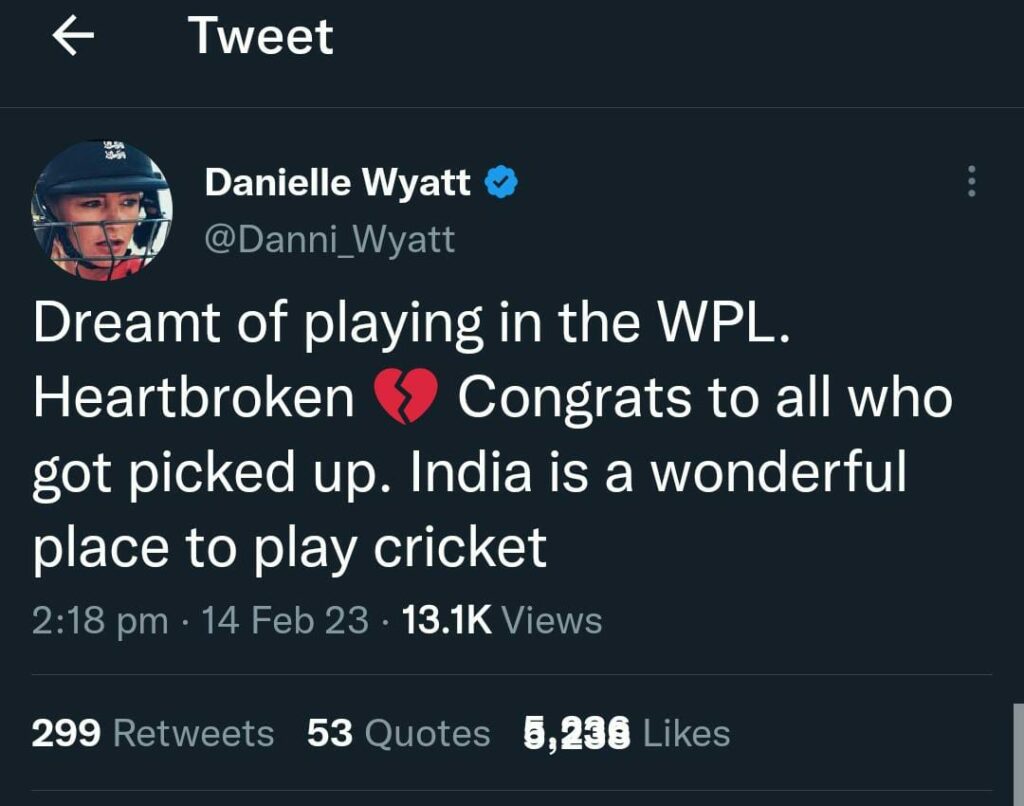 Her tweet received love and commiserations from fans worldwide, for fans had known Wyatt as a terrific top-order batter. She has also been someone who had been vocal about the WPL, the women's league in India over the past few years, and how it would change the landscape of women's cricket.
Australian players were in big demand
Being the reigning ODI and T20 World champions, as expected, Australian players were sought after in the WPL auction: 14 of the 30 available slots for overseas players were filled by Australian, followed by 7 by England players. INR 14.25 crore was spent on Australians in the WPL auction, nearly one-fourth of the total purse of five teams.
57 Indians were bought in the auction. India opener Smriti Mandhana became both the first player to go under the hammer and the most expensive buy, with Royal Challengers Bangalore splashing a whopping INR 3.4 crores on the left-hander. Nat Sciver (Mumbai Indians) and Ash Gardner (Gujarat Giants) were the most expensive overseas buys at the WPL auction, for INR 3.2 crore each.
The inaugural edition of the WPL 2023 will be played between March 4 and 26.
The tournament will be played entirely across two venues in Mumbai: the Brabourne Stadium and the DY Patil Stadium.