Australia opener David Warner is one of the most loved and respected overseas players in India. Warner's participation in the IPL has brought him a lot of success on the field and earned him many followers and admirers in India.
Apart from his exploits with the bat, David Warner often engages with Indian fans, and his dancing, acting, and dubbing reels on social media are a frequent occurrence.
The pocket dynamo left-handed opener was first part of the IPL in 2009. Since then he's played in all IPL seasons except for the 2018 season which he missed due to his ban for being involved in the ball-tampering scandal in South Africa.
David Warner reveals 3 things he loves about India
He's played for Delhi Capitals (previously Daredevils) and Sunrisers Hyderabad, leading the latter to their first and only IPL title in 2016.
Having spent a significant amount of time in India, Warner was asked by a fan on Twitter about what he loves the best about India.
"people, food and hospitality is always amazing," David Warner replied.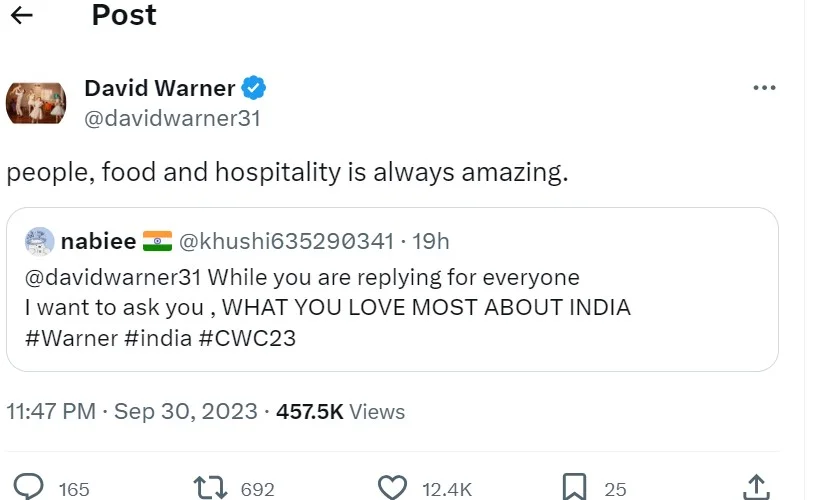 Warner is going to be a crucial cog for Australia in the upcoming World Cup 2023 as Australia aim for their 6th ODI World Cup trophy.
He's already given a glimpse of what is to come: the southpaw cracked 3 half-centuries in the recent ODI series against India, giving a teaser of what could come in the next 6-7 weeks in the World Cup.
Warner, who won the 2015 WC with Australia, was the second-highest run-scorer in the 2019 World Cup in England. The World Cup 2023 is set to be the last ODI WC for Warner: the opener has already hinted that he is planning to retire from international cricket after next year's T20 World Cup 2024.
He didn't take part in Australia's first warm-up game against the Netherlands on Saturday, allowing Steve Smith to open. Australia will kick-start their World Cup campaign against India on October 8 in Chennai.