Dinesh Karthik Reveals How Virat Kohli Saved Mohammed Siraj's Career: Indian batting superstar Virat Kohli may not have won a major ICC trophy as captain but his contribution to Indian cricket is beyond anything and everything. Apart from all the contributions with the bat, his major contribution as a captain was reviving Test cricket globally.
Virat revived Test cricket and under his captaincy, the Indian cricket team became a mighty force to reckon with overseas, winning consecutive Test series in Australia and having England pinned on the mat for a 2-2 draw.
Besides, the players who made their debut under Kohli's captaincy – Rishabh Pant, Shubman Gill, Mohammed Siraj, and Suryakumar Yadav – have all gone on to make a unique identity for themselves.
Talking about India's star pacer Mohammed Siraj, he has been in some red-hot form for team India for quite some time now. Last year, he finished as the leading wicket-taker in 50-over matches last year for the Men in Blue, and he continued with his brilliance in 2023 as well. He has already reached the world's No. 1 position in the ODI bowlers ranking.
Siraj's journey to success has been very emotional. Kohli trusted the abilities of Siraj and gave him his big break when he debuted in 2017 in a T20I against New Zealand. But soon he was in danger of losing his spot because of his form. But Kohli showed his faith in him and as a result Siraj made a stunning comeback. He had a cracking season and made his way back into the Indian team, this time in Tests.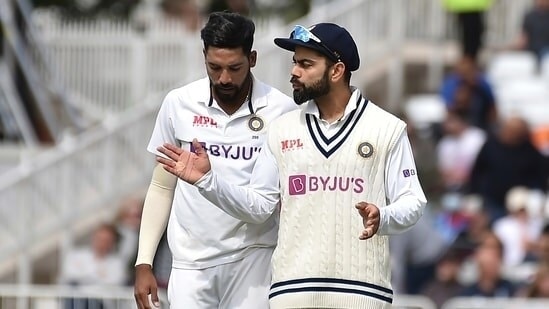 Virat Kohli Played A Huge Role In Mohammed Siraj's Success
According to veteran keeper-batter Dinesh Karthik, Kohli has been nothing less than a pillar of support to Siraj. Speaking on the Cricbuzz Special show 'Rise of New India', DK said:
"He has gone on to do so well for RCB in 2020 post pandemic when he just came through. He was about to be dropped but Virat Kohli backed him and said 'I want him in the Playing XI'. And he had something to do with me because I was part of the KKR team that had gotten all out for less than 100. He picked up three wickets and won the Player of the Match. From there, his T20 career simply took off. He did really well and it is great to see somebody come from those strata of society have so much confidence and do so well in life. He has a great success story that a lot of people can draw inspiration from," 
While Kohli showed his faith and support in Siraj, the star pacer has always hero-worshipped Kohli. DK said:
"Literally like an elder brother. I think he looks at him like a guiding light. In his tough times, Virat Kohli backed him and he really appreciates that. Under Kohli's captaincy is when he came back in the team so he really values Virat as a very important person in his life. I think there are 2 people he really values a lot – Bharat Arun and Kohli. Because in his formative years for Hyderabad, Bharat Arun was the coach and he really guided him during those moments to achieve greatness and the good things. Bharat Arun has played a big factor. And Virat Kohli as someone who has captained him when he performed so well and been an important force in his life," added Karthik.
An Old Video Of Siraj Is Going Viral
Meanwhile, an old video of Mohammed Siraj has been going viral on the internet, where the star pacer can be seen crediting Virat for his success and growth. "Mera kharab performance k baad jab bhaiya ne mujhe bol k, RCB management ne jo mujhe back kiya, jo mujhe retain kiya, to be honest, jo bhi abhi is waqt main hoon, pura credit goes to Virat bhai"
(After my bad performance the way Virat and RCB management backed me and retained me, to be honest, whatever I am at present, all the credit goes to Virat), Siraj said.
Watch the video:
Mohammad siraj emition interview
🤩 Virat kohli 🤝 Siraj #ViratKohli𓃵 #siraj pic.twitter.com/CQqN4MJpkx

— Kunal singh TM (@imkunalkohli) January 18, 2023