6 matches, 23 wickets, an unbelievable bowling average of 9.13, and a strike rate of 10.91. Mohammed Shami has recorded insane numbers and broken numerous records on his way to the top of the wickets column in the World Cup 2023 by the end of Wednesday night when he helped India to a 70-run win over New Zealand in the semi-final at the Wankhede.
India exorcised the ghosts of the 2019 World Cup semi-final loss to New Zealand by handing a proper hammering to Kane Williamson's side in Mumbai. With centuries from Shreyas Iyer and Virat Kohli, a half-century from Shubman Gill, and cameos from Rohit Sharma and KL Rahul, India piled up 397 runs, before Mohammed Shami's 7-wicket haul downed the Kiwis even as Daryl Mitchell scored a brilliant century.
After being on the bench for the first four matches, Mohammed Shami has taken the World Cup 2023 by storm. In 6 matches, he has three five-wicket hauls, one four-wicket haul, and one 7-wicket haul. He became the first Indian men's bowler to take a 7-wicket haul in ODI cricket.
After Mohammed Shami led India to a victory with his 7-fer, a post on social media by one "Dr Nimo Yadav" with Twitter handle @niiravmodi, went viral in which he credited Mamta Banerjee, the Chief Minister of West Bengal, for the selection of Shami in Bengal's Ranji team in 2010 and had "invited" him to play for Bengal and leave his home state of Uttar Pradesh.
"When shami didn't get the chance to play in Ranji trophy for Uttar Pradesh, it was Mamta Banerjee who invited him to play for West Bengal," tweeted @niiravmodi, who also added that "Secularism is a way forward for anyone's individual success or success of a country."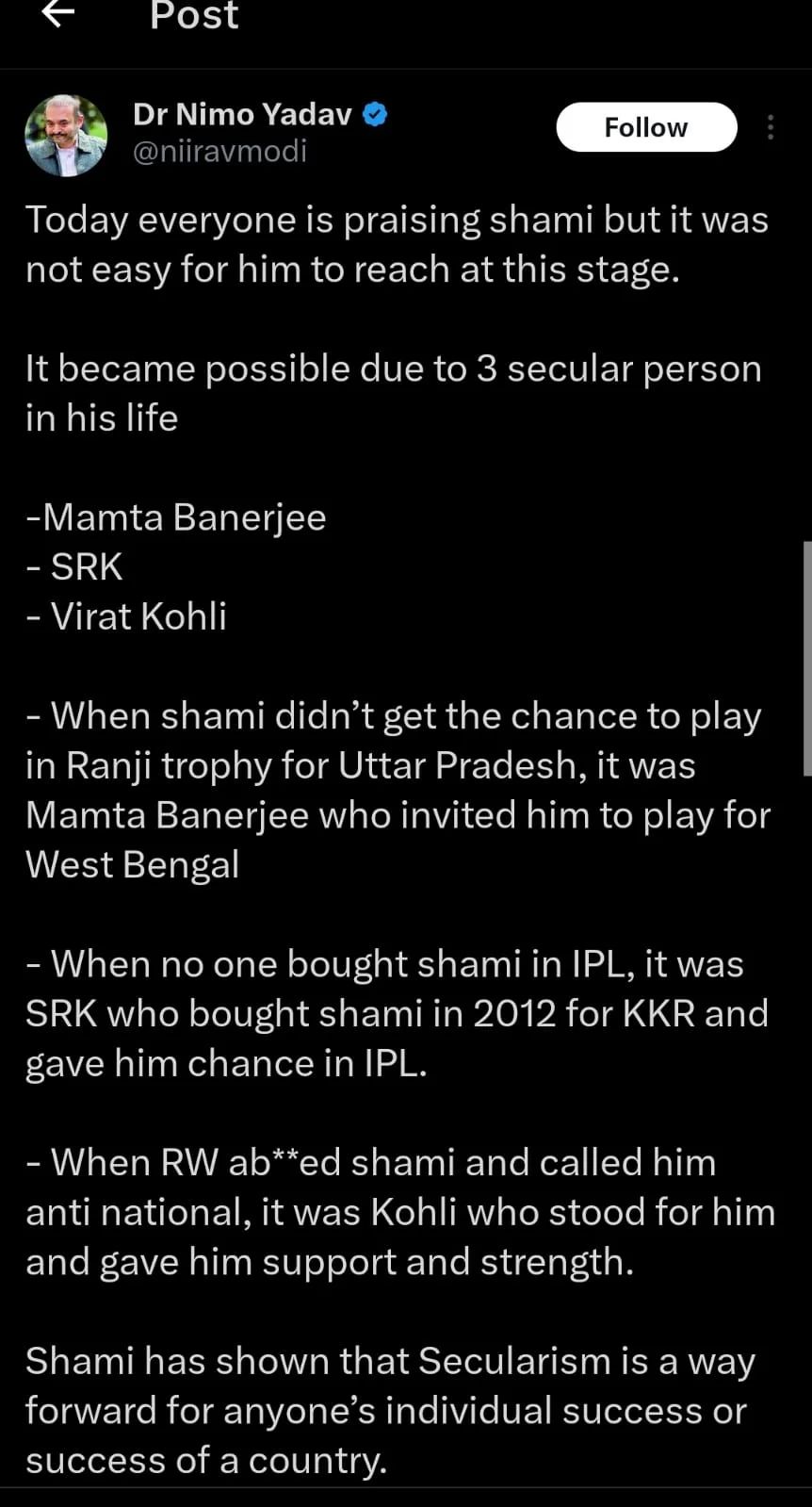 Fact Check: Did Mamta Banerjee invite Mohammed Shami from UP to Bengal? Joy Bhattacharjya reveals the truth
This post went viral and fans wondered whether Mamta Banerjee really "invited" Shami to play for Bengal, and whether Mamta Banerjee had any influence or connection to cricket at all.
It didn't take long for someone to debunk this myth and put this user in his place. The truth was revealed by Joy Bhattacharjya, a renowned media and broadcasting personality who has worked for over a decade in Indian sports, including working with Kolkata Knight Riders.
Joy Bhattacharjya pointed out that Shami made his Bengal debut in 2010, which was a year before Mamta Banerjee became the Bengal CM.
Bhattacharjya tweeted: "Shami came to play club cricket in Bengal around 2006, and made his debut for Bengal in 2010, a year before Mamata Banerjee came to power. He was picked by the KKR team in 2011, outside the auction, on the recommendation of Jeet Banerjee & coach Dav Whatmore."