The 2023 edition of the Syed Mushtaq Ali Trophy has witnessed remarkable performances, with several teams earning their spots in the quarter-finals.  In the 2023 Syed Mushtaq Ali Trophy, Assam has displayed a remarkable journey. While six teams secured direct entries into the quarters, Assam, along with Uttar Pradesh, had to take a more challenging route, defeating Bengal and Gujarat, respectively, in the pre-quarter-finals to secure their places in the last eight.
Riyan Parag, renowned for his explosive batting, initially gained attention during the Vijay Hazare Trophy last year, where he smashed five centuries. This year, in the Syed Mushtaq Ali Trophy, he has taken his game to a new level, with seven half-centuries in just eight matches. Notably, his lowest score in the tournament has been 45, underlining his consistent form.
Parag's seven fifties establish a new record in the history of the Syed Mushtaq Ali Trophy for the most fifties in a single edition. He has also hit 39 sixes in the tournament, showcasing his ability to clear the boundaries with ease. Riyan Parag's run-scoring spree in the 2023 Syed Mushtaq Ali Trophy has been nothing short of phenomenal. With 490 runs to his name at an astonishing average of 122 and a striking strike rate of 189, he is the highest run-getter in the tournament. His contributions with the bat have been instrumental in Assam's success.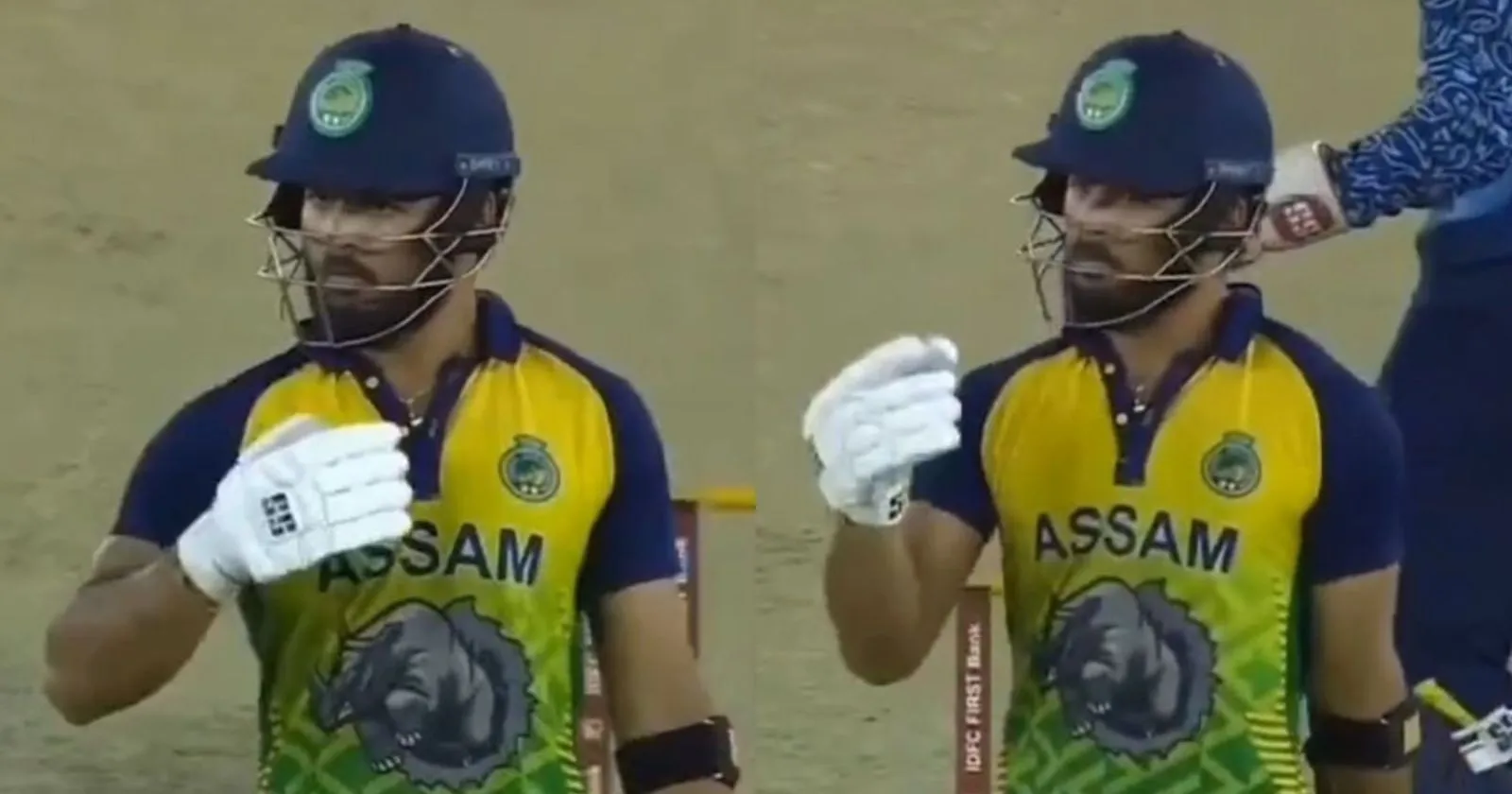 Riyan Parag has faced challenges replicating his domestic success in the Indian Premier League (IPL) in recent seasons. However, his remarkable performances in the Syed Mushtaq Ali Trophy this year have ignited hopes of an IPL resurgence. Parag's determination to lead Assam to glory is evident in his on-field celebrations, particularly during his fifty against Bengal in the pre-quarterfinals, sparking curiosity about its significance.
Riyan Parag's celebration upon reaching his fifty against Bengal raised eyebrows and ignited discussions. Many interpreted it as a message of supremacy, with Parag signaling, "No one is at my level; I am above everyone." The video of this celebration quickly went viral, with fans and experts alike intrigued by its meaning.
Amidst the speculations, a user on Twitter shed light on the context of Riyan Parag's unique celebration. The user explained that a well-known domestic commentator had previously referred to former Assam players as "second-class citizens" when comparing them to former Bengal players. Riyan Parag's celebration was a direct response to this derogatory comment, defending the honour of Assam's cricketing legacy.
[FACT CHECK] Did Riyan Parag Gesture 'No One Is At My Level'?
Context is important! 🚨

A known domestic commentator mentioned former Assam players as second class citizens when comparing to former Bengal players. That's what he is responding to. Well done, Riyan Parag! 👏🏻 https://t.co/5TA78atp0V

— Sameer Allana (@HitmanCricket) November 1, 2023
Assam past cricketers are 2nd class citizens?

While praising Assam's game in Syed Mustaq Ali, commentator says that Assam cricketers earlier were second class citizens infront of Bengal.

Commentary should apologise to all ex cricketers of Assam@tarangagogoi @lonsaikia pic.twitter.com/SqMvxeeEbr

— Nibir Deka (@nibirdeka) October 31, 2023