The game of cricket has seen some great batsmen grace the game with their presence. These batsmen scored heaps of runs and dominated the opposition bowling attacks. It was due to such world-class batsmen that their respective teams were highly competitive in ODI cricket when they were at the peak of their prowess. Here we have a look at five such great batsmen who have the most 50+ scores in ODIs.
1. Sachin Tendulkar- 145
Arguably the greatest Indian batsman to ever play the game of cricket, the God of Indian cricket Sachin Tendulkar played international cricket for 24 years and dominated bowlers all around the world. Along with 49 ODI centuries, Tendulkar also has a staggering 96 ODI fifties to his name. He managed all these records in 452 ODI innings.
His total of 145 50+ scores is the highest by any batsman in ODI cricket. He also is the leading run-scorer in ODI cricket with as many as 18426 runs. He is a living legend and will go down as one of the finest the game has ever seen.
2. Kumar Sangakkara – 118
Kumar Sangakkara is one of the finest Sri Lankan batsmen and the fact that he was a wicketkeeper too gave his team an extra option of playing either a bowler or a batsman. Playing 404 ODIs, he scored 14234 runs and scored 25 ODI hundreds along with 93 fifties. His total of 118 50+ scores is the second-highest by any batsman in ODI cricket
He couldn't quite win the World Cup, having made it to the finals of the 2007 and 2011 editions. But he will always be remembered as a true gentleman who played the sport in the right spirit and always was a team man.
3. Ricky Ponting – 112
Ricky Ponting was the greatest Australian batsmen ever and probably the greatest captain in their history. Leading his team to two World Cup triumphs in 2003 and 2007, Ricky Ponting also led by example with the bat. He scored 13704 runs in 375 ODIs including 30 centuries and 92 half-centuries to go with it.
His total tally of 112 50+ scores is the record for the third-highest 50+ scores in ODI cricket. He was a stylish batsman and always used to impose his presence on his opposition by dominating against them. It is only because of him that Australian cricket reached great heights, especially during the first decade o the 21st century.
4. Virat Kohli – 103*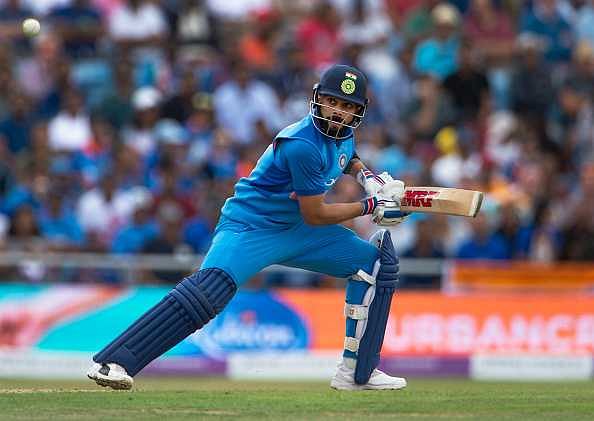 Indian skipper Virat Kohli has arguably been the Men in Blue's best batsman across all three formats over the past decade. However, his ODI numbers are staggering to say the least. Having recently become the fastest player to cross 12000-run mark in ODI cricket, Kohli has a stupendous 43 ODI hundreds to his name and 60 ODI fifties to go with it. His incredible conversion rate is just shown by the small gap between the number of fifties and hundreds.
His total of 103 50+ scores so far is the fourth-highest number of 50+ scores in ODI cricket. He has an unbelievable 26 ODI hundreds just while chasing, out of which 21 have ended up in a winning cause. If he continues to bat in this manner, he will surely climb this list and end up breaking Sachin Tendulkar's record of most number of 50+ scores in ODI cricket.
5. Jaques Kallis – 103
Equally, gifted with both batting and bowling ability, Jacques Kallis is often regarded as one of the greatest all-rounders of the modern-era. He was an absolute asset for the South African cricket team and his numbers in ODI cricket with the bat are absolutely sensational. In 328 ODIs, he scored 11579 runs with 17 hundreds and 86 fifties.
His total tally of 103 50+ scores is the joint-fourth highest in ODI cricket alongside Kohli. There was never any all-rounder produced by South Africa produced of his quality and there might never be ever again.