The Indian cricketers have always embodied the people of the country. Their feelings, emotions, passion, the good works, and sometimes the bad, ill-tempered actions.
The Indian cricketers of the generations before the current ones were mostly reserved within themselves, focused on their game, and rarely were involved in a public quarrel with anyone from their own contingent or the opposition, unless of course provoked.
Then, the social media came and most of the ex-India stars hopped onto it, giving their opinions, analysis, praises and it was majorly the criticism that make them stay relevant in the media.
A few of those perhaps went a bit too far when they got involved in an ugly altercation on Twitter.
Here are 3 recent instances of Indian cricketers getting involved in a fight on Twitter:
Venkatesh Prasad and Aakash Chopra
This latest row over two India players, Venkatesh Prasad and Aakash Chopra, on Twitter revealed sides of these two that fans had never seen. Both have always laid down criticism of Indian players in an elegant style, not creating any controversy.
However, regarding KL Rahul, his form or lack of it, both took sides and very really assertive in their opinions, so much that Prasad even dug up a tweet of Chopra from a decade ago in order to point out that Chopra was wrong in his assessment.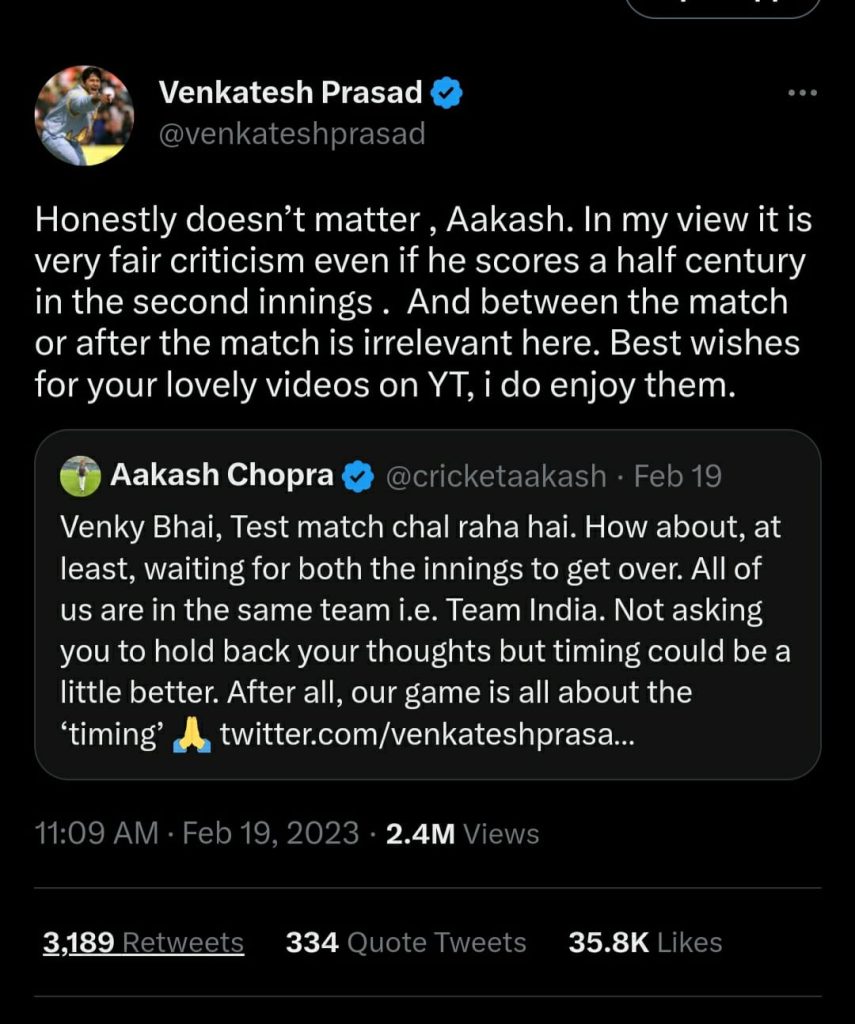 Venkatesh Prasad vehemently lashed out at the persistent selection of KL Rahul in the Test team, to which Chopra first argued that Prasad's timing of criticism – during the Delhi Test against Australia – wasn't ideal and was discouraging.
Prasad replied; then, Chopra replied. And soon it become ugly, so much that Chopra said Prasad was peddling his agenda, and invited Prasad on his YouTube show to talk it out, but the former pacer declined the invitation.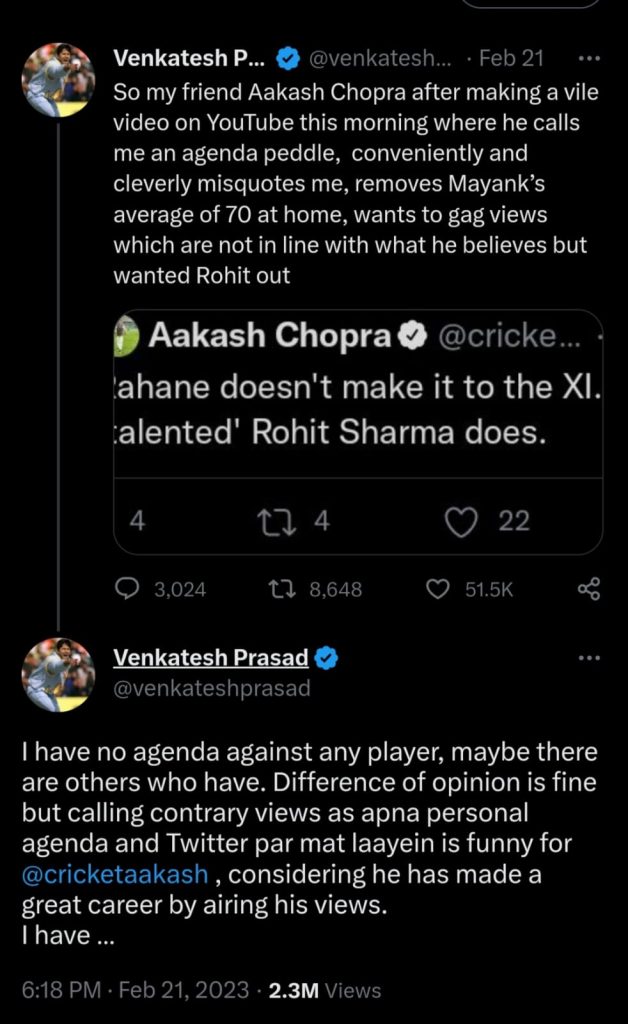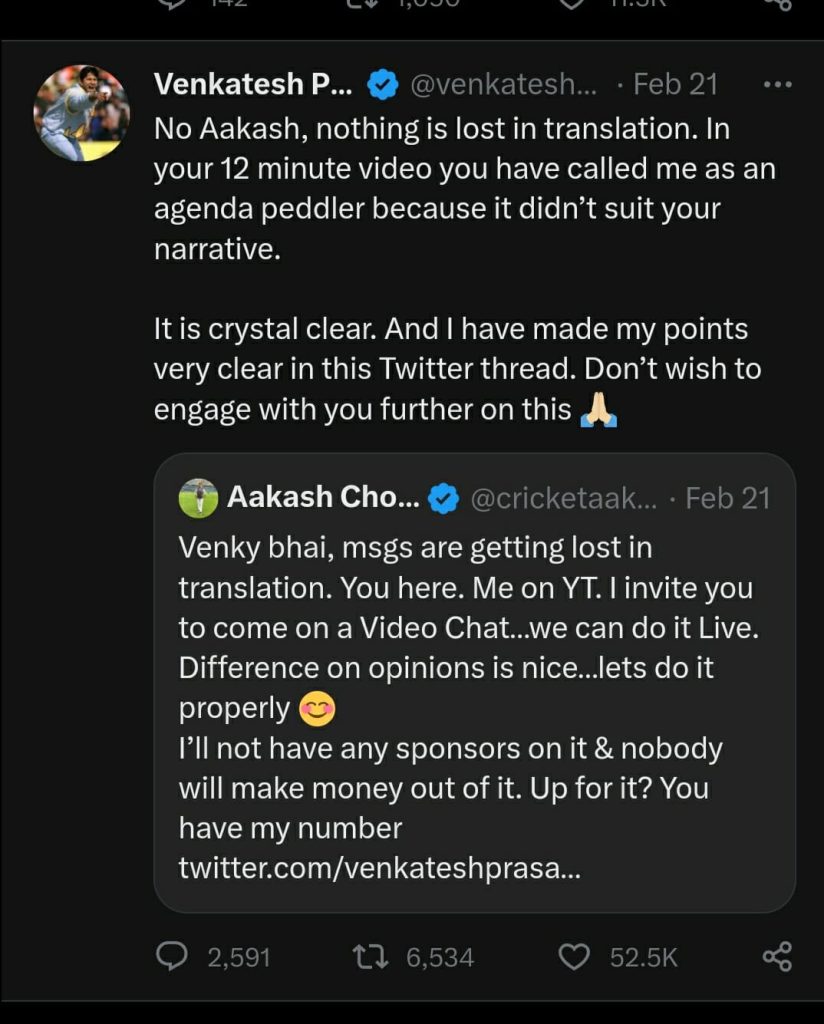 Prasad even liked a tweet of a video of Chopra along with KL Rahul's father-in-law, Bollywood mega-star Suniel Shetty.
Harbhajan Singh and Mohammed Amir
Oh, this is bad. This is really messy. The only thing left here was for both of them to join a Twitter space and abuse each other.
Following Pakistan's victory over India in the 2021 T20 World Cup in the UAE, Amir took a jibe at Harabhajan. "hello everyone woh pochna yeah tha @harbhajan_singh paa ji ne TV to ni tora apna koi ni hota hai end of the day its a game of cricket," Amir tweeted.
And then the fury exchanges begin with each former international player insulting another. Things took a wild turn when Harbhajan mentioned Amir's spot-fixing incident. This war of words from two World Cup winners proved to be a popcorn stuff for the fans though.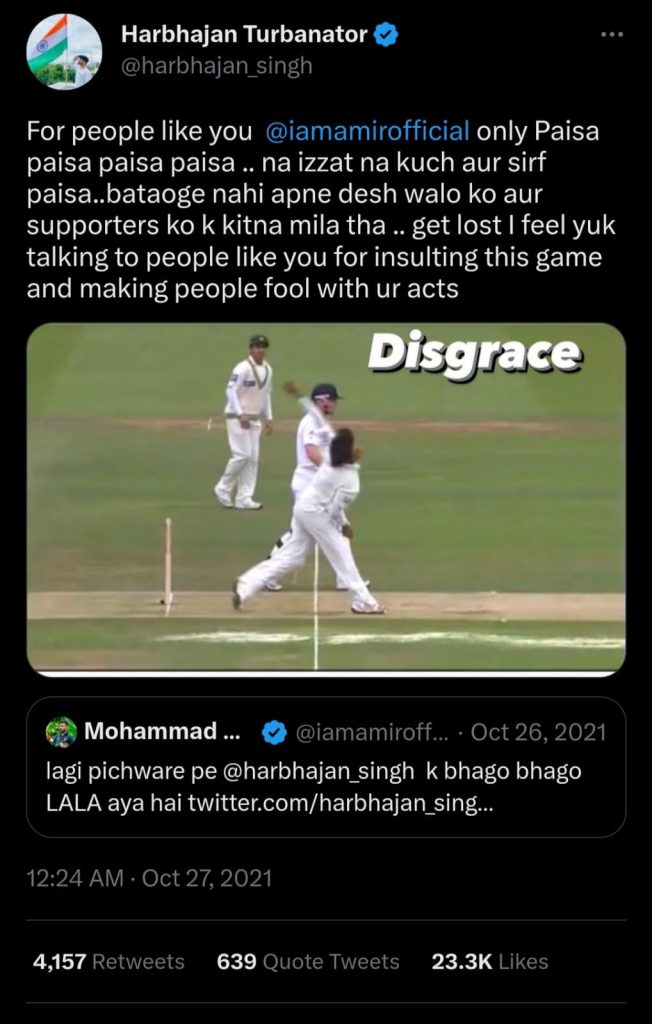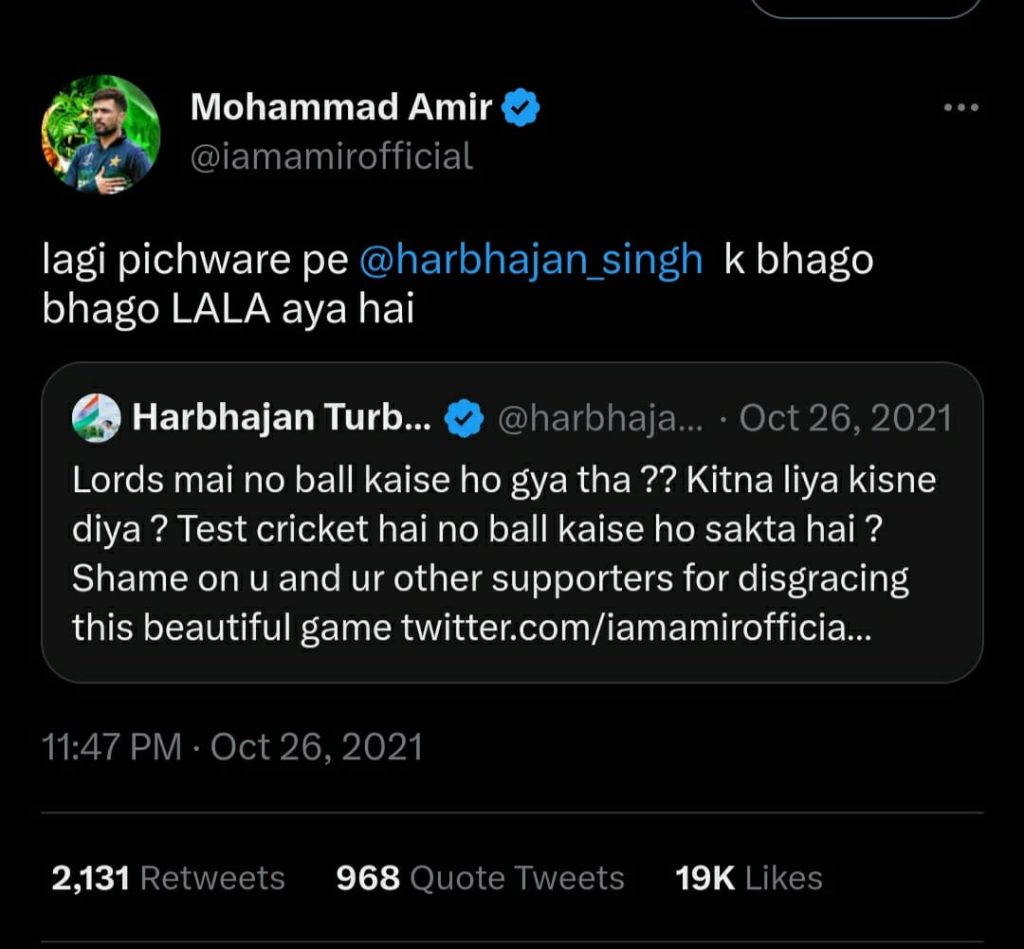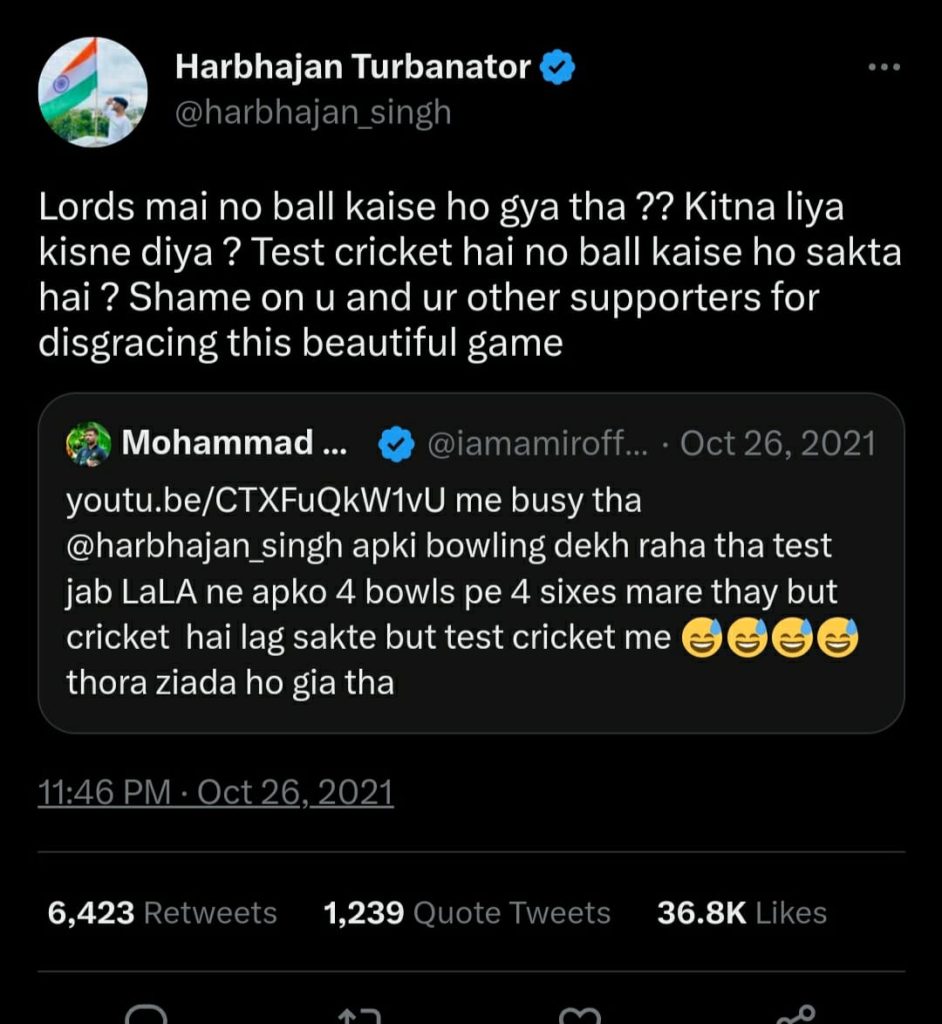 Gautam Gambhir and Shahid Afridi
Gambhir has his own style of trolling Shahid Afridi. The duo had had intense battles on the field, and the pair continued that tradition on Twitter as well after retirement.
Gambhir became a politician for the BJP party in India, while Shahid Afridi was an unofficial politician, often speaking on the India-Pakistan matters, and in particular the Kashmir matter.
Even in his book, 'Game Changer', Shahid Afridi made a mention of Gautam Gambhir, saying that the former India batsman has a "lot of attitude and no great records". Gambhir hit back at Afridi, saying that see a psychiatrist and get his mind treated.
"@SAfridiOfficial you are a hilarious man!!! Anyway, we are still granting visas to Pakistanis for medical tourism. I will personally take you to a psychiatrist," Gambhir tweeted.