Former India batsman and now a commentator Gautam Gambhir was utterly disappointed with the umpires deeming Angelo Mathews Timed Out.
On Sunday during the Sri Lanka vs Bangladesh World Cup 2023 match in Delhi, veteran Sri Lankan batter Angelo Mathews became the first player ever in international cricket to be timed out.
The fans and ex-cricketers remained divided on their opinions. Because although Angelo Mathews had entered the field within the stipulated time of 2 minutes, his demand of a change of helmet caused extra delay, which went beyond 2 minutes, causing Shakib Al Hasan to appeal.
The umpires reportedly even asked Shakib twice whether he'd like to withdraw his appeal, but the Bangladesh captain stood his ground and the on-field umpires ruled in Bangladesh's favor, dismissing Mathews Timed Out.
"Absolutely pathetic": Gautam Gambhir unhappy with Angelo Mathews Timed Out dismissal
Gautam Gambhir called this act from Shakib Al Hasan as "Absolutely pathetic". On Mathews' argument, he was almost ready to face the ball, but realizing that his helmet strap had broken off, he asked for a change, and by the time the substitute brought a new helmet, 2 minutes had passed. Had Mathews' helmet strap come off after he'd faced his first delivery, no one would have made any qualms,
Gautam Gambhir tweeted: "Absolutely pathetic what happened in Delhi today! #AngeloMathews"
This view from Gautam Gambhir that it was unfair on Mathews seems to be the opinion of many cricket fans, who pointed out that Mathews was already at the crease in time.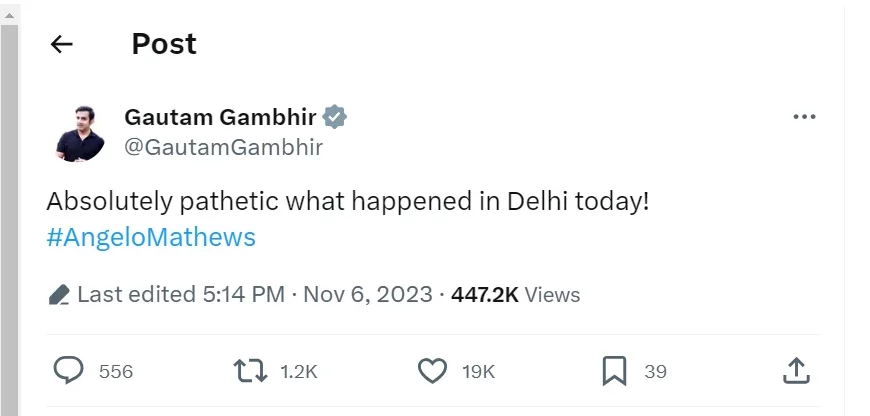 Is Angelo Mathews the first player to be given Timed Out?
Angelo Mathews is the first player to be Timed Out in international cricket, men or women. However, there have been six previous instances of a batter being Timed Out, all in first-class cricket.
What is the rule of Timed Out?
The laws of Timed Out in World Cup 2023 state that: "40.1 Out Timed out 40.1.1 After the fall of a wicket or the retirement of a batter, the incoming batter must, unless Time has been called, be ready to receive the ball or for the other batter to be ready to receive the next ball within two minutes of the dismissal or retirement. If this requirement is not met, the incoming batter will be out, Timed Out."