The cricket community in India has been ecstatically anticipating the next Cricket World Cup 2023. Ravichandran Ashwin, a famous Indian spinner, and Harsha Bhogle, a well-known cricket analyst, have joined forces to create a new chat show called "Kutti Stories." This new show will provide cricket fans with a fascinating look at how the Indian squad has changed over the years, as they competed in each
Cricket World Cup. 
Ravichandran Ashwin, renowned for his skills on the pitch, chose to try his hand at storytelling while the cricketing world awaits the Cricket World Cup 2023. The show 'Kutti Stories,' whose name means 'Small Stories' in English, is not your standard cricket programme. It's an original idea that looks back at each World Cup through the perspective of two cricket fans, Ashwin and Bhogle, to present a cultural and sporting retrospective.
Harsha Bhogle Hits Back At A Troll Who Tries To Bad Mouth Ashwin's 'Kutti Stories'
The concept behind 'Kutti Stories' is just as endearing as the name suggests. Popular cricket analyst Harsha Bhogle noted for his insightful analysis, expressed his delight with the programme on Twitter. He said,
"I often use

 the word (kutti) in casual conversation myself. It means small. And so I was quite amused that @ashwinravi99 used it as the title of his charming cricket show. When he asked if I could be part of his kutti stories, I was quite excited. Here is part 1 of a cultural and cricketing look back at the World Cups. 1975 & 1979. We recorded it and the next thing I know is that he is back on the field and I am back in the commentary box!"
This demonstrates the individual flair Ashwin has infused into the show's title, endearing it to cricket fans all across the globe.
The first episode looks back on the World Cups of 1975 and 1979, offering an interesting mix of cultural and cricketing insights for viewers. There is always an opportunity for a surprising turn of events in the opinion-rich realm of social media. In reaction to Harsha Bhogle's post, one user invoked the very lurid connotations of the Hindi term "Kutti." According to his note, "Kutt! is BXXXX in Hindi." In a roundabout way, they were making fun of the show's title.
But the ever-observant Harsha Bhogle couldn't help but notice this. He shot back with the age-old retort, "Aap hi ke liye maine Hindi mein woh shabd likha tha," which translates to "I wrote that word in Hindi just for you."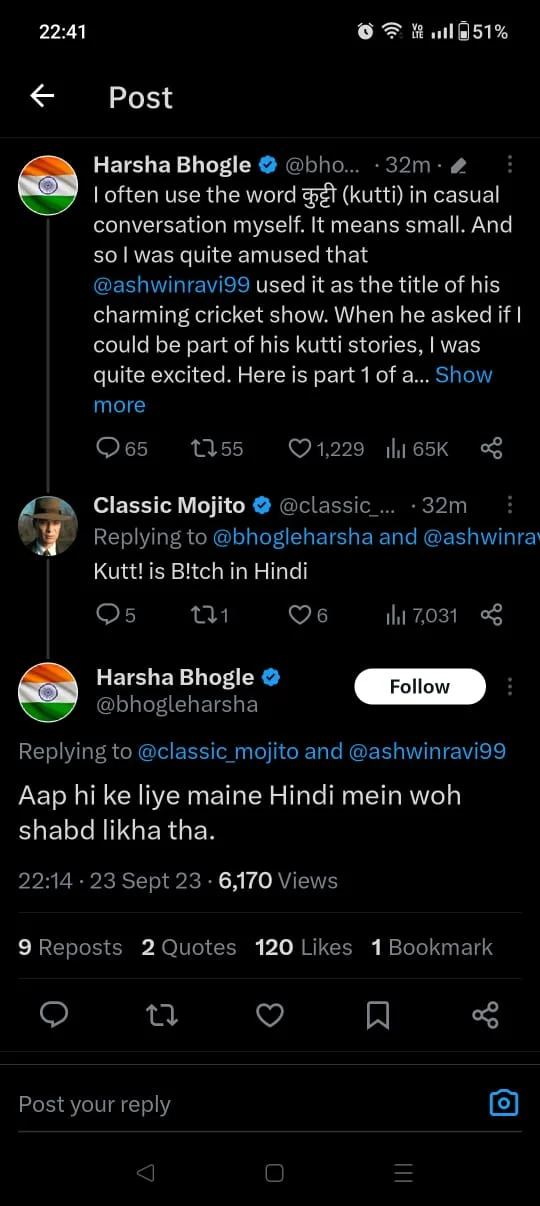 Outside of the fascinating realm of 'Kutti Stories,' another plot has been developing in the Indian cricket scene. Questions regarding Ravichandran Ashwin's viability for the 2023 Cricket World Cup were raised by his participation in India's ODI squad for the three-match series against Australia. The criticism of Ashwin's performance at the 2023 Asia Cup was already high before Axar Patel's injury.
Many people expected Ashwin to use the India vs. Australia series as a chance to reestablish his credibility and earn a position on India's World Cup roster. Prior to the first ODI match in Mohali, head coach Rahul Dravid emphasised that the series was not a 'trial' for Ashwin.
'Kutti Stories,' a discussion programme, aims to mix the passion for cricket with cultural insights, which should be a pleasure for the cricketing world. The combination of Harsha Bhogle's insightful analysis and Ravichandran Ashwin's innovative spirit guarantees that viewers will learn something new about the history of the Cricket World Cup. An interesting undercurrent to the cricket story is Ashwin's return to the international scene. 'Kutti Stories' serves as a reminder of the vast cricketing landscape that lies ahead of us as we eagerly anticipate the World Cup.