Asad Rauf was amongst the most successful umpires of his time and attained the heights when he was inducted as the ICC elite panel umpire in 2006 and later on also officiated for a few seasons in the IPL. Rauf officiated from 2000 to 2013, standing in as an on-field umpire in 49 Tests, 98 ODIs, 23 T20Is and 8 WT20Is.
In 2022, however, Asad Rauf now runs a shop in Landa Bazaar, Lahore. Surprisingly, the 66-year-old doesn't watch cricket anymore.
"Nahi, maine saari umar jab khud hi khila diye toh ab dekhna kisko hai (No, I've umpired in so many games all my life, there's no one left to see now)," Rauf said in an interview to a Pakistani news channel, Paktv.tv, when asked if he had been keeping up with the game these days.
"Maine 2013 ke baad cricket se bilkul hi…..kyunki mai jo kaam chhodta hu usko chhod hi deta hu (I haven't been in touch with the game since 2013, because once I leave something I leave it completely)."
Asad Rauf was banned by BCCI
Rauf's umpiring career took a shocking nosedive when he was banned by the BCCI in 2016 for five years as its disciplinary committee found him guilty of corrupt activities after he was accused of having accepted expensive gifts from bookies and for his involvement in a match fixing scandal in IPL 2013.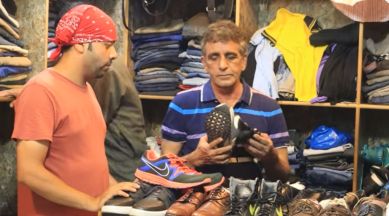 Denying those claims and allegations, Rauf insisted that he didn't had anything to do with the BCCI or the match-fixing controversy.
"I have spent my best time in IPL, apart from these issues that came later on. Unse mera toh koi lena dena tha hi nahi, wo unhi (BCCI) ki taraf se aaye aur unhone hi decision le liye (I had nothing to do with these issues, the allegations came from the BCCI's side and they took the decision on me themselves)," the former umpire said.
He runs a clothing and shoe shop in Lahore
Years after being sacked as an umpire, Rauf was seen commanding a clothing and shoe shop in the Landa Bazar in Lahore which is famous for providing cheap and affordable goods.
Rauf, who owns the shop, said that that though he's satisfied with what he has, he runs the shop for the needs of his workers.
"Bhai, ye mera kaam nahi hai, ye mere staff ki rozi lagi hui hai, ye mai unke liye krta hu (This isn't for me, this is the daily wages of my staff, I work for them).
"I have no greed. I have seen a lot of money, and I have seen the world, with protocol.
(It is my habit to reach the peak of whatever work I do. I started work as a shopkeeper, I have reached its peak. I played cricket, I reached the peak. And then when I started out as an umpire, I said to myself that I need to reach the peak here as well)," the former Pakistani umpire explained.
A solid right-handed batsman, Rauf featured in 71 first-class matches and 40 List-A games at the domestic level but couldn't make it to the national side.