Rahul Dravid, India's current head coach, turned 49 on Tuesday and the wishes have poured in in huge numbers for the batting legend.
Dravid, who made his India debut in 1996, retired with13288 Test runs at an average of 52 and 10889 ODI runs at 39; he hit a total of 48 international hundreds to go with 146 half-centuries. He also holds the record for being the non-wicketkeeper player with the most catches in Tests with 210 catches.
After his retirement in 2012, his wife, Vijeta Pendharkar, made some sweet revelations about Rahul Dravid the cricketer, and their family. Vijeta had then penned down an article in a column on ESPNcricinfo, where she shared a few anecdotes about the personal life of India's second-highest international run-scorer.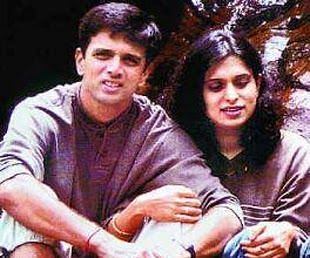 She revealed that when on tours along with their kids, Samit and Anvay, they had to book two separate rooms, so that to give the batsman some personal space for his meditation ahead of the game.
"When we began to travel with the kids – and he loved having them around during a series, even when they were babies – we made sure we got two rooms. The day before every game, the boys were told that their father had to be left alone for a while, and Rahul would go into his room for his meditation and visualisation exercises," Mrs. Dravid wrote.
Another funny anecdote Rahul Dravid's doting wife shared was that she didn't use to pack his kit bags! She also reflected on how her husband was so detailed in his observation about his bat.
Vijeta added: "Before he went on tour, I would pack all his other bags, but his cricket kit was sacred – I did not touch it; only he handled it. I know if I packed only two sets of informal clothes, he would rotate them through an entire tour if he had to and not think about it. He doesn't care for gadgets, and barely registers brands – of watches, cologne or cars. But if the weight of his bat was off by a gram, he would notice it in an instant and get the problem fixed."
Dravid is currently in Cape Town as India take on South Africa in the decider Test. The players would want to give a Test match win, and a series win, as a gift to Rahul Dravid