India and England faced off in an exciting match at the ICC Cricket World Cup 2023 in the ancient city of Lucknow. Jos Buttler, the captain of England, won the toss in this high-stakes match and wisely chose to send the Indian side into the bat on a difficult and dry surface.
Despite the difficult pitch conditions, Jos Buttler took a daring decision to send India into bat. The toss, a pivotal time in any cricket match, held its breath. The atmosphere was electric with expectation and excitement as the two titans of cricket prepared for an enthralling match.
Indian supporters caught their collective breath as the game began, expecting for a powerful start from their squad. Nevertheless, the English bowlers soon shown their ability to take advantage of the challenging circumstances of the wicket. The Indian batters struggled to establish their rhythm.
Captain Rohit Sharma was one individual who stood out as the Indian side's ray of hope throughout the conflict. With resolute effort, he scored an incredible 87 runs in an amazing inning. His performance demonstrated excellent leadership skills and was a masterclass in adjusting to a challenging pitch.
A dramatic and brilliant event occurred in the game's 37th over. England's leg-spinner, Adil Rashid, gave Rohit a misleading wrong 'un. Despite seeing the variation, the Indian captain, who had been leading from the front, was unable to make contact with the centre of his bat. The ball took off and flew straight for deep mid-wicket.
England's Liam Livingstone displayed incredible athleticism as the ball spiralled towards the boundary. Running out of the deep, he slipped into position and finished off a spectacular grab. The magnificent feat of fielding brilliance was met with thunderous acclaim from the whole crowd. But among the rejoicing, there was a quiet worry in the audience when it was realised that Livingstone had fallen awkwardly on his right knee during the catch.
Ultimately, the catch was made, and Rohit Sharma, the captain of India, had to leave. With his valiant effort coming to an end, the game's momentum shifted to England's advantage. Livingstone's health paid a price for the catch, casting doubt on the severity of his injuries.
[IND vs ENG] Fans Salute Rohit Sharma For His Heroic Innings Vs England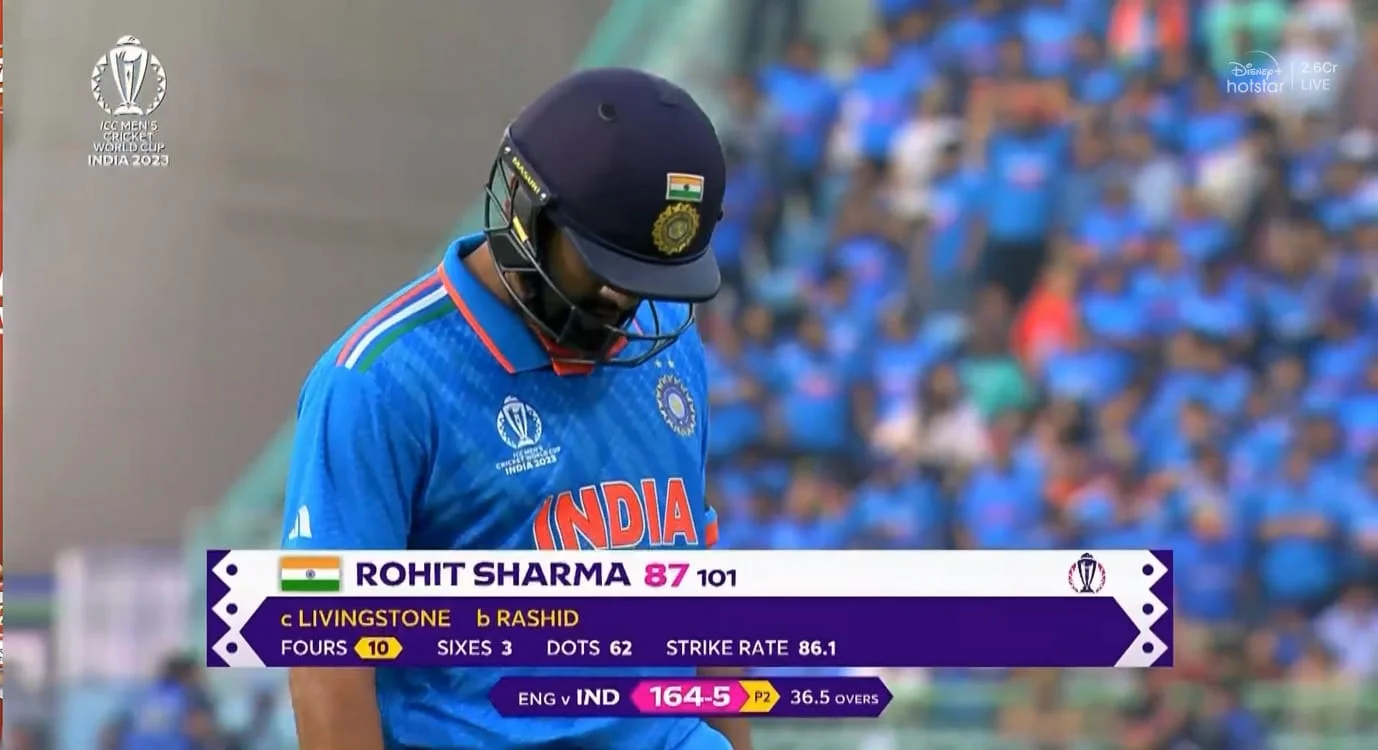 An Incredible Innings by Rohit Sharma 👏👏#INDvENG #ODIWorldCup2023 #ICCWorldCup2023 #INDvsENG pic.twitter.com/R1Y9X5HWN2

— RVCJ Media (@RVCJ_FB) October 29, 2023
TAKE A BOW, ROHIT SHARMA

87 Runs with 10 fours and 3 sixes –
Great Innings under pressure Today from Hitman 👏#INDvsENG

— VINEETH𓃵🦖 (@sololoveee) October 29, 2023
Deserves Huge Applause 👏 For Rohit Sharma for Today's Innings under huge pressure #INDvsENG pic.twitter.com/5nM1EAjPjL

— VINEETH𓃵🦖 (@sololoveee) October 29, 2023
One of the greatest innings by Rohit Sharma.

Bow down 🙇‍♂️ pic.twitter.com/E0X7xXaaR4

— Ansh Shah (@asmemesss) October 29, 2023
What a knock Perfect example of captain leading from the front artistic innings by Rohit Sharma well played 💯👏👏🔥#INDvsENG #RohitSharma pic.twitter.com/wtTS0b76bD

— Yash k_335 (@335Yash) October 29, 2023
Pitch was tough, India in trouble as they are 40/3, opposition was tough, wickets falling from other end but – Rohit Sharma stands tall and played one of the best World Cup innings.

– SALUTE TO CAPTAIN ROHIT SHARMA…!!!!! pic.twitter.com/Loh6aum2zc

— CricketMAN2 (@ImTanujSingh) October 29, 2023
Indian captain Rohit Sharma is playing a historic innings for India today, but many Indians will not be able to sleep peacefully tonight.

Really feeling sorry for them 🫡!! pic.twitter.com/9vGvcWyxgV

— Vishal. (@SPORTYVISHAL) October 29, 2023
Irrespective of what will happen next, this is one of the greatest innings by any Indian in World Cup history.

Rohit Sharma – You are the GOAT. pic.twitter.com/fpG95GvdJr

— Vishal. (@SPORTYVISHAL) October 29, 2023
#RohitSharma getting standing ovation for the brilliant innings🫡#INDvsENG #CWC23 #ViratKohli #SuryaKumarYadav #jadeja pic.twitter.com/0thI5REPzX

— SportsPundit (@_SportsPundit) October 29, 2023