Captain of Royal Challengers Bangalore's women's team, Smriti Mandhana etched her name in the history books by emerging as the costliest pick. She was the first player to be up for grabs, Mandhana also emerged as the costliest pick and joined Royal Challengers Bangalore (RCB) for Rs 3.4 crore.
Smriti Mandhana reacts to comparisons with Virat Kohli
Both Kohli and Mandhana share the same number 18 as their India and RCB jersey numbers. While Mandhana is the face of Indian cricket and the leader of RCB's women's team, on the other hand, Kohli is the face of RCB's men's team. Even though Kohli stepped down from the captaincy of the RCB men's team, the franchise found a new leader with an '18' number jersey.
Since Mandhana and Kohli are the faces of their respective divisions at RCB, there have been comparisons between the both.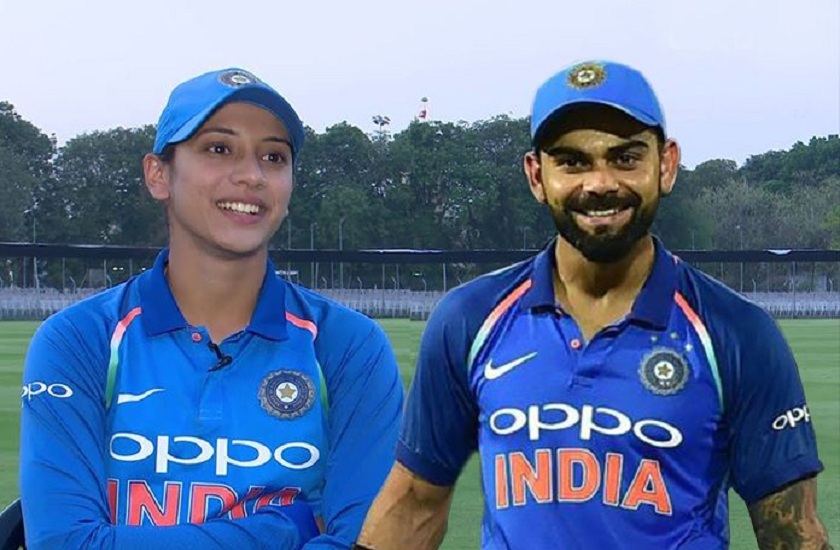 Speaking to reporters, Smriti finally opens up on her comparison with Virat Kohli at RCB, saying that she is nowhere near what he has achieved. She said:
"I don't like the kind of comparison because what he (Kohli) has achieved is amazing. I just hope that I reach that level, but I'm nowhere near. What he has achieved for this franchise (RCB), I would like to try and do that," 
Watch the video:
Absolutely electrifying, emotions running high, and a momentous occasion in women's sports. 🥹

WPL is now live and we're ready to break barriers 💪#PlayBold #SheIsBold #WPL2023

— Royal Challengers Bangalore (@RCBTweets) March 4, 2023
Talking about Mandhana, she is currently leading the women in red and gold in the ongoing Women's Premier League 2023 and will aim to end RCB's wait of lifting a trophy. Notably, RCB is one of the biggest franchises in the IPL, which has been a part of the tournament since its inception but hasn't been able to lift the IPL trophy.
Mandhana-led RCB didn't make a memorable start to their WPL journey as they lost their debut game by a big margin of 60 runs.
Ahead of the WPL 2023 tournament, Kohli, along with RCB captain Faf du Plessis in IPL, announced Mandhana as the captain of RCB. Kohli introduced Mandhana and said:
"Hi RCB fans, this is your No. 18 here to make a very special announcement today. Leading RCB for over the last decade has been a very enjoyable and memorable phase of my career. A captain isn't just the leader of the group. He is someone who creates the culture and carries that legacy forward by earning the respect of everyone around him,"
He added: "Now, it's time for another No. 18 to lead a very special RCB team in the Women's Premier League. Yes, we are talking about Smriti Mandhana. Go well Smriti, you will have the support of the best team and the best fans in the world."