India's young keeper-batter Ishan Kishan registered his maiden Test half-century during the second innings of the Trinidad Test.  Ishan Kishan, who walked in as a replacement for Rishabh Pant, walked out to bat at number 4 ahead of Virat Kohli and laced an unbeaten knock of 52 runs, where he smashed 4 boundaries and two sixes.
The southpaw scored a stunning fifty off 33 balls with a massive one-handed six off Kemar Roach in the 24th over of the Indian second innings.
Ishan Kishan Smashes Rishabh Pant Style One-Handed Six
This particular six in the 24th over which grabbed all the attention as Ishan replicated Rishabh Pant's signature style to bring in his maiden fifty. Roach bowled a good-length ball and Kishan went down the ground. However, he lost his shape and his left hand came off the bat. However, the batter got enough timing for the ball to cross the ropes.
Watch the video:
That's a smashing way to bring your maiden Test 50*@ishankishan51

.

.#INDvWIonFanCode #WIvIND pic.twitter.com/WIFaqpoGiD

— FanCode (@FanCode) July 23, 2023
Besides his stunning six, Ishan won many hearts as he was seen playing with a bat that had 'RP17' written on it. RP17 means Rishabh Pant and 17 is his jersey number.
Check out the viral picture: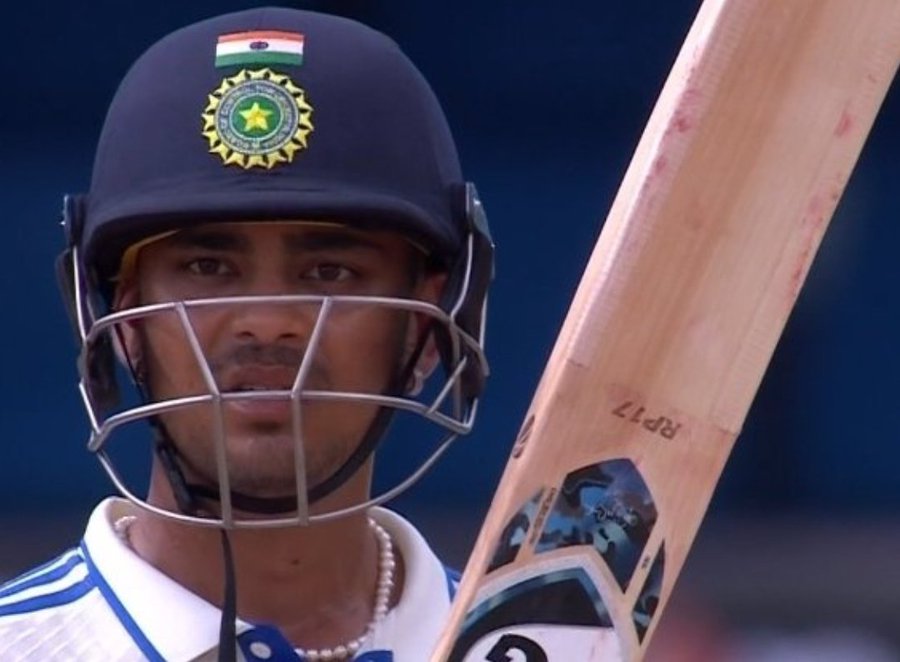 After the day's proceedings, Ishan revealed how Pant's advice during his interaction at the NCA helped him prepare for the series. He revealed:
"I was at NCA before coming here. I was practising there and Rishabh was also there for his rehab. He just got a few points for me. He asked me to you know, the bat position and everything because he, had seen me playing with him. We have played together so many matches. We have been together since U-19. So he knows how I play, what my mindset is. So you just help me a little bit with my bat position and everything, so otherwise I think I also wanted someone to tell me a few things about my batting and it was a great time for him to come and chat with me and really thankful for that,"