New Zealand have fought back in the ongoing second Test against England in Wellington and have kept the Test match alive by the end of Day 3, raising a glimmer of hope of a miracle after being enforced the follow-on by Ben Stokes.
In reply to England's 435, the hosts were bowled for 209 in their first innings on the morning of Day 3. With plenty of time left in the game, England decided to enforce the follow-on and told New Zealand to bat again wanting to effectively, or literally, win the game.
However, the Kiwis have valiantly fought back with the bat in their second innings, scoring 202/3, and now trail by only 24 runs. Should their overnight batters – Kane Williamson and Henry Nicholls – do well to survive the first hour on Day 4 and should they all pile up a lead of over 250, the Black Caps will be in chance of even conjuring a miracle victory, because, come what may, England will go after any target.
Watch: Jack Leach's dream ball to castle Will Young
In the course of New Zealand's second innings, England left-arm spinner Jack Leach produced a dream ball to bowl Will Young, and hit the off-stump, sending the commentators raving on this particular "dream" ball.
From around the wicket angle, Jack Leach bowled a slightly fuller delivery, drifting it into the line. Young made the mistake of going on the back foot and was cramped there.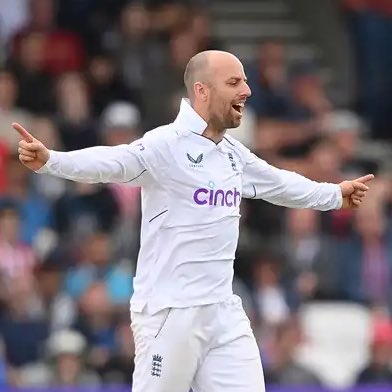 The ball gripped and turned just enough to beat Young's outside edge, but not enough to miss the off-stump. No sooner had the ball hit the top of the off-stump than the England players went in raptures and all celebrated around Jack Leach. Will Young could only stand there and marvel at the superb delivery that the spinner had produced before starting to walk back to the dressing room.
Watch the video here:
That is a 𝙗𝙚𝙖𝙪𝙩𝙮 😍

The Nut with an absolute seed to dismiss Will Young 🔥

England turning the tide late on day 3 🌊#NZvENG pic.twitter.com/veyQdPadMM

— Cricket on BT Sport (@btsportcricket) February 26, 2023
Meanwhile, New Zealand's comeback in the game was led by the two openers in the second innings: Devon Conway scored 61 runs and Tom Latham scored 83. After their dismissals, though, England stepped up the paddle with Will Young's dismissal.
The game perhaps in balance and New Zealand will need at least two big partnerships to steer it their way.