Actions speak louder than words. On Wednesday, Jasprit Bumrah let his actions speak before he stared down South Africa's Marco Jansen after knocking over his off-stump. This was in the backdrop of the altercation Bumrah and Jansen had had during the second Test.
Jasprit Bumrah had a brilliant day with the ball in South Africa's first innings at Cape Town, finishing with a five-wicket haul that included the wicket of Marco Jansen. The two Mumbai Indians pacer were involved in a heated battle of words during the Johannesburg Test when Bumrah was batting and Jansen bowled a series of short balls towards the Indian tailender.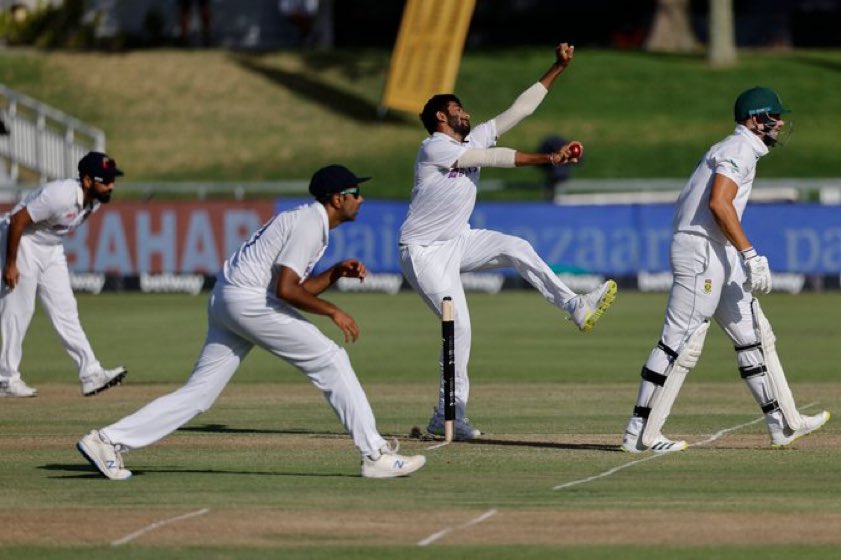 Now, it was Jansen on strike and Bumrah was bowling and had his tail up. After peppering Jansen with a couple of short balls, Bumrah fired in a length delivery at 144 Kph that pitched outside off stump and kept coming in with Bumrah's angle. Jansen played inside the line, however, he played in too much as the ball went past his outside edge to send the off-stump cartwheeling.
Bumrah knew he'd had his revenge and opted not to say anything, but just gave Jansen a stare. The batsman didn't look at the bowler and kept going towards the dressing room.
Boooooom??
Dear Jansen don't mess with Bumrah..?@Jaspritbumrah93 you beauty ?#bumrah #Bumrah #Jansen #INDvsSA pic.twitter.com/Se1oZxjHQ1

— राजपूत अभिषेक सिंह (@Abhishe79991466) January 12, 2022
Finally captured the "bumrah_stare.mp4"!

PS: Thanks ra Jansen, I've been waiting to look at this ever since the previous test! pic.twitter.com/AxvysjwmJg

— Senthil Kumar R (@Senthil_Kumar73) January 12, 2022
India have an upper hand in Cape Town by the end of Day 2. Virat Kohli's side gained a 13-run first innings lead. While this may be a small lead, considering how difficult batting has been on this surface, any lead is crucial; it also gives them a psychological advantage over the hosts.
Bumrah's 5-for was complemented by a brace each for Umesh Yadav and Mohammed Shami while Shardul Thakur took one wicket.
India, however, lost both the openers, KL Rahul and Mayank Agarwal, in the first six overs. Skipper Virat Kohli looked in fine touch, carrying on from his first innings effort, and so did Cheteshwar Pujara, as both took the team home further unscathed. India's score at stumps is 57/2, with the lead of 70 runs.