New Zealand all-rounder Jimmy Neesham took a dig at Virat Kohli for making Jonny Bairstow angry in the ongoing Edgbaston Test where the right-hander has torn into the Indian bowling attack, continuing his scintillating form from the series against New Zealand last month.
Verbal Spat Between Jonny Bairstow and Virat Kohli
Kohli had started off a spat with Bairstow on the morning of Day 3 as both got into a war of words.
Kohli was seemingly angry with Bairstow taking his time in the middle. Apart from facing challenging bowling by Indian bowlers, Bairstow was also having plenty of issues with the sightscreen and some people sitting and moving above it as he regularly stopped play to make adjustments there.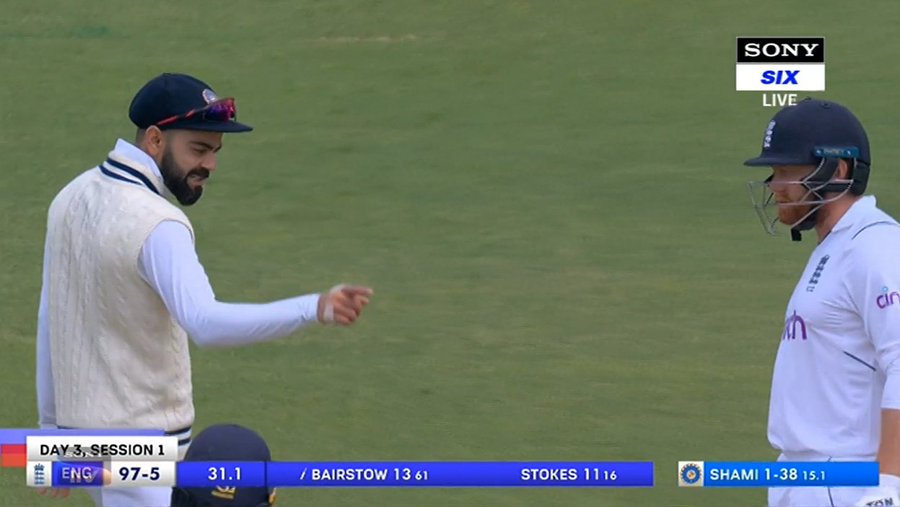 On the first ball of the 32nd over, Shami beat Bairstow's inside edge, cutting the batsman in half. A flustered Bairstow then walked down the pitch to chat with his batting partner, Ben Stokes, and that perhaps angered Kohli further who came charging in from slips to have a word with Bairstow. Kohli was visibly furious and lashed out at the Yorkshire batsman.
As Bairstow argued back, Kohli said "Shut up". The umpires then intervened. Between overs, Kohli had also mocked Bairstow by saying that Shami is a "Little bit faster than Southee, eh?"
It's tense out there between Virat Kohli and Jonny Bairstow #ENGvIND pic.twitter.com/3lIZjERvDW

— Sky Sports Cricket (@SkyCricket) July 3, 2022
When Bairstow further gestured issues with the sightscreen, Kohli was heard saying "Jonny Bairstow can see everything on the ground apart from the ball".
Jonny Bairstow stuns India with a counter-attack
Well, as it turns out, Bairstow was seeing the ball quite well as he turned on his beast mode after his spat with Kohli, and despite the fall of Stokes, Bairstow continued hammering the Indian bowlers.
Bairstow was 13 runs off 61 balls before his argument with Kohli; he teed off splendidly after that, smashing 78 runs off the next 52 balls.
Jimmy Neesham Took A Hilarious Dig At Kohli
James Neesham took to Twitter to say that teams shouldn't make Bairstow angry as he goes beserk after that.
"Why do opposing teams keep making Jonny Bairstow angry lol, he gets 10x better," Neesham tweeted after Bairstow's exhilarating assault on the Indian bowlers.
"Give him a gift basket each morning, let him know you're having his car valeted while he's batting. Anything to keep him happy," the Kiwi all-rounder jokingly added.
Why do opposing teams keep making Jonny Bairstow angry lol, he gets 10x better.

Give him a gift basket each morning, let him know you're having his car valeted while he's batting. Anything to keep him happy

— Jimmy Neesham (@JimmyNeesh) July 3, 2022