Indian Prime Minister Narendra Modi suffered a personal tragedy earlier in the day as his mother Heeraba Modipassed away at the age of 100 in the early hours of Friday. She was admitted to Ahmedabad's UN Mehta Hospital after her health deteriorated and was later discharged.
The news of the same was shared by the honorable Prime Minister himself via his social media. He took to his official Twitter account and shared a heartfelt Tweet. He wrote: "शानदार शताब्दी का ईश्वर चरणों में विराम… मां में मैंने हमेशा उस त्रिमूर्ति की अनुभूति की है, जिसमें एक तपस्वी की यात्रा, निष्काम कर्मयोगी का प्रतीक और मूल्यों के प्रति प्रतिबद्ध जीवन समाहित रहा है।"
(which translates to: A glorious century rests at the feet of God… In Maa I have always felt that trinity, which contains the journey of an ascetic, the symbol of a selfless Karmayogi and a life committed to values.)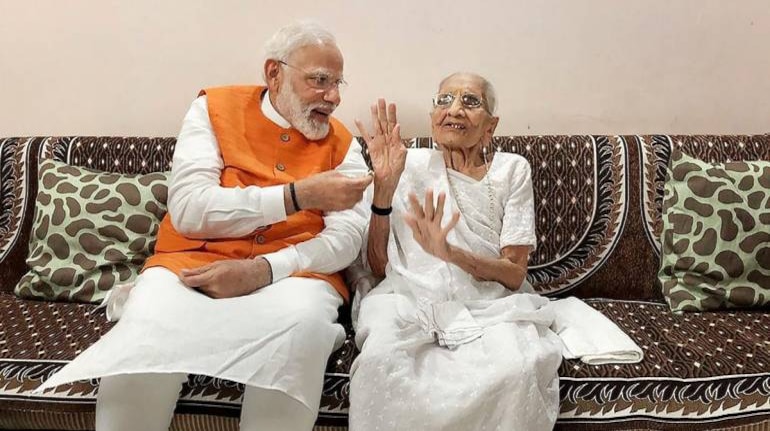 In another tweet, the prime minister wrote: "मैं जब उनसे 100वें जन्मदिन पर मिला तो उन्होंने एक बात कही थी, जो हमेशा याद रहती है कि કામ કરો બુદ્ધિથી, જીવન જીવો શુદ્ધિથી यानि काम करो बुद्धि से और जीवन जियो शुद्धि से।"
(which translates to: When I met her on her 100th birthday, she said one thing, which is always remembered that is work with intelligence, live life with purity.)
शानदार शताब्दी का ईश्वर चरणों में विराम… मां में मैंने हमेशा उस त्रिमूर्ति की अनुभूति की है, जिसमें एक तपस्वी की यात्रा, निष्काम कर्मयोगी का प्रतीक और मूल्यों के प्रति प्रतिबद्ध जीवन समाहित रहा है। pic.twitter.com/yE5xwRogJi

— Narendra Modi (@narendramodi) December 30, 2022
Heeraben, also called Heeraba, used to live with PM Modi's younger brother Pankaj Modi at Raysan village near Gandhinagar city. PM Modi used to regularly visit Raysan to spend time with his mother during most of his Gujarat visits.
Heeraben Modi was admitted to the super-specialty UN Mehta Institute of Cardiology and Research Centre on Wednesday morning due to some health issues. On Thursday, the hospital authorities revealed that her condition was improving. The Gujarat Chief Minister's Office (CMO) too in a statement had said that Heeraben would be discharged soon.
Tributes and condolences from all over poured in for Heeraba Modi. Former England captain Kevin Pietersen also took to his social media and expressed condolences and wrote: "इस दुखद समय में आपके और आपके परिवार के बारे में सोच रहा हूं, @narendramodi। 🙏🏽"
Check out the Tweet:
इस दुखद समय में आपके और आपके परिवार के बारे में सोच रहा हूं, @narendramodi। 🙏🏽

— Kevin Pietersen🦏 (@KP24) December 30, 2022